A photo essay on Feast Portland's Sandwich Invitational. Day 1 of Feast Portland's weekend food extravaganza!
"You can sleep when you're dead…" said Ruth Reichl as she shrugged her shoulders to me when I professed how impressed I was at her stamina. We stood around the official Pork of All Ages Feast Portland after-party on the first day of the Feast Portland weekend. My friend Laiko had introduced me to her and I tried just to nod appreciatively as Ruth talked about how she flew in from New York and was currently on her 20th hour of being awake. But lets face it, for us mere mortals, the fabulousness of Feast Portland was as exhilarating as it was exhausting.
Luckily the first day of Feast Portland involved just one major event, The Widmer Brothers Brewing Sandwich Invitational presented by Dave's Killer Bread. Of course, as events go, it was a carbolicious one, with ridiculously good sandwiches after sandwiches. This year seemed to feature even better bites than last year which meant I barely made it out of there alive.
The people lined up for Lardo's Smokey Pork Burger with Dirty Mustard, Grilled Peach and American Cheese. I was madly in love with the Pressed Water Buffalo Short Rib from The Odd Fellow. Everyone loved the Peanut Butter & Jam Ice Cream dessert from Salt & Straw (it ended up winning the people's choice award). And Chris Cosentino's Cicciolina sandwich, an Italian inspired Bahn Mi sandwich named after the former adult movie star turned politician was definitely a crowd pleaser (though I don't know why more people don't know who Cicciolina is – maybe it's a sign that I'm old). There was too much to eat and not enough time to eat it all.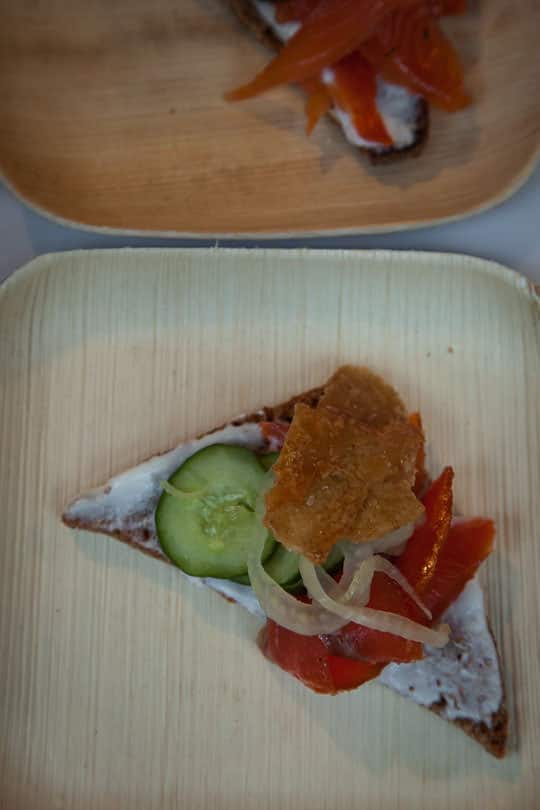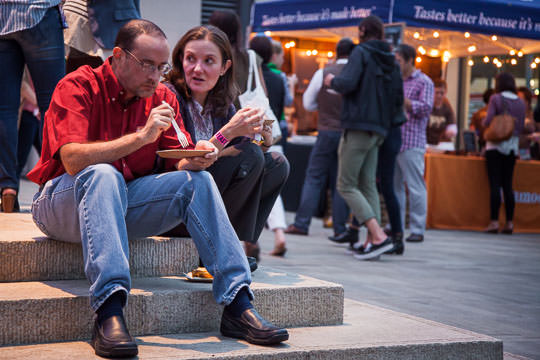 I left ridiculously full and headed toward the after-party where I high-fived rockstar San Francisco chef Dominique Crenn and conversed with the aforementioned Ruth Reichl. Both of them looked fierce and fabulous as I found myself slowly fading. At midnight I left the party to hail a taxi and go back to my hotel to crash, passing Ruth as she calmly nodded to me, drinking her bright red frozen cocktail-in-a-paper-cone and chatting animatedly to other party-goers. I want to be her when I grow up.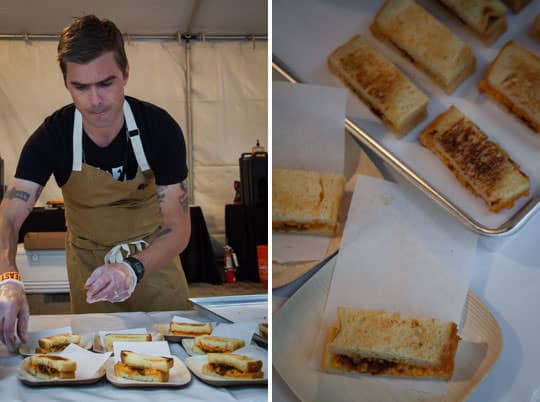 You can see more photos and descriptions of sandwiches on my Instagram feed. Follow along with me in real-time as I Tweet and Instagram about all the food I'm (trying) to eat here at Feast Portland this weekend!
Special thanks to Feast Portland and Travel Oregon for providing travel and accommodations as well as a media pass to the 2014 Feast Portland Event. Though flight, hotel and media pass were provided complimentary, I was not monetary compensated for this post or any other post that I am doing for Feast Portland. All opinions above are my own.