After the epic evening out, I was glad that I didn't have anything bright and early in the morning of Day 3 of Feast Portland. I expected my last day of festivities (there was more stuff on Day 4, but thankfully I didn't have anything scheduled as I needed to give my stomach a break from all the pork belly) to be packed full of fabulousness and it didn't disappoint. First up on the agenda was a round table discussion about Creating an Awesome Food Business without Selling Your Soul. Featuring representatives from Grand Central Bakery, Pacific Foods, Think Out Loud, Whole Foods Market, Salt & Straw and Smith Teamaker, it was refreshing to hear the trials and tribulations of starting a business from scratch. The best take away was Chuck Eggert from Pacific Foods quoting Winston Churchill on inspiration for starting a business: "It's better to be stubborn than smart. Don't ever, ever, ever, ever, ever give up."
Sadly (or not so sad, depending on your perspective) I had to run out of the session midway to go taste chocolate at the Cocoa Comforts Tasting Panel. Moderated by Alison Roman from Bon Appetit magazine, Christini Tosi from Momofuku Milk Bar, Aubrey Lindley from Cacao and David Briggs from Xocolatle de David were there with chocolate samples. I won't lie and tell you it was tough to eat chocolate for breakfast, but after having to sample and judge 40 different chocolate confections for the Good Food Awards a week earlier, I was a bit burnt out on chocolate. Is that possible? Thankfully each chocolate sample, a beer malted frozen fudge bar, a Raleigh candy bar filled with chocolate nougat, pecans and dark salted caramel and a passionfruit chocolate chip cake had me craving more.
Needing a walk to help me digest the chocolate, I wandered over to the Whole Foods Fishmonger and Butcher competition where I witnessed some pretty awesome filleting and chopping. The media pass that Feast Portland gave me afforded me a front row view of master fishmongers and rockstar butchers doing what they do best. I was in awe as each of them had 20 minutes to break down their giant pieces of meat and fish into supermarket retail cuts with minimal waste. Frank "The Italian Slayer" Ficarra from Florida and Hector "El Jefe" Yedra from Northern California won for best fishmonger and best butcher respectively (NorCal representing!). My vegetarian/vegan friends were horrified by the fact that I was there (and instagrammed a video of them breaking down the pig leg) but I was fascinated by their skill and mastery.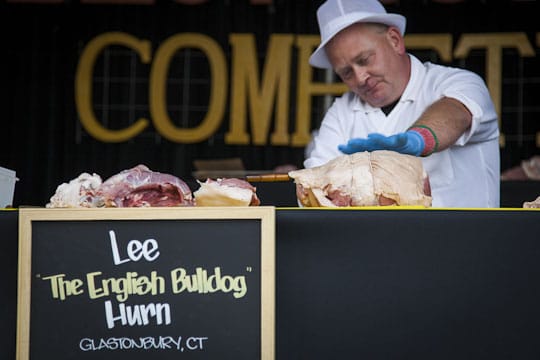 I took a break from the festival and went back to my hotel to drop off some stuff, grab a green kale smoothie from Whole Foods (I needed to detox!) and hangout with my friends Sue, Tony and their adorable kid Sophia. After a much needed respite from the Feast, I headed back into the Feast fray with their High Comfort at the Nines soiree. Comfort food reinterpreted and pushed out of their comfort zone, chefs were serving up classic dishes updated with upscale ingredients.
April Bloomfield of Spotted Pig in NY was serving fish sausage while Andrew Carmellini from The Dutch in NY had Foie Gras Hot Dogs. Michael Voltaggio from Ink in LA was dishing up his version of pho (which was marvelous, but not what I would have called pho, more like two fork tender slices of sous vide beef with a little Southeast Asian infused au jus sauce ladled on, but I'm not one to complain). Erik van Kley from Little Bird had Lamb Belly BLT sandwiches that would have made my partner AJ swoon (he's adores lamb) and Vitaly Paley of Imperial restaurant offered up his version of "steak and eggs" which featured elk tongue, duck egg yolk and crispy potatoes. It was a veritable meat-a-palooza.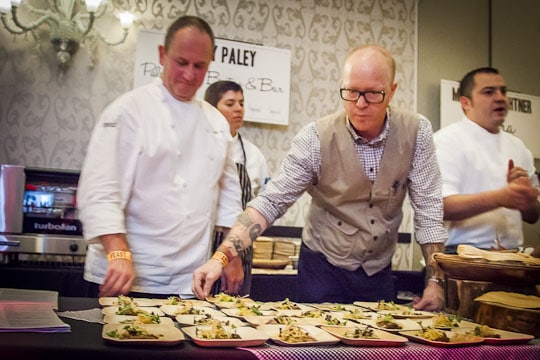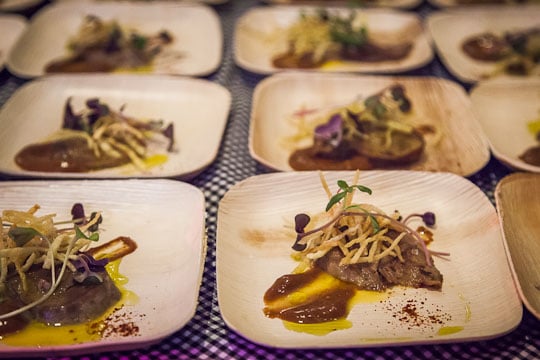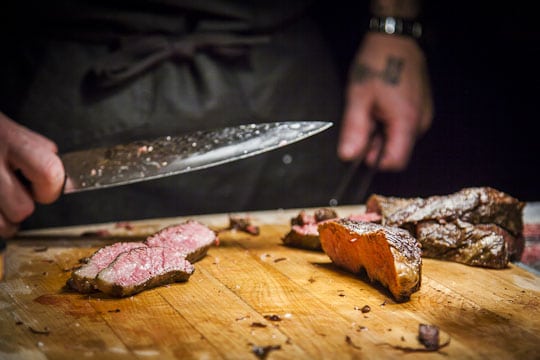 Lobster pot pie with sweetbreads and foie gras from Philippe Boulot of The Multnomah Athletic Club as well as Dungeness crab, peanut and pork sausage with kimchee fried rice from Tom Douglas of Tanaka San were as rich and decadent as you'd expect. Even the desserts had a little bit of pork in them, with Salt & Straw serving up smoked ham ice cream with raspberry dipped cones. I wasn't complaining as the ice cream cones were fabulous. Of course the other dessert there was meat free which made it one of only a few vegetarian friendly dishes at the feast. Oregon berry and sweet corn pavlova with Jacobsen sea salt honey popcorn candy by Kristen Murray of Maurice tasted as good as it looked.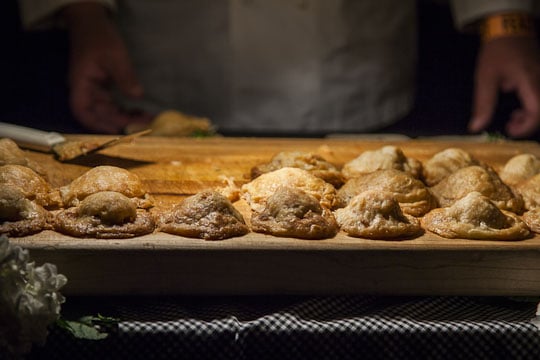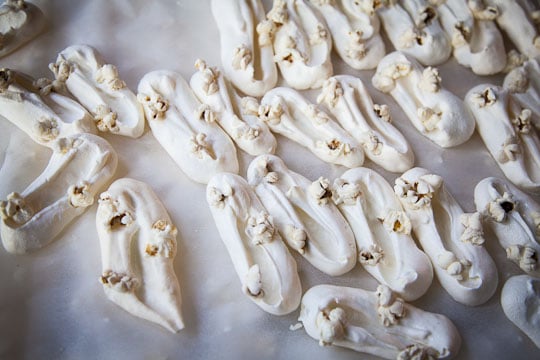 I rolled myself out of the event, with every intention of going to the after hour parties (there were four that were happening concurrently that evening). I almost didn't make it to any of them, but I rallied, headed down to the Bon Appetit after party unable to resist the call of Pok Pok wings that they were serving. Not that I needed more food, but I'm not going to turn down a chance to chow down on those shiny laquered sweet bites of meat. Friends convinced me to head over to the unofficial after-after party at Bunk Sandwiches, which felt like a skit out of Portlandia. Blue, yellow and red jello shots were pulled out (I had an IPA beer instead) and people feasted on giant sandwiches and a industrial sized baking sheet of nachos made of Doritos and Cheetos that had my Instagram friends asking if it was a Jackson Pollack painting. This is was my cue to head back to the hotel. And thus ended the epic Feast Portland festival. I hope that I get invited back for next year but I also fear that I get invited back. I'm not sure I can eat that much again.
If you haven't had a chance, check out my recap of Feast Portland Day 1 and Day 2 and live vicariously through me, all pleasure without the calories!
Special thanks goes to Feast Portland and Alaska Airlines for bringing me up to Portland to report on the festival. Even though my flight and accommodations were provided, I was not monetarily compensated for this post and all opinions are my own.