Portland is one crazy awesome city, full of food obsessed people. Waking up Friday morning was rough after the Thursday's festivities. Clearly I'm getting older as staying out until 2am the previous evening took its toll on me. It was day two of the Feast Portland weekend and though I had a scheduled breakfast to get to, I was slow getting there. Running late, I was pleased to see my friend Joe there and after chatting and grabbing some coffee, we decided to take a pedicab (courtesy of Pacific Foods) and head over to Salt & Straw. After all, what makes a better breakfast than ice cream?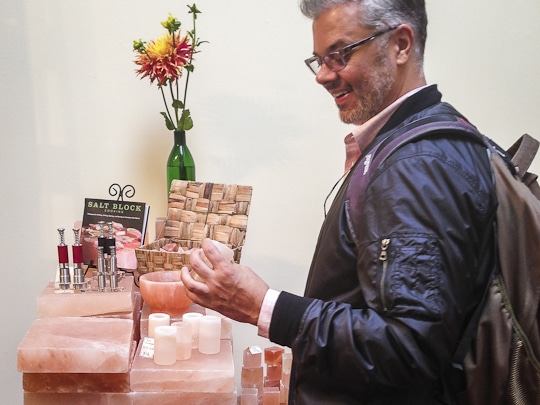 Once we gorged ourselves on ice cream samples, including the Chefs designed series of flavors (including a fabulous sweet corn, waffle cone and caramel, as well as a lovely mint and sea urchin which tasted way better than I thought it was going to be), we headed back downtown and split up, with Joe going to set up his booth at the Cookbook Social (he has an awesome new book out called Eat Your Vegetables, everyone go out and get it!) while I headed to the Oregon Grand Tasting pavilion. Talk about a bounty of goods. With samples of what seemed like hundreds of Oregon food producers, I was slightly overwhelmed by what to taste or even what to look at. Chocolate, pies, cheese, charcuterie, beer, wine, and more all beckoned me as I wandered up and down the aisles. Thankfully KitchenAid had set up a cooking station where rockstar chefs were giving demos on how to prep food.
After the Grand Tasting Pavilion, I stopped by the Cookbook Social where I met up with friends Laiko and Carrie, where we left there to go grab salads at Lardo. I needed some greens and though Lardo is known for their meat laden menu items (and fries) they also had a kale salad (which sadly was slightly overdressed). Laiko and Carrie also split a watermelon and tomato salad that was pretty darn refreshing though. I was craving greens so much that I didn't even bother to take photos of them before scarfing them down. That said, I did take a picture of their giant PIG OUT sign, which is basically what I was doing the entire weekend. I felt like it was appropriate.
Of course, because I didn't have enough to eat, I headed back to the Feast Portland Night Market, which was an Asian night market inspired event. Some people took the theme a little more seriously with bowls of beef noodle soup, others just stayed true to their own food (you don't need to mess with Austin's Franklin's BBQ). Of course, there were a fair number of Asian vendors there as well, serving up their deliciousness like Pok Pok's modern Thai food and food cart rockstar Nong's Khao Man Gai. Believe the hype on Nong's food. When a local asked me what I was eating and I told her, she nodded her head and "She's the food cart that all other food carts aspire to be."
I nearly passed out from a food coma but since I'm a glutton for punishment, I headed out to the after party which had a spread of charcuterie that was insane and a caviar bar that I couldn't get to because too many people were crowding it (can I blame them? I mean, a caviar bar!). I didn't think any pictures there, which might have been because I had one to many bourbon and huckleberry frozen otter pops. I closed down that party, headed to the after-after party at Lardo, but decided 100s of partying chefs drinking Olde English Malt Liquor and playing Flip Cup was too much even for me. I called it a night and collapsed in bed, knowing I had one more day of delicious debauchery and dining ahead of me.
Special thanks goes to Feast Portland and Alaska Airlines for bringing me up to Portland to report on the festival. Even though my flight and accommodations were provided, I was not monetarily compensated for this post and all opinions are my own.