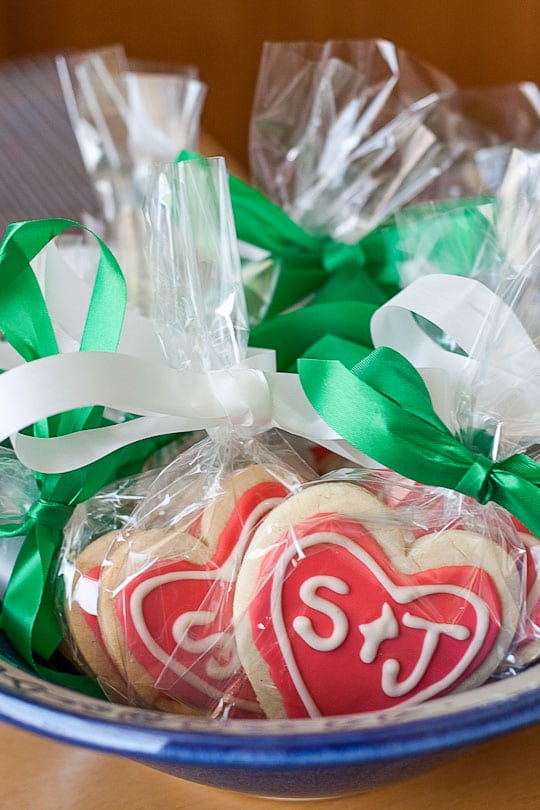 About a month ago, my friend Jai emailed me a note with the title It's About That Time…. In it he told me (and another friend) that in a month, Susie, his girlfriend, would have her family in town and there was going to be a dinner that he wanted us to help plan it. The reason he wanted our help was…he planned on proposing to his girlfriend right beforehand!
Needless to say I was TOTALLY excited. I absolutely adore Susie – we went to design school together back in the midwest (and if you have read my previous post, she was the one that threw the Seder). She moved to New York and I moved to San Francisco after school, but years past and we kept in touch, periodically flying out to visit each other and then she met Jai and moved across the country for him.
(Actually, I like to think she moved across the country for me, and Jai was just an added bonus. Like the cool gift with purchase at a fancy department store splurge. But I digress.)
Regardless the month passes pretty darn fast and all of sudden the weekend of the proposal is here. Jai had sent an email out to the major players in this drama and we got to discussing what we should do for the dinner. Or more accurately they got to planning via a landslide of email exchanges.
"We should get cupcakes!" "We should make flower arrangements!" "I'm going to make a card!" "I'll make little signs to put in the cupcakes!"
I was at work while this flurry of emails occurred. I checked in around 3pm and there were already 20 unread email in regards to this dinner. Craziness!
I tried to pipe in with a "Hey! I can bake some cupcakes or cookies or something!" and then one of the emailers jumped on that statement and said "That's great! Make some cookies! I found these cookies on the web…can you do something like that?!!?"
"Um. OK." was my response.
So here's the thing. I don't really make decorative cookies. I make decorative cupcakes. I make attractive cakes. I make really cute chocolate truffles and delicious looking woven top pies. I can even plate a dessert using fancy sauces and other edible accessories. But I don't do decorative cookies. One, they rarely taste that great, as the cookie is really just a vehicle for the icing and I really like my baked goods to taste good. Two, they are really labor intensive. Three, I just don't have the equipment nor the time to do it. Four, Royal Icing can be a real royal pain in the butt . And Five, well ok…the real reason is because I've never done them before. So now you know.
So there you have it. I've never really made decorative cookies with royal icing before! But I guess I've got to start somewhere. And what better place to try out making cookies but a friend surprise engagement party! You know, where there's no pressure to present decent looking cookies or anything. Not like it's a major life event or anything.
Did I mention the surprise party was Friday night after work? And this email exchange all occurred on Thursday?
Um. Yeah. After I had already taken my lunch too. Which meant I couldn't run to Sur la Table to pick up a heart shaped cookie cutter as they closed at 6pm (I get off of work at 6pm). And it meant that I had to make the cookies (with a new recipe as I don't have a good standby sugar cookie cutout recipe), cool them, making the royal icing (for the first time as well with a new recipe) and then hope that I can pipe them on properly (again for the first time) without totally botching them up.
This was going to be fun.
Afterwork I rushed over to the shopping district of town (conveniently four blocks away from where I work), and went to the Container Store to pick up some food safe cellophane bags and ribbon (everything looks better when they are individually wrapped behind shiny plastic). Then I went to a hardware store and found some small heart shaped cookie cutters which weren't ideal but who knows what else I would find around town, and then a quick run over to William Sonoma where I was able to find a more expensive large shaped one – which was meant for a sandwich (because apparently kids want heart shaped sandwiches for lunch – who knew?).
Rushing home, I pulled out my Martha Stewart Cookies cookbook. For the record I would like to state up front I am not recommending this cookbook. Despite my avid baking obsession, I have ambivalent feelings toward Martha Stewart and that particular cookbook has actually failed me before (the chewy molasses crinkles were TERRIBLE and in fact I actually wrote on the page TERRIBLE in big caps and DO NOT USE to remind myself of that exact fact). However, if someone was going to make decorative sugar cookies for me, I figure Martha would be the person I'd want…so I turned to her.
Also, just for the record, I've made some outstanding cookies from that cookbook too. I just think it's a little inconsistent.
The recipe wasn't hard, except for the chilling the dough for an hour or overnight (not going to happen on my timeline). I flatten the dough really thin and did a quick chill in the freezer for half an hour, and then rolled out the dough and made 16 cookies. I figure there were only 12 people at the party so 16 should be enough. Surprisingly the cookie dough was very forgiving. If it started to break apart, I just sort of patched it back together no big deal.
Then the royal icing. Martha kinda steered me wrong with this one, WAY too much water. I have not included her recipe in this post, but instead included a recipe for royal icing by Sherry Yard – a pastry chef I ADORE and who I can wholeheartedly recommend any book by her. I should have turned to her first. Oh well. Not much I could do now.
Then I went to bed and woke up an hour early to pipe the white icing on top. After struggling on them for a couple cookies, AJ came in and observed my difficulty and asked me "Is there anyway to thicken that icing up?" Why hadn't I thought of that? Probably because it was 7am in the morning and I am NOT a morning person. AJ however, on top of being the former valedictorian of his high school class, IS a morning person.
So I thicken up the icing with some more powdered sugar. Gave instructions to AJ on how to pack up the cookies in the bags after they had dried, as I was going to the party right after work. Ran off to work the day.
AJ teaches so had a short day on Friday. Jai had contacted him earlier to meet him at the top of Twin Peaks where he planned on proposing to Susie to take pictures. AJ met up with them after Jai proposed (she said YES!) and they took engagement pictures.
Off to dinner where I met up with them, along with Susie's family, Jai's family and close friends. Their friend Jamie (who suggested I make the cookies) made the cutest flower centerpieces AND the cutest little signs for the cupcakes that Jai's sister picked up. Also the cutest card ever. This is where I leaned over and asked her "So…I'm guessing you have a craft table?" in which she replied back "Actually I have a craft room…" Love it.
The dinner was fantastic, the chef of the Slow Club was amazing and actually made the group a special set of chocolate souffles for us (something he hadn't done in 10 years), the group had an fabulous time with everyone, and Susie's parents were totally thrilled to finally meet me (and vice versa, as they have heard stories of me, and I've heard stories of them) and it was such a fantastic amazing evening all the way around. And the cookies were well received and even praised (apparently Susie's parents even took two of them and mailed them off to Susie's brother who couldn't be there)
So congrats Susie and Jai! I was absolutely honored to have been a part of their engagement story. I can't wait for the wedding. I'm sure it will be stunning, beautiful and just gorgeous, just like they are!
Whilst baking and decorating these cookies, I listened to Jónsi's Go album. He's the lead singer to the Icelandic band Sigur Rós. Amazing, atmospheric, beautiful, uplifting music. He also happens to be one of Susie and Jai's favorite singers/bands.
Susie and Jai's Engagement Lemon Vanilla Bean Sugar Cookie Cutouts
By Irvin Lin
These basic sugar cookies, decorated with royal icing, are perfect for special occasions. Be sure to let the cookies cool completely before icing them. Use the royal icing immediately or cover in an airtight container. If the royal icing is too thin you can thicken it by adding more powdered sugar or if the icing is too thick, thin it with a touch of lemon juice or water. If you have access to it, gel food coloring found at specialty stores like Sur la Table produce beautiful colors. However regular food coloring works just as well.
adapted from Martha Stewart's Cookies and Sherry Yard's Secrets of Baking
Ingredients
Sugar Cookie Dough
4 cups (56 g) all purpose flour
1 teaspoon baking powder
1/2 teaspoon salt
1 cup (225 g or 2 sticks) unsalted butter
2 cups (400 g) white granulated sugar
2 large eggs
1 vanilla bean
1 teaspoon vanilla extract
zest of one lemon
Royal Icing
1/2 cup pasteurized egg white (equivalent 2 large egg white)
2 teaspoon fresh lemon juice
3 cups (345 g) powdered sugar
food coloring
Directions
1. Cut the butter into 1/4″ cubes and set aside. Place the flour, baking powder and salt in a medium size bowl. Vigorously stir the dry ingredients with a balloon whisk until evenly distributed. Put the butter and sugar in a standing mixer bowl with the paddle attachment and cream until pale and fluffy. Take a spatula and scrape the sides down and add an egg and mix together. Repeat the scraping of the sides and add the other egg and mix together. Scrape down the side once more and split the vanilla bean lengthwise and scrape the beans into the butter mixture. Add the lemon zest and vanilla extra as well, and beat together.
2. Scrape down the side again, and then slowly add the flour mixture while the mixer is on low. Once it is incorporated, take the dough and divide it into four parts and pat into thin disks and wrap with plastic wrap and put in freezer for half an hour or until the dough is firm (you can also put it in the fridge for an hour or overnight).
3. Preheat oven to 325˚ and pull out a disk of dough from the fridge and let warm up for 5 or 10 minutes so it's pliable. Roll out the dough on a lightly floured surface to about 1/4″ thickness and using a cookie cutter shape of your preference (I used hearts) cut out cookies. Gather the scraps and roll out again and cut out more cookies. Anything you aren't using, can be gathered up again, and re-chilled for later use, frozen for use down the road, or re-rolled out and baked. The dough is very forgiving. Bake cookies for 15 – 18 minutes on a silpat or parchment paper lined baking sheet until the edges turn golden. Let the cookies cool on the baking sheet on a wire rack before decorating.
4. Once the cookies have cooled, make the royal icing by combining the egg white and the lemon juice together in a mixing bowl. Sift the powdered sugar into the bowl (This is important. If you don't sift, the powdered sugar will clump together and that's so not good). Beat the mixture on low speed until smooth.
5. To assemble heart cookie split the royal icing in half and reserve half of as white (or whatever color you want to use for the lettering) in an airtight container in the fridge. Take the other half and tint it the color you want to use (as it's heart, the traditional color would be pink or red, but who knows, maybe you want to make different color hearts just for the heck of it, more power to you!).
6. Put the tinted colored icing in a pastry bag fitted with a coupler (one of those fancy little screw things which allows you to switch out tips) on the end. Put a #2 tip on the end and pipe a border around the border of a cookie. Switch out the tip to a #5 and then pipe in the middle a zig zag pattern to fill the inside of the cookie (this is called "flooding"). Take an offset spatula and spread the icing to evenly fill the inside of the cookie. Repeat for the rest of the cookies. Let them dry 24 hours or at the very least overnight.
7. The next day, take out the reserve icing and whip it with fork to make sure it still completely liquid. Fill a pastry bag with the reserved icing, with a #2 tip on the end. Carefully pipe a border around the heart, and whatever message you want to in the middle. Let dry for another 24 hours or the rest of the day, and then put each cookie in an individual bag and tie shut with cute ribbon. Present to people who were recently engaged and bask in their happiness.
Makes 24-36 cookies depending on the size of your cutout.