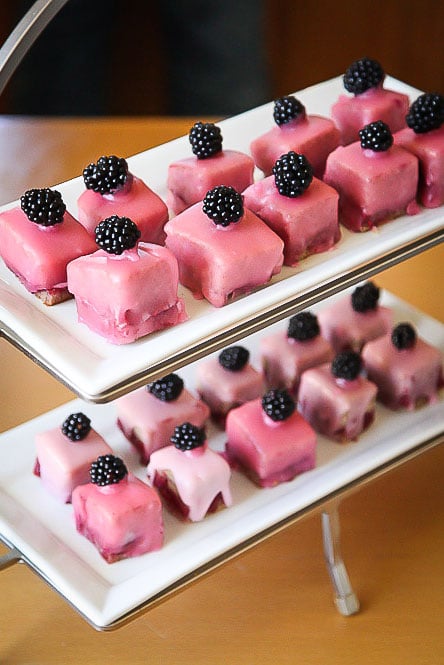 Another month goes by, and another Daring Baker's challenge comes up. Sadly, last month I totally missed out on the daring baker's challenge because I was busy baking 20 pies for a pie contest. Well, I guess it wasn't that sad, as I won (whoo hoo!), but I really wanted to make some ice cream which was part of last month's challenge. AJ and I were given an ice cream maker a few years ago, but we still haven't busted it out. The baker's challenge would have been the perfect excuse. But it turns out this months' baker's challenge was ALSO ice cream! Joy! The August 2010 Daring Bakers' challenge was hosted by Elissa of 17 and Baking. For the first time, The Daring Bakers partnered with Sugar High Fridays for a co-event and Elissa was the gracious hostess of both. Using the theme of beurre noisette, or browned butter, Elissa chose to challenge Daring Bakers to make a pound cake to be used in either a Baked Alaska or in Ice Cream Petit Fours. The sources for Elissa's challenge were Gourmet
magazine and David Lebovitz's "The Perfect Scoop
"
I was just tweeting the other day with Shauna over at Gluten Free Girl about how busy our lives are. And yes, I know I sounds like a broken record (I'm so busy, next month will be so much less busy, blah blah blah) and OF COURSE it never happens. AJ, of course, has resigned himself to the fact that we lead busy lives. But I have faith. I believe that one of these days, things will slow down. I had originally planned on skipping this month's challenge as well, but I decided I didn't want to miss out on making ice cream two months in a row. Of course, I decided to invite a few people over for the dessert and I decided I wanted to make petit fours. BUT, in the end, my chocolate ganache covered salted caramel ice cream brown butter pound cake petit four (doesn't that sound good?) was incredibly ugly. SO ugly. It was a sad sad day for me. In fact, they were have been PERFECT for the previous blog entry that I had written about kitchen disasters. But I didn't take many pictures of the disaster.
Perhaps it was a lack of time, or the fact that my freezer is packed to the gills with WAY TOO MUCH STUFF (I have since cleaned it out – as AJ put it, do I really need to save the turkey carcass from last Thanksgiving to make stock? This Thanksgiving is almost here). Perhaps it was because I used salted caramel ice cream instead of vanilla (the salted caramel ice cream pretty much always stays soft). Sure I had whipped up a batch of vanilla bean ice cream as well, but I'm ignoring that fact for now, as it froze just fine, but still didn't work for the petit fours. Either way, the ice cream petit fours didn't freeze long enough and ended up sliding all over the place when I dipped them into the chocolate. And the ganache never really firmed up – maybe too much cream I dunno.
*sigh*
But I had a problem! People were coming over! So forged ahead and quickly whipped up another version of the petit fours, but this time I decided, since (technically) I did DO the challenge (the requirements being you should use the recipes provided) I would make my own.
So I did. Triple Berry Curd filled Financier Petit Fours was the end result. What's a financier? It's a lovely almond meal cake – the same batter you use for those very French cookie/cakes called madeleine (what? You've never heard of madeleines either? Go read Proust's Remembrance of Things Past
and then come back here).
Ah the financier. Moist, tender and full of almond meal. I decided to be daring (hey, it was the daring bakers) and make a poured fondant to cover the petit fours. It made them super sweet, but oh well. At least it made for a more photogenic petit four.

Keeping (somewhat) with the Daring Baker's Challenge guidelines, I did serve them with the homemade ice cream. AJ declared the salted caramel better than the Bi Rite Salted Caramel (*gasp!* Blasphemy! But that's what he said, and that's him licking the spatula after the ice cream mixed). And the vanilla ice cream was pretty darn fantastic too (and a better pairing with the sugary petit four). AJ probably would have been happy with just the ice cream though. He LOVES salted caramel ice cream (and clearly he loves mine – you should have seen some of the pictures he wouldn't let me post on here, of him licking the ice cream maker blade. Positively obscene.). So I'll be making that ice cream again for him (though he told me not to make it too often).
The guests seem to really like both the petit fours, the ice cream, and the ice cream petit fours (despite their ugliness). So I can't really complain about any of it.
Afterwards AJ and traipsed over to the awesome avant garde ice cream shop Humphry Slocombe which was hosting a big celebratory event with the New York's Big Gay Ice Cream Truck! It was an East Coast vs West Coast Ice Cream Brawl! Basically we went because AJ and I can't get enough ice cream, or sweets. Plus how can we miss a chance to hang out with our friends Kim. Melissa, Glenn, Steven and Jen. All of whom I love dearly and rarely see (Kim by the way, is the one that got me baking gluten free, as she's wheat allergic so all you Gluten Free bakers who occasional pop over here to read my blog, you should thank her). Kim and Glenn are big Go-Go's fans and that's how they know Doug, the man behind Big Gay Ice Cream Truck, as he's a big Go-Go's fan himself.
The collaborative event with Humphrey Slocombe featured a dessert delight called The Tranny Smackdown Sundae! Shortbread cookie, strawberry ice cream, marshmallow fluff, a smear of chocolate sauce, a dab of mascerated cherries and sprinkled with Trix Cereal. Serious sweets for a not so serious crowd!
On top of that, it was Doug's birthday and Jane Wiedlin of the Go-Gos was there to debut her new song, The Big Gay Ice Cream Truck Song. Yep! The Big Gay Ice Cream Truck has a theme song! By my favorite Go-Go (sorry Belinda, Jane's always been my fave)! Hilarious awesomeness abound.
Drag queens and Glinda the Good from Beach Blanket Babylon were there to help at a moments notice. Because what's a gay San Francisco food event without drag queens and a black woman dressed up in a large puffy pink dress? Well nothing worth reporting about, I'll tell you that.
Though rumors of Ouchy the S&M Clown showing up were just that, rumors. Thank goodness, because clowns scare me.
AJ and I stumbled home in a total sugar coma. It had been a good day of petit fours, ice cream, drag queens, women who look like drag queens but aren't and more ice cream. Just a usual day in my life here in San Francisco I guess. Come out here and visit. I'll show you around town. Just don't be surprised if you leave in need of an insulin shot.
For more images of the Big Gay Ice Cream Truck vs. Humphry Slocombe showdown, visit AJ's Big Gay Ice Cream Truck at Humphry Slocombe flickr set.