Wondering how to make the best cold brew coffee at home? Check out this simple recipe on making the best tasting iced coffee you've ever had! (Jump directly to the recipe.)
I remember the distinct moment when I made the decision. I gave up drinking the sugary sweet caramel soy Frappucino about two weeks into our epic cross-country road trip. I normally don't drink coffee in general (mostly because of a two-year stint as a barista in my post-college years that traumatized me from the beverage for quite some time) but I had started up again because my normal go-to-bed-at-2am and wake-up-at-9am schedule wasn't working out so well with our roadtrip. I need the caffeine to readjust to life on-the-road. But then, all of sudden I realized drinking a sugary caffeine laden drink and sitting in a car for 6 hours wasn't a good match. My pants were feeling a little tight. This was not good. All the hiking I was planning on doing as we cross this grand country of ours was suppose to kickstart my WEIGHT LOSS not weight gain. When we pulled off the highway for our next coffee break, I ordered a plain iced coffee, a cold brew coffee in fact. Less calories, just as much caffeine. It was simple as that.
Once I got back from our road trip, it was hard to adjust. Certainly I drank less coffee at home, but every now and then I found myself getting a hankering for stuff. Drinking it any time after 2pm was a mistake for me (buzz buzz!) but whenever I walked by a decent coffee shop (something that is pretty much impossible NOT to do here in San Francisco, land of the excellent coffee shops) I found myself being mysteriously drawn to the counter and ordering an iced coffee. The problem was, no matter how great the San Francisco coffee shop with their artisanal, local, organic, free-range, gluten-free, cruelty-free, freshly roasted half-an-hour ago coffee beans that were picked by indigenous people on the farm in their far away country where they were paid a decent living wage above and beyond fair trade, sometimes the iced coffee was good, sometimes it was great and other times it was only OK. Some shops knew how to do it and others didn't. That's when I realized I need to learn how to make it at home.
Now you'd think it would be a pretty simple thing to do. Make some coffee and then just let it cool down. Pour it into a glass with ice and DONE. But you and I (and the coffee snobs of the world) know better. Iced coffee isn't that simple. True cold brew ice coffee is worlds apart from the other stuff. If you just chill hot brewed coffee, the iced coffee gets bitter and astringent and needs tons of sugar and cream to make it drinkable. No sir, you need to learn how to cold brew coffee properly.
There have been plenty of places on the internet that talk about their recipe and method of making it, including using fancy equipment but as I started to experiment at home I landed on my favorite method for perfect iced coffee, a synthesis of a few different recipes around the web. And no, it doesn't require anything more special than a plastic pitcher (or French press if you have it) and some time to let it sit. Now I can sip my iced coffee while buzzing around my apartment, content that my coffee is better than those I can get at the fancy shmancy coffee shop. Now if only I can figure out how to get back to gorgeous National Parks so I can go hiking without having to drive 10,000 miles. Then my life would truly be perfect.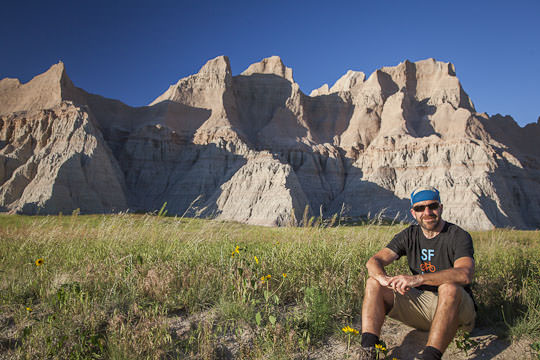 Cold Brew Coffee Recipe
By Irvin Lin
Iced coffee is one of those things that seem easy and simple to make but people seem to botch it up (even the best of coffee shops). The secret to making smooth non-bitter iced coffee is to cold brew it, not pouring over ice regular hot brewed coffee that has been cooled. Hot brewing coffee not only brings out the beans flavors but also brings out some of the bitter and tannin compounds (something that becomes more apparent as the coffee cools). Cold brewing is much more subtle, allowing for the flavor to develop without the bitter and astringent compounds. Most recipes out there on the web tell you to brew the coffee with coarsely ground beans, but grinding the beans super fine helps release all those flavor compounds more. Throwing in a touch of fresh mint adds a very slight sweet herbal note that compliments the iced brewed coffee. Sprinkling in a touch (the slightest pinch) of sea salt rounds out the brew.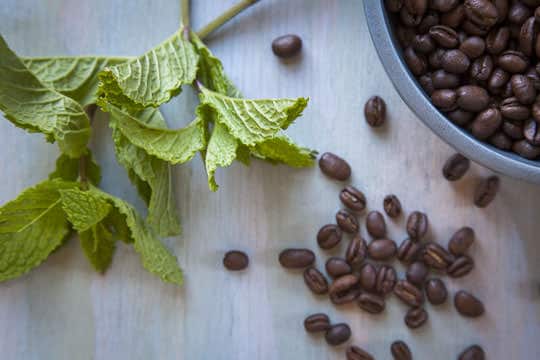 Finally something needs to be said about the water you use when brewing coffee (this advice applies to regular brewed coffee too). Everyone talks about how great coffee is if you buy fabulous beans (true) or if you use a burr grinder (also true) and grind immediately before you make your coffee (even more true). But if there's ONE lesson I learned as a former barista that people DON'T talk about, it's that the water you use to make the coffee makes a HUGE difference in the outcome. If your tap water tastes great (and I'm lucky that San Francisco has great tap water) than by all means, use it. But if it doesn't taste that great, be sure to filter it or use spring water. After all a cup of coffee is just water that has been passed through ground coffee beans. Like all food and drinks, if you start out initially with great tasting ingredients, you'll end up with a better end result. Trust me on this one. Use good water and you'll be able to taste the difference in the end.
Adapted from America's Test Kitchen and Slate
Ingredients
3 cups (about 12 oz) of medium roast coffee beans, freshly ground into fine powder (ground for an espresso machine)
3 cups room temperature filtered or spring water (see note above)
2 sprigs of fresh mint
Optional
Sugar, Cream and Sea Salt
Directions
1. Place the ground coffee, water and sprigs of mint in a pitcher or French press. Cover with plastic wrap and let sit for 24 hours. While it's sitting, occasionally stir the coffee with a wooden spoon whenever you remember (I do it about 2-4 times throughout the day, depending on when I remember to or not, but I've also completely forgotten to do it and it's not a big deal if you don't).
2. If using a French press, press down on the filter to get as much of the solids out of the liquid as you can. Then pour the remaining liquid through a mesh sieve fitted with a paper coffee filter. Let the liquid strain through slowly (it'll take awhile, maybe a half hour to an hour or so, stirring the grounds occasionally will encourage the liquid to pass through the paper). If you're not using a French press, first pour the liquid and coffee grounds through a fine mesh sieve to strain out most of the liquid, then pour that remaining liquid through a paper coffee filter to strain out the rest.
3. Pour 1/4 cup of the concentrate in a glass full of ice. Add an additional 3/4 cup of water (less if you like it strong, more if you're not a high octane type of person) and stir. Add sugar and cream if you want (though taste it, you might not even need the sugar or the cream – cold brewed coffee is smooth like a Solid Gold dancer). Adding a pinch of sea salt too (it's adds a nice dimension to the iced coffee). Refrigerate the remaining coffee concentrate (I use a mason jar) for later use.
Makes 4-6 cups of iced coffee (depending on the strength).
Bonus: My partner AJ occasionally has leftover hot brewed coffee in the morning. Instead of just pouring it down the drain, I've taken to making ice cubes out of it and using it in my iced coffee. That way my iced coffee isn't diluted with regular ice cubes. Any astringent bitterness from the frozen hot brewed coffee cubes when they melt is fairly subtle when diluted with the cold brewed coffee they are sitting in.