This deep, dark and dense chocolate Kahlua Cake has orange, cinnamon and cloves making it the perfect cake for the holidays! (Jump directly to the recipe.)
One of my partner's favorite childhood birthday cakes was a rum cake. A peculiar cake for a small child if you ask me, even more so since my quirky partner AJ didn't really start drinking until he was 25 (he was a late bloomer, in more ways than one). When I heard this story years ago, I set out to make a rum cake for him and ended up making one that didn't resemble his childhood cake at all. Instead he declared it world's better than his childhood favorite. So it only made sense that I adapt that rum cake into a chocolate Kahlúa cake with oranges, cinnamon and cloves for the holiday season.
The holidays are one of those times that can be exciting and exhausting at the same time. The idea that you must outdo last year's holiday seems like a bit like a rat race to me. Which is why I kind of love this cake that I made. The touch of Kahlúa, the addition of orange and some spices (cinnamon and cloves) and the deep dark chocolate really does make your home smell like the holidays, but with very little effort. Add some Kahlúa to your evening hot cocoa (1 part Kahlúa to 2 parts hot chocolate) and you've made pretty much any evening a little bit more special without having to go all out.
Of course, I may never be able to replicate the nostalgic birthday cake of yesteryear for AJ. He seems fine with that though. Some things are probably best left in the past and some things really are better nowadays. Exactly like this cake.
This post was sponsored by Kahlúa. For the months of October, November and December I'm teaming up with Kahlua to bring you recipes and cocktails using their various Kahlua liqueur flavors. I was compensated for the post and for developing the recipe. However all opinions above (and below) are completely my own and not endorsed by Kahlúa. This month you can create your own custom labels for Kahlua and their sister products! Visit Your Gift Label to find out how! And visit Kahlúa's various social media pages (Facebook, Twitter, Instagram, Pinterest) for more cocktail and holiday entertainment ideas and join in on the fun by sharing your own Kahlúa creation using the hashtag #KahluaHoliday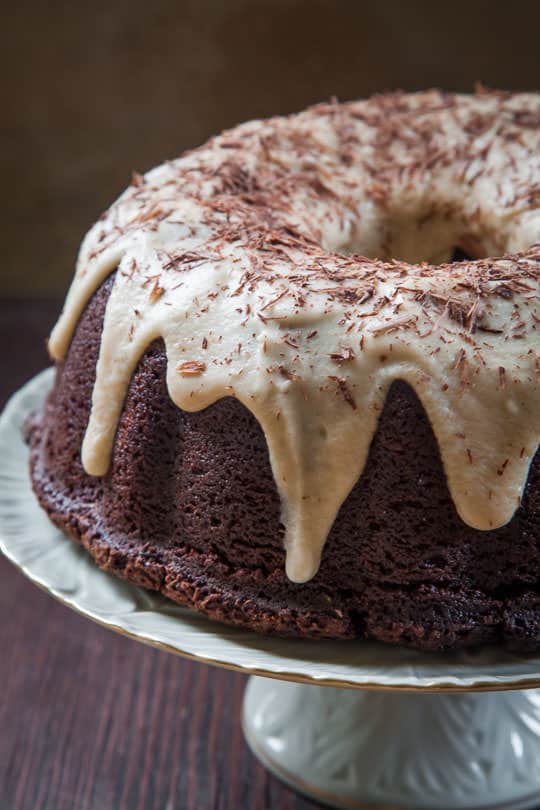 Chocolate Kahlúa Cake with Orange, Cinnamon and Cloves
By Irvin Lin
Kahlúa, the awesome rum and coffee liqueur, really does amp up the flavor in this intensely moist and dense bundt cake. The subtle hint of orange, cinnamon and cloves turns the cake into a festive holiday dessert, perfect after a holiday meal or for a holiday party. If you omit the cinnamon and cloves though, this cake could pretty much be served year round. I like to add 1/4 cup of Kahlúa plus 1/2 cup of hot cocoa together (with a big fat marshmallow on top) then serve it with a slice of this chocolate Kahlúa cake. It's the little touches that which makes an average everyday evening special.
Inspired by a childhood birthday cake.
Ingredients
1 medium orange
12 oz (340 g) dark chocolate, chopped into 1/4-inch chunks
1 1/2 cups (340 g or 3 sticks) unsalted butter cut into 1/2-inch chunks
1 cup whole milk
1 cup Kahlúa
2 tablespoons instant coffee
1 1/2 teaspoon vanilla extract
1/2 teaspoon ground cloves
2 teaspoons cinnamon
2 1/4 cups (450 g) white granulated sugar
3 cups (420 g) all-purpose flour
1 1/2 teaspoon baking soda
3/4 teaspoon kosher salt
3 large eggs
Glaze and assembly
1/4 cup + 1 tablespoon Kahlúa
4 oz (1/2 brick) American cream cheese at room temperature
1 1/2 cups (175 g) confectioner's (powdered) sugar, sifted
1 to 3 tablespoon whole milk
1/4 teaspoon kosher salt
extra chocolate for garnish
Directions
1. Preheat an oven to 300˚F and generously butter a 12-cup bundt pan all over to the very top of the pan, making sure to get every nook and cranny. Dust it with flour and place it on a rimmed baking sheet.
2. Place the chopped chocolate and the butter in a medium saucepan and then zest the orange into the pan over the chocolate. Cut and squeeze the orange into a glass measuring cup then add the milk to it. Set aside. Melt the chocolate, butter and orange zest on very low heat, stirring constantly until smooth. Stir in Kahlúa, orange milk, instant coffee and vanilla, cloves and cinnamon then remove from heat.
3. Pour the chocolate mixture into the bowl of a stand mixer fitted with a paddle attachment. Add the sugar and beat to incorporate. flour, one cup at a time, stirring on slow speed until the flour is absorbed before adding the next cup. Add the baking soda and salt and stir on slow speed to incorporate. Add the eggs, one at a time, beating on medium speed to incorporate before adding the next egg. Pour the batter (it will be thick) into the prepared bundt pan. It will fill the pan up pretty high so make sure the pan is on a baking sheet when you bake it in case it overflows.
4. Bake in the oven for 1 hour 20 to 1 hour 30 minutes or until a skewer inserted in the middle of the cake comes out clean. Let cool in the pan for 5 minutes then invert the pan while still hot (wear heat proof oven gloves!) onto a wire rack. Remove the pan and let cool completely.
5. To assemble the cake, brush 1/4 cup of Kahlúa over the entire cake, letting it absorb the liqueur. Place the mascarpone cheese, confectioner's sugar, remaining 1 tablespoon of Kahlúa, 1 tablespoon of milk and salt in the bowl of a stand mixer fitted with a paddle attachment. Beat on high speed until a glaze forms. If the glaze is too stiff, add more milk, 1 teaspoon at a time until the right consistency. Drizzle and pour the glaze over the cake. To garnish the cake with chocolate shavings, take a piece of chocolate and a vegetable peeler and shave some chocolate over the glaze. Let the glaze dry before serving.
Makes 1 bundt cake, serves 16 people.