These crazy fun cupcake are baked in ice cream cones and topped with a swirl of frosting, making them super fun to serve at a kids or a kid-at-heart party! (Jump directly to the recipe.)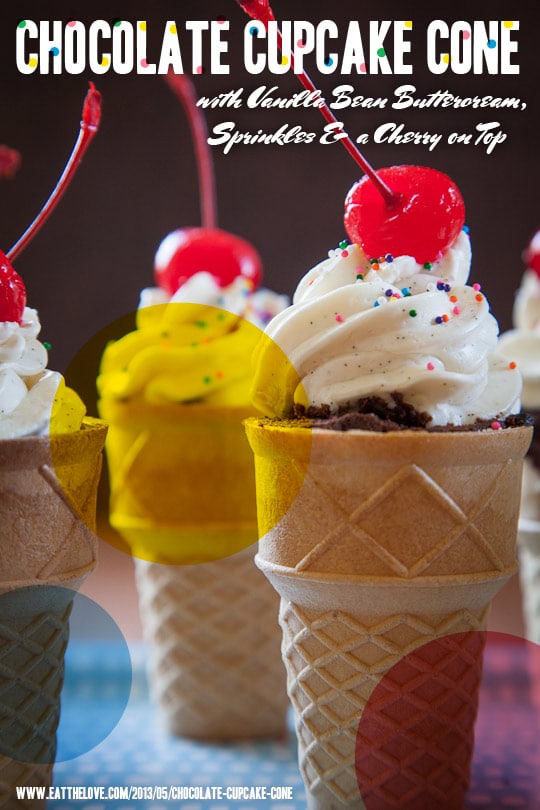 I kind of internally groaned when I received the text. Actually, according to AJ, I may have groaned out loud. The offending text: "I hope it's a cupcake with a cherry on top!" was transcribed from a conversation that my niece Sydney had with my sister-in-law. Last month AJ and I babysat them and my brother was just giving me the heads up beforehand. I guess I was making cupcakes; specifically chocolate ice cream cone cupcakes with vanilla buttercream, sprinkles and a cherry on top.
Here's the thing. Unlike some folks, I'm not a huge cupcake hater. I indulge in them once in awhile and I make them every now and then. But they aren't my thing. Other bloggers either hate the cupcake or embrace it like it's the next best thing. Me, I'm a fair weather fan of the cupcake, eating them when they show up, but not one to encourage the whole cupcake loving lifestyle. But when your little niece requests one, I'm not one to let her down.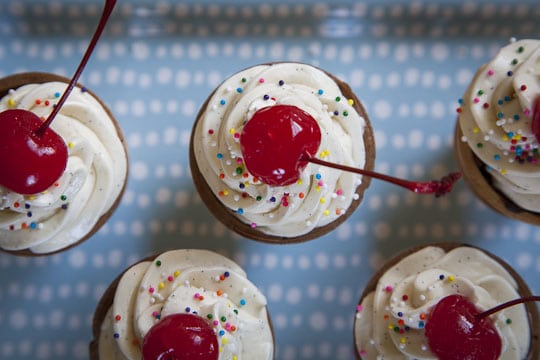 The main problem was the cherry though. Cherries weren't in season when the request was made and though I had a jar of Maraschino cherries in the back of the fridge from a recent client photoshoot, I loathe to feed my niece a neon red dye #40 foodstuff that looked sort of like a cherry but didn't really taste like one. I went to a few stores, looking for a quality alternative to the artificially dyed ones, but the only ones I could find were soaked in liqueur, something I'm sure I would appreciate more than the unnaturally dyed variety but probably not appropriate for a three-year old.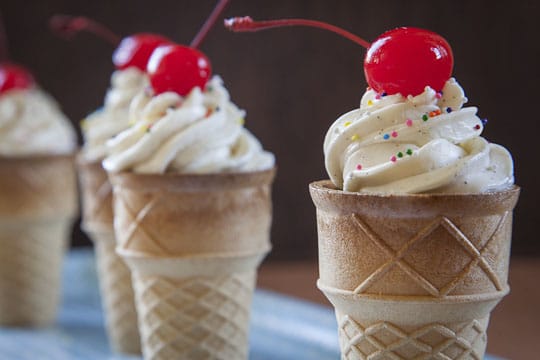 In the end, I caved, with AJ's encouragement. "She's three. She'll eat one Maraschino cherry. It won't kill her." I wasn't sure, and worse, I was fearful that she would love them so much that she'd become addicted to them. To throw her off the idea however, I made cupcake ice cream cones, hoping to dazzle her with that. If I'm going to make cupcakes with a cherry, I might as well make them three-year old friendly by baking them in a ice cream cone (which, when I looked at the ingredients because I had bought the organic kind, probably were healthier than the glaringly red cherry on top) and generously squirt some frosting on top to give it a faux soft serve cone look.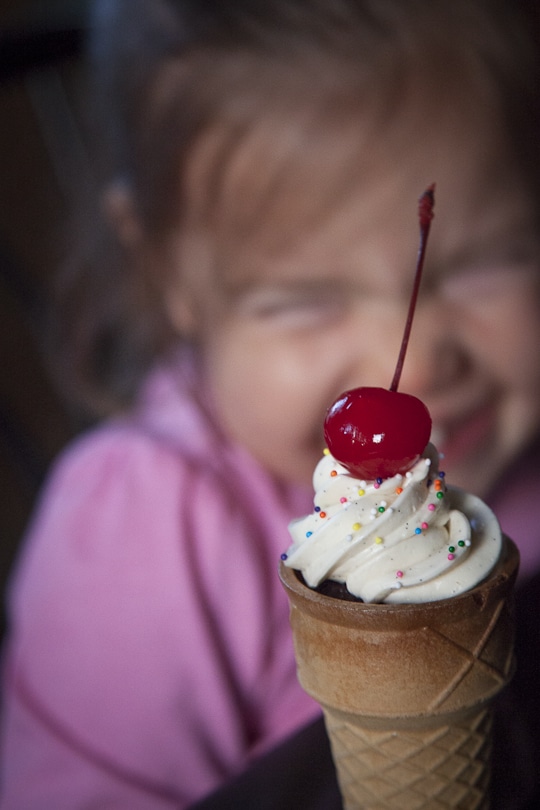 My brother and sister-in-law dropped off the girls and we immediately took them to our neighborhood park, which had renovated their playground in the last year. I had not had an excuse to visit that part of the park but with Sydney's sister Mackenzie strapped to my chest in an Ergo, AJ and I walked hand-in-hand with Sydney there. AJ ran around with her, while I wanderer about a little more slowly, with the baby strapped to my chest. Coming across my friend Karen, she immediately started laughing hysterically at me wearing Mackenzie, finally catching her breathe to tell me I was the LAST person she expected at the playground. After explaining who the baby was, she told me if AJ and I were ever to have kids, we would have NO problem getting that child into any preschool in the city. "Gay interracial couple with baby? NO. PROBLEM. Every preschool would be clamoring to have your kid." Good to know for future reference.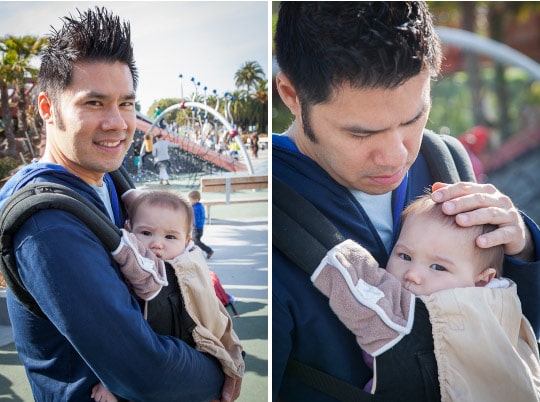 In the meanwhile, AJ and Sydney were having a grand old time sliding and climbing and generally running around the park. Sydney, apparently, has found her true love and it's not cupcake topped cherries. It was the swings. We had a hard time peeling her away from the swings but all good things have to come to an end, so we took her home, fed her pizza and finally presented her with her much wished for cupcake.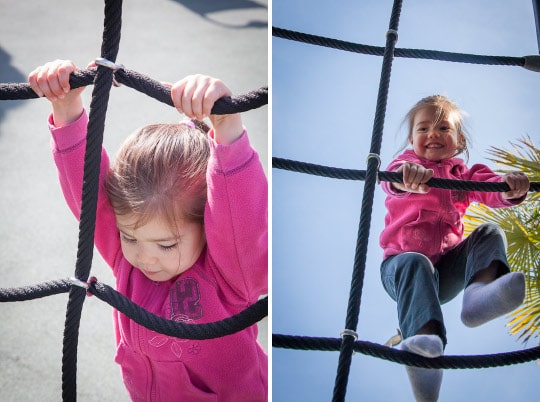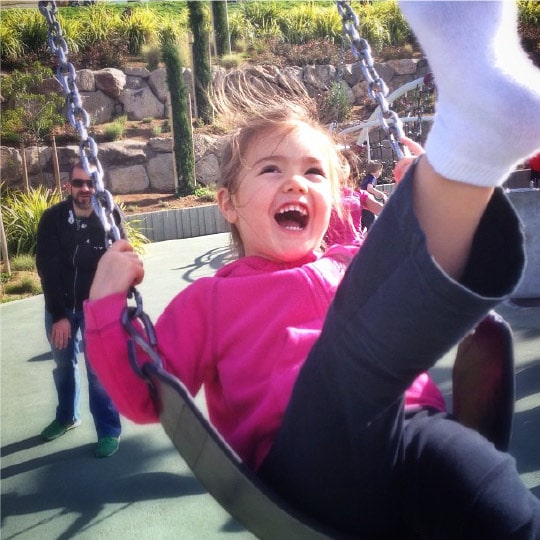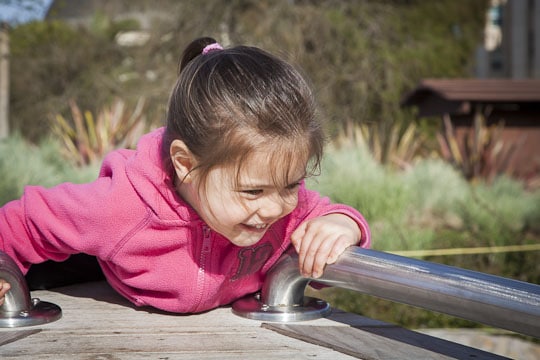 Apparently I had nothing to worry about. She nibbled at the cherry, put it in her mouth and then decided she didn't like it. "It tastes funny…" she said and I couldn't have been more proud of her. Of course, she did love the rest of the cupcake, though I'm not sure she really understood the nature of the cupcake cone. I had to instruct her (by example) how to eat it by biting into the cone. She seemed dubious when I told her you could eat it, but soon came around.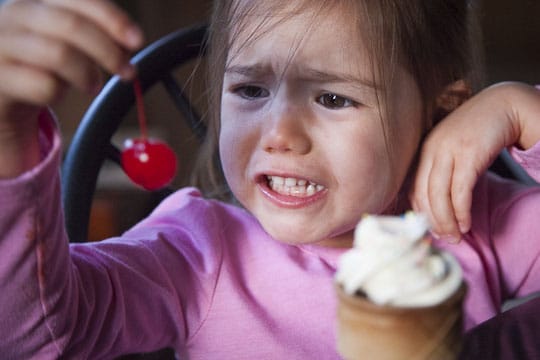 As the evening came to a close, we put her to bed after watching some Snoopy cartoons and she drifted off snuggling next to AJ when her parents came to claim her and Mackenzie. It had been a long day and she seemed to enjoy herself, funny tasting cherry or not. Apparently she loved our day so much that she has repeatedly asked her parents when she can see Uncle AJ and Uncle Irvin again. The neon red cherry wasn't too traumatizing. Thankfully REAL cherry season is around the corner. I'll make sure she gets some of those next time we see her!
Chocolate Ice Cream Cone Cupcakes

with Vanilla Buttercream, Sprinkles and a Cherry on Top

By Irvin Lin

The trick to baking the chocolate cupcakes in the cone is to make sure not to fill the cone to high. The cake batter expands about 33% so leave plenty of headroom for that. Unlike traditional cupcakes, any batter that rises over the cone will just spill out and over. Better to underestimate the amount and make up the difference with the frosting. Be sure to use sprinkles to give it that true ice cream cone look, but the cherry on top is completely optional.

I use Greek style plain yogurt in this recipe. If you don't have any or can't find it at the store, plain regular yogurt will work, just use the same amount of yogurt (1/2 cup) and reduce the water to 1/3 cup. You'll also notice I use cake flour in the recipe. If you only have all purpose flour, place a tablespoon of cornstarch (10 g) in a 1 cup measuring then fill it up with all purpose (130 g) and use that instead. Finally if you don't have a vanilla bean, just add two extra teaspoon of vanilla extract.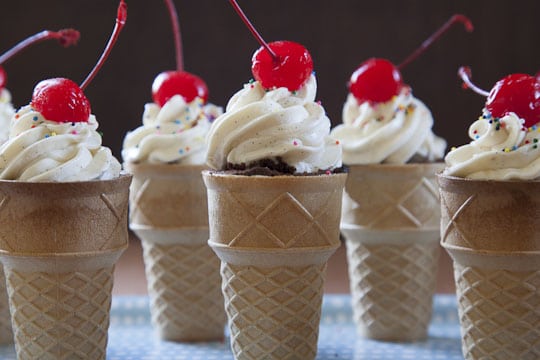 Ingredients
Cake Batter
1/2 cup boiling water
2 oz (57 g) unsweetened chocolate, chopped
3 tablespoon (25 g) cocoa powder, natural not Dutch-processed
1/2 cup (115 g or 1 stick) unsalted butter at room temperature
1 cup (220 g) dark brown sugar
2 tablespoons (25 g) white granulated sugar
1 large egg
1 large egg yolk
1 teaspoon baking soda
1/4 teaspoon salt
1 cup (135 g) cake flour
1/3 cup Greek style yogurt
1 teaspoon vanilla extract
Frosting
5 large egg whites
1 cup + 2 tablespoons (225 g) granulated white sugar
1/2 teaspoon salt
455 g (2 cups or 4 sticks) unsalted butter at room temperature
2 teaspoon vanilla extract
1 vanilla bean
To Assemble
18 cake cones
12 Maraschino cherries (optional)
sprinkles
Directions
1. Preheat the oven to 375˚F. Place the cake cones in an unlined muffin tin (this will help keep them upright but you'll still have to be careful moving the pan in and out of the oven). Heat up some water and then measure out 1/2 cup of boiling water into a glass heat proof measuring cup. Drop in the chopped chocolate and cocoa powder and stir into a paste and the chocolate melts. If you need help melting the chocolate, place in the microwave for 15 seconds or so.
2. Place the butter and both sugars in the bowl of a stand mixer fitted with a paddle attachment. Cream together on medium speed until fluffy, about 1-2 minutes. Reduce the speed to low and add the egg, then egg yolk, one at a time. Add the baking soda and salt to the batter and beat to incorporate, about 15 seconds on medium speed.
3. Add the cake flour and beat to incorporate on medium speed (30 seconds). Mix the yogurt and vanilla together and add to the batter, beating to incorporate, about 30 seconds. Spoon batter into cones, making sure to leave 1/3 of the cone empty with plenty of room for the cake to expand (about 2-3 heaping tablespoons of batter per cone). You might have extra batter left. If you do, feel free to save it and bake in a traditional cupcake, or bake more cupcake cones.
4. Bake in the oven for 16-18 minutes or until a toothpick inserted in the middle of the cake part comes out clean. Let cool in the pan for ten minutes before moving them to a wire rack to cool completely.
5. Once the cupcakes have cooled completely, make the frosting by first placing the egg whites, sugar and salt in the bowl of a stand mixer. Place the bowl over a pot of simmering water and stir with a whisk until all the sugar and salt have dissolved (stick your finger in there every now and then and feel around for any grains, if you feel something, keep cooking it). Once the egg whites have heated up and dissolved the solids, remove from the pot and place in the mixer fitted with the whisk attachment.
6. Whip the sugary egg whites on high speed until fluffy, shiny and the bowl is cool to the touch, about 6-8 minutes or so (it may be longer depending on how hot your brought the egg whites to). Make sure the egg whites are cool enough, and then reduce the speed to medium low and start adding, a tablespoon or two at a time, the butter. Keep adding it until all the butter is incorporated. Add the vanilla extract. Split the vanilla bean lengthwise and scrape out the seeds and add that as well. Switch to the paddle attachment and beat for another two minutes on medium speed or until the frosting smooths out.
7. Fill a pastry bag fitted with as star tip and pipe a generous swirl of frosting, in a soft serve peak into each cupcake cone. Toss some sprinkles over the top of the frosting and place a cherry at the peak of each cupcake cone (if using). Serve to a three year old child and see their eyes sparkle with love.
Makes 18 cupcake cones