This flavorful and easy chicken rub recipe uses Meyer lemons to make a great Mexican adobo rubbed roasted chicken! (Jump directly to the recipe.)
I realize that Thanksgiving is just around the corner and most of us are going to be roasting a large bird fairly soon but roasted chicken is one of my comfort foods. We make it fairly often at home, regardless of whether or not a turkey dinner is looming large on our calendar. The reality is roast chicken is one of those easy meals that I can crank out in my sleep. One of my favorite ways to prepare it is to use an easy chicken rub recipe like adobo rub, to make a Meyer Lemon Adobo Rubbed Roasted Chicken.

I've been making this adobo rub for the past few years, ever since I stumbled across it in an old Gourmet magazine (may it rest in peace). The recipe, inspired by Mexican cuisine, is for an adobo paste, that is spread over pork chops. I found the paste works equally well for chicken! It takes minimal effort to throw together but creates maximum flavor. We've had last minute guests over for dinner and they have not only raved about it but demanded that I give them the recipe. When that happens, I usually know it's a winner.
The fastest way for me to roast a chicken is to butterfly or spatchcock it. I have a tutorial for that here on my blog but it's an easy process, that allows for even faster cooking. As an added bonus, you can save the chicken backbone in the freezer and once you have accumulated a number of them, you can use them make chicken stock. That's what I do at least, maybe you aren't that DIY. Either way, roast chicken is on the table from start to finish in less than a couple hours. Considering most of the cook time is "walk away" time as the chicken roasts merrily along in the oven, this is one of the easiest, simplest but most satisfying meals anyone can make!
Chicken Rub Recipe for a Meyer Lemon Adobo Rubbed Roasted Chicken
By Irvin Lin
The traditional Mexican adobo rub uses sharp lime zest to give it an angular edge. I've swapped out Meyer lemon zest to mellow it a bit and give it a sweeter note. Meyer lemons are a cross between oranges and lemons. After I zest the Meyer lemon, I place the fruit in the pan with the chicken as it roasts, so it becomes extra juicy. Once roasted, I squeeze the lemon over the chicken before serving. If this deviates too much from the traditional Mexican adobo recipe you are used to or you can't find Meyer lemons, just use a lime in it's place for a more traditional version. One thing to note, this rub recipe makes enough for 2 roasted chickens. If you only are roasting one, you can put aside half the rub (before you add the olive oil) for later or just cut the rub recipe in half. The rub should last about 2 or 3 days in an airtight container in the refrigerator or a couple of weeks in the freezer.
Adapted from a Gourmet magazine recipe.
Ingredients
2 tablespoon paprika
5 teaspoon dried oregano
5 medium garlic cloves, minced
1 1/2 teaspoon ground cumin
1 1/2 teaspoon red pepper flakes
1 1/2 teaspoon kosher salt
1/2 teaspoon fresh ground black pepper
1 medium Meyer lemon
3 to 4 tablespoon olive oil
2 medium (3 1/2 to 4 pound) roasting chicken, spatchcocked (see instructions here)
Directions
1. Preheat the oven to 400ºF. Lightly spray 2 rimmed baking sheet with cooking oil.
2. Combine the paprika, oregano, garlic cloves, cumin, red pepper flakes, kosher salt, and pepper together in a bowl. Zest the Meyer lemon and add it to the bowl as well. Mix with a fork until well blended.
3. Add 3 tablespoons of olive to the bowl and toss until a paste forms. If it is too dry, add an additional tablespoon.
4. Loosen the skin underneath the breast and the thighs and rub some of the paste directly onto the flesh of the chickens. Then rub the remaining paste all over both chickens. Place each chicken on a baking sheet, one per sheet.
5. Cut the Meyer lemon in half and place one half on each roasting pan next to the chicken. Roast the chicken in the oven for 45 to 60 minutes or until a thermometer reaches the 165ºF when inserted in the thickest part of the thigh. Baste the chicken halfway through the roasting, and rotate the pans.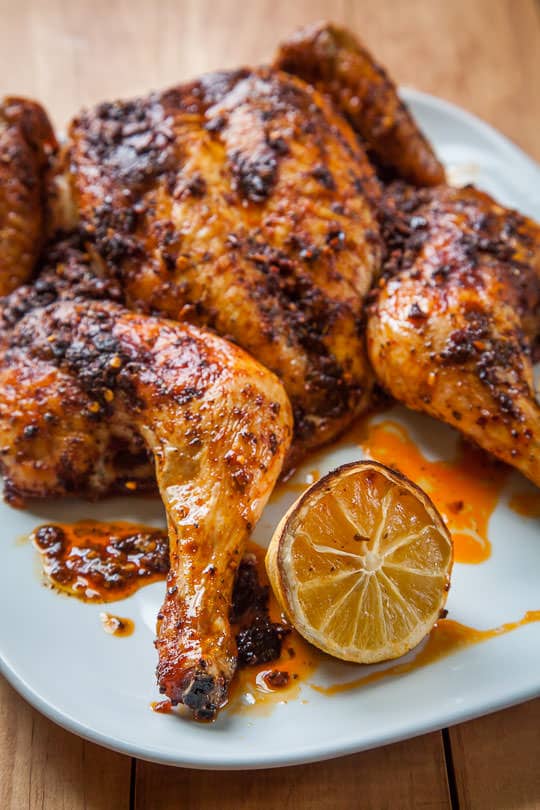 Makes 2 whole roasted chickens, serves 4 to 8 people.
If you like this Chicken Rub Recipe, check out my Easy Fried Chicken Recipe, Mole Chicken Wing Recipe and my Korean BBQ Chicken Wing Recipe.
And check out some of these other chicken rub recipes from around the web:
Use Real Butter's Barbecue Chicken Recipe
Leite's Culinaria's Moroccan Spice Rub
Cookin' Canuck's Southwestern Roasted Chicken with Cumin, Chili Powder and Cilantro
The Wanderlust Kitchen's Cayenne Rubbed Chicken with Avocado Relish and Corn Salsa
Taste Love and Nourish's Roasted Herbes de Provence Chicken