This carrot and brownie layer cake is a stunning Spring and Easter inspired weekend project for those who want to impress! (Jump directly to the recipe.)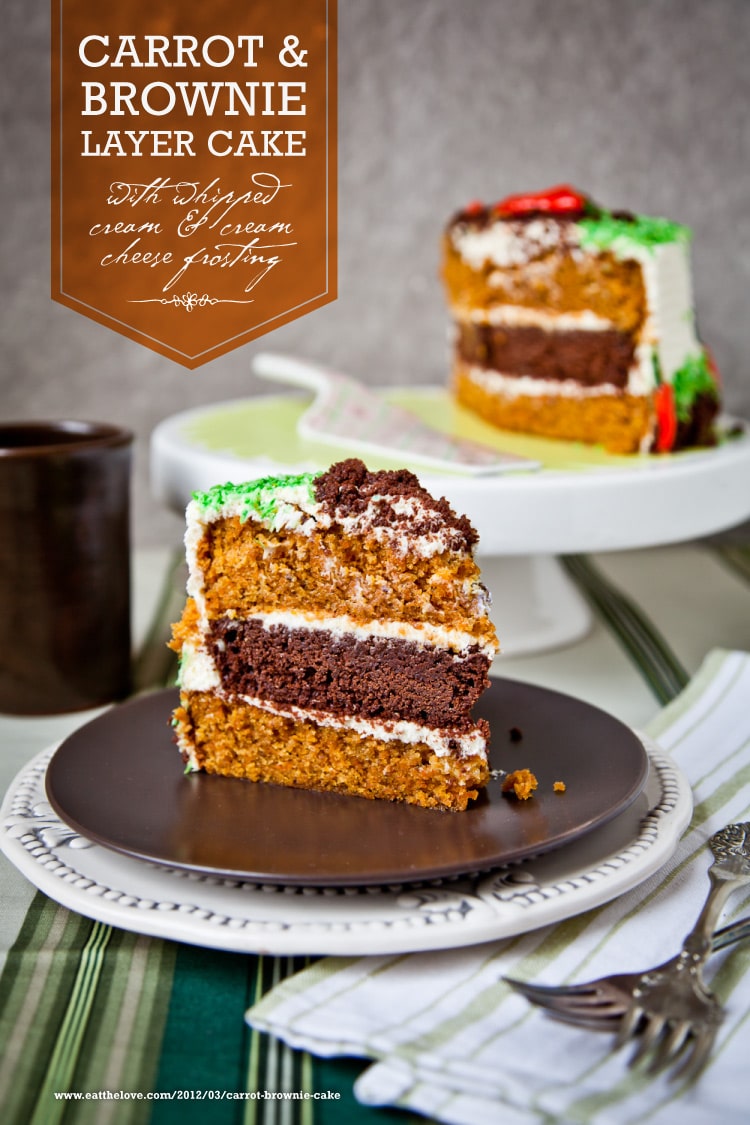 At the end of last year, I received from a lovely holiday gift of Martha's Entertaining, A Year of Celebration from the publisher, signed by Martha herself. Lush and gorgeous (as you would only expect from a Martha Stewart book) I immediately flipped through it and found a number of exquisite recipes that I knew I wanted to attempt…when the proper time presented itself. Mostly because none of the recipes in the book seem to be the sort of thing that you would whip up on a whim, rather most of them seem rather elaborate, with plenty of timing required. So I tucked the book on my groaning shelf with the other elaborate "one-of-these-days" books nestled tightly between the French Laundry Cookbook, Boulevard, NOMA and Eleven Madison Park. Then a couple of weeks ago, I realized I had the perfect opportunity to take that book off the shelf, the 18 Reasons DIY Dessert event that I co-host with my friend Melanie. The theme was cakes, so I pulled out Ms. Stewart's book and opened it to her Spring Garden Cake, and immediately thought to myself, I gotta simplify this recipe. Taking inspiration from that cake, I created a Carrot Pineapple Spice & Brownie Layer Cake with Whipped Cream & Cream Cheese Frosting and Marzipan Carrots.
Now here's the thing. I normally don't make highly decorated cakes like this. I don't play with fondant or gum paste, I don't sculpt with marzipan and food coloring and I don't try to make my cakes look all super cutesy. But every now and then I want to play a little. I want to experiment and try something different. Of course, Martha's original cake has a full garden of marzipan cabbage, rhubarb, lettuce, radishes, and of course carrots. I'm slightly crazy when it comes to my baking, but I'm not that crazy. I needed to simplify. Because when Martha Stewart warns you in a recipe that "this will take some time to do" you better kiss your weekend goodbye.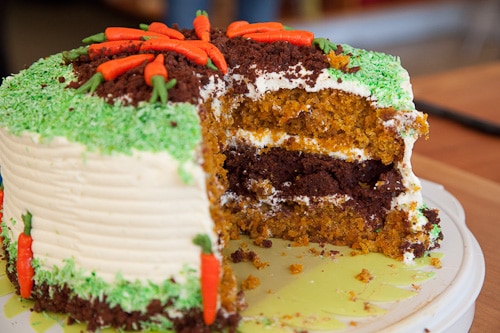 The originally recipe, of course, feeds 50 to 60 people and there was no way I was going to make a cake that huge. In the end, I used my own recipes for the carrot cake layers as well as the frosting since I wanted to stick with a traditional cream cheese frosting and not an Italian buttercream as she had suggested. Pretty much the only thing that stayed the same was the marizpan decorations. Definitely easier than the original recipe, but definitely a little more work than my usual cakes. Which is saying something as I KNOW that my recipes are usually pretty complex.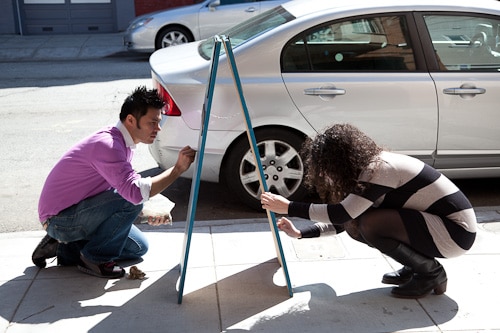 The 18 Reasons event was a smashing success. This was the first time in the new 18 Reasons location, with a new time, on a Sunday afternoon. Turns out Sunday afternoon is the perfect time for hanging out and eating desserts. There were at least a dozen cakes there, along with a packed house full of people eating cake and hanging out.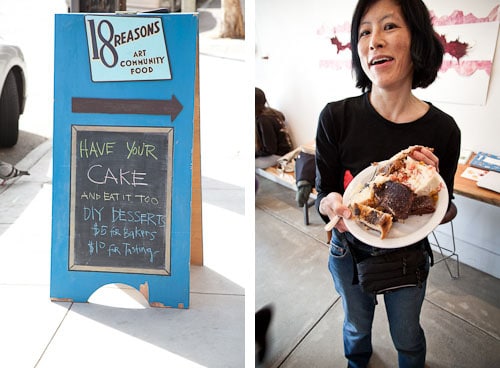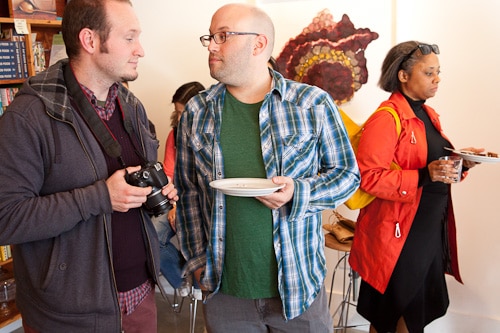 My co-host Melanie showed up with an awesome Red Wine Chocolate Cake with Mascarpone Whipped Topping (hello Mascarpone, you are my friend). Sam & Rose came with a stunning Blood Orange Upside Down cake made in a cast iron skillet. The glistening blood oranges just made me (and everyone else) want to dive right in. And a former pastry chef arrived with a Mississippi Mud Cake with Creamsicle Ganache Frosting that had everyone swooning for seconds.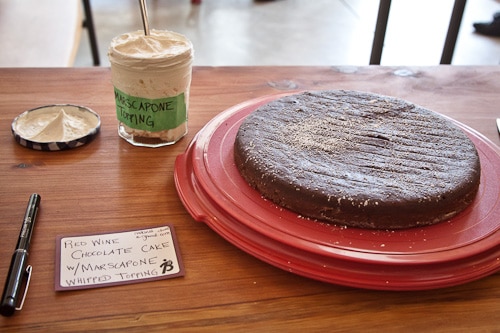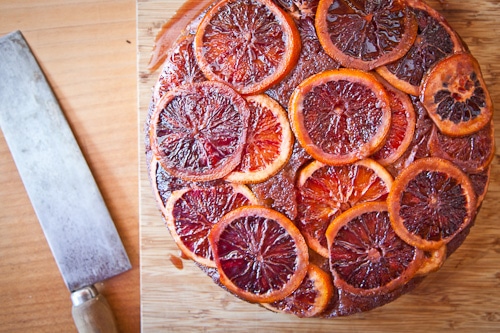 Jack and Sophie showed up with two poppy seed cheesecakes that were rich and light at the same time (how do they do that?). The cinnamon nut loaf that was pure comfort food. DIY Dessert regular Joe brought Pain D'Espices, a spice cake with dried fruit, nuts and star anise that kind of made me wish we were serving tea or coffee. I could totally curl up in a corner with a cookbook, a slice of it, and a hot beverage and be content for hours.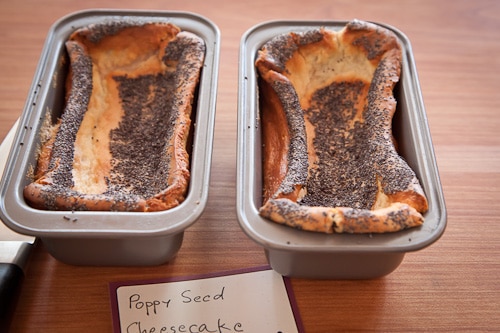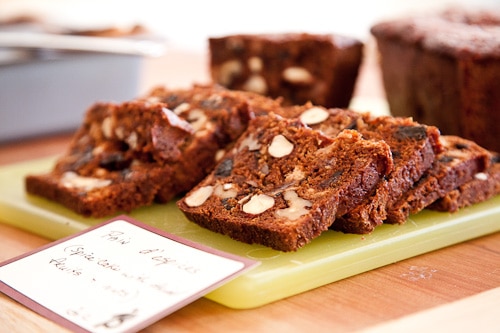 Fellow food blogger Brian of Tummy Morsels overcame his social anxiety and much cake tribulations to triumph with his lemon infused cake layered lemon curd and strawberry jam filling and topped with Swiss meringue buttercream. I think I might have had a second slice, but don't tell anyone. I felt positively healthy cutting a slice of the oatmeal snack cake with coconut topping for myself. Or maybe it's all relative compared to the other cakes.  There was a lumberjack cake with dates and coconut inspired by a dessert at Frances and a  moist and fantastic banana bread by Ben.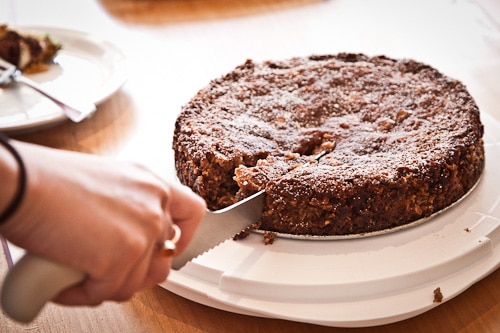 Of course, I think one of my favorite cakes there totally summed up the event. A simple buttermilk cake with vanilla glaze, it seemed elegant on it's much coveted green cake platter. Simple and tasty, I couldn't help by take another slice of it, I realized that this was DIY Desserts is all about. Bakers and food lovers all together, socializing and hanging out, eating desserts, both elaborate and down home. I can't wait for the next one. Hope to see some of you guys there!
18 Reasons will be hosting the next DIY Desserts on Sunday, June 3rd. The theme will be PIES so mark your calendars and come prepared to eat and socialize!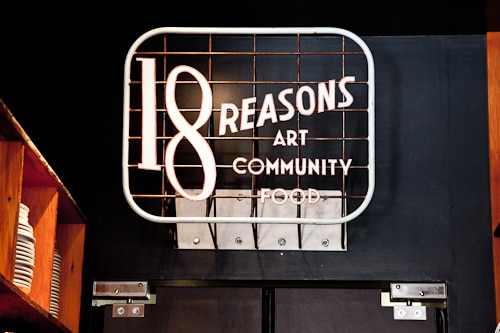 Special thanks goes to Clarkson Potter Publishing and Martha Stewart Living Omnimedia, Inc. for providing me a copy of Martha's Entertaining, a Year of Celebration. Though the book was provided by them, I was not compensated for anything I wrote above and all opinions are my own.

Carrot Pineapple Spice & Brownie Layer Cake with Whipped Cream & Cream Cheese Frosting and Marzipan Carrots
By
Irvin Lin
This is a fairly elaborate recipe (which is saying something coming from me, who likes to create complex things) that would make a great centerpiece for an Easter or Spring party. It is simplified from the original creation that Martha Stewart had created. You can certainly simplify it even more, by just making the carrot pineapple cake with the frosting and leave out brownie layer as well as the marzipan/coconut decorations. I've tinkered a lot with carrot cakes in the past and I think this might be my favorite carrot cake rendition so far. That said, I personally love the entire cake including the dense chocolate brownie cake layer so if you want to create something for a special occasion or want a "project" I wholeheartedly endorse this cake.
Inspired from Martha's Entertaining, a Year of Celebration by Martha Stewart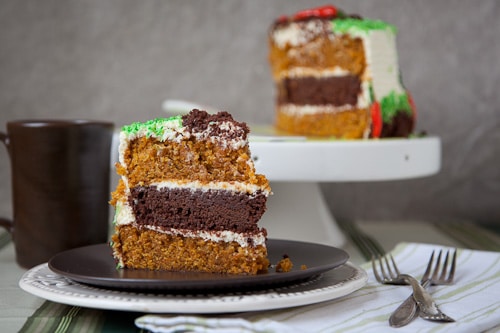 Ingredients
Carrot Pineapple Spice Cake Batter
1 cup carrot juice
2 cups (280 g) all purpose flour
1/2 cup (65 g) almond meal or almond flour
1 tablespoon baking powder
1 teaspoon baking soda
3/4 teaspoon fine sea salt
1 teaspoon ground cinnamon
1/2 teaspoon ground ginger
1/2 teaspoon ground nutmeg
1/4 teaspoon ground allspice
1/4 teaspoon ground cloves
1/4 teaspoon ground cardamom
1/4 teaspoon fresh ground black pepper
2 cups (400 g) white granulated sugar
3/4 cup (175 mL) neutral flavored cooking oil (like sunflower)
1 lbs (450 g) carrots, finely freshly grated
1 cup (160 g) finely chopped fresh pineapple
3 large eggs
2 teaspoon vanilla extract
1/2 teaspoon almond extract
Brownie Cake Batter
2 oz (57 g) unsweetened chocolate
4 oz (115 g) semisweet chocolate
1/2 cup (113 g or 1 stick) unsalted butter
3/4 cup (105 g) all purpose flour
1/2 teaspoon baking powder
1/4 teaspoon sea salt
3/4 cup (150 g) granulated white sugar
3 large eggs
2 teaspoon vanilla extract
Cream Cheese Whipped Cream Frosting
2 cups (475 mL) heavy whipping cream, cold
24 oz (3 bricks) full fat cream cheese
1 teaspoon vanilla extract
1 vanilla bean
1 1/2 cup (175 g) confectioners' sugar (powdered sugar)
Marzipan Carrots
57 g (2 oz) almond paste
1 tablespoon light corn syrup
85 g to 115 g (3/4 to 1 cup) confectioners' sugar (powdered sugar)
red, yellow and green gel food colorinh
Additional Decoration
1/2 cup unsweetened shredded coconut
green and yellow liquid food coloring
Special Equipment
Three 9 inch round cake pans
Parchment paper
Gel food coloring
Liquid food coloring
Butter knife
Toothpicks
Cake comb
Directions
1. Make the carrot cake layers by first placing the carrot juice in a medium skillet and turn the heat to high on the stove. Once the juice starts to boil, lower the heat until the juice is barely simmering and cook until the juice has reduced to 1/4 cup (about 5 or 6 minutes). Preheat the oven to 350˚F and spray two 9 inch round pans with a neutral flavored cooking spray. Line the bottom of each pan with a round 9 inch piece of parchment paper.
2. Once the juice has reduced, remove from heat to let it cool a bit. Meanwhile, place the flour, almond meal, baking powder, baking soda, salt and spices in a large mixing bowl. Using a balloon whisk, vigorously stir the dry ingredients until they are uniform in color.
3. Place the sugar, cooking oil, grated carrots, chopped pineapple and reduced carrot juice in the bowl of a standing mixer fitted with a paddle attachment. Beat on medium speed for 15 seconds or until the mixture is well blended. Add the dry ingredients in thirds, beating to incorporate between each addition. Add the eggs, one at a time, beating to incorporate between each addition. Finally add the vanilla and almond extract to the batter and beat until incorporated.
4. Divide the batter into the two lined cake pans and bake in the oven for 35 to 40 minutes or until a toothpick inserted in the middle of the cakes comes out clean.
5. While the carrot cake is baking, prepare the brownie cake layer by first spraying one 9 inch pan with a neutral flavored cooking spray then lining the bottom of the pan with a round 9 inch piece of parchment paper.
6. Chop both chocolates into 1/2 inch chunks. Place the chocolate in a large microwave safe bowl along with the butter and microwave for 30 seconds to melt. Stir and microwave again for 30 seconds. Stir and repeat a 3rd time for 30 seconds. At this point most of the chocolate and butter should be melted. Stir with a fork until remaining solid chunks of the chocolate have melted. If you need to, you can microwave for additional 15 second intervals to help melt any stubborn pieces. If you don't have a microwave, you can melt the chocolate on a double boiler, or if you are a risk taker, directly on the stove (the butter will help keep the chocolate from scorching but even so, be sure to use a really low heat and stir constantly).
7. Place the flour, baking powder and salt in a small mixing bowl. Using a balloon whisk, vigorously stir the dry ingredients until they evenly distributed. Add the sugar to the melted chocolate and mix with a large wooden spoon or heat proof spatula. Add the eggs, one at time, mixing to incorporate between each addition. Add the vanilla extract mixing to incorporate then add all the dry ingredients and mix to completely incorporate.
8. Once the flour is incorporated, pour batter into the lined cake pan. Once the carrot cake layers have finished baking, remove them from the oven and place them on wire racks to cool. Reduce the heat of the oven to 325˚F and place the brownie cake layer in the center of the oven to bake. Bake for 25 to 30 minutes or until a toothpick inserted in the center of the cake comes out with some crumbs sticking to it. Try not to overbake the brownie cake, as you want it moist.
9. Let both carrot cake and brownie cake layers cool on wire racks completely. Once they have cooled, make the frosting by placing the whipped cream in the bowl of a standing mixer fitted with a wire attachment. Whip the cream on medium high speed until peaks form, being careful that you don't overwhip. Pour into another bowl and then place the cream cheese in the bowl and whip on medium high speed until smooth. Add the vanilla extract and beat to incorporate. Split the vanilla bean lengthwise and scrape the seeds out into the cream cheese and beat to incorporate the seeds (reserving the pod for another use). Sift the confectioners' sugar over the cream cheese and mix until well blended.
10. Add 1/3 of the whipped cream to the cream cheese and mix on low speed until incorporated. Then add the rest of the whipped cream to the cream cheese and, using a large spatula, lift and fold the whipped cream into the cream cheese by hand. If you get really impatient, you can try to use the standing mixer but do it on the lowest speed as you don't want to deflate the whipped cream too much. Once the whipped cream is incorporated, the frosting is ready.
11. Make the marzipan carrots by placing the almond paste and corn syrup in a medium size bowl. Sift 85 g confectioners' sugar over the paste and syrup and then, using your hands, knead the sugar and syrup into the paste. Keep on kneading until the paste is smooth, sifting more confectioners' sugar into the paste if it is too sticky. Once you have a smooth paste, divide the paste into 2/3rds and 1/3rd parts.
12. Knead into the 2/3rd part a touch of yellow food coloring and a touch of red food coloring. I used gel food coloring because it is more intensely colored and has less liquid. If you use liquid food coloring you may need to use more confectioners' sugar to compensate for the liquid. Knead the marzipan until the color is evenly distributed. You'll want to add the color very lightly in the beginning, as you can always add more color but you can't take color out. You'll want more yellow than red to get carrot orange. Repeat with the 1/3rd part and the green food coloring. Again use just a bit in the beginning to get the right color. You might need to add a little yellow to the green to get the right color for the carrot top.
13. Pinch a pea size piece of the orange marzipan and roll it into an inch to an inch and half long carrot shape. Using a butter knife, lightly indent the carrot by rolling the carrot under the knife. Pinch off half a pea size of the green marzipan and roll it into a long thin 2 inch piece. Cut in three pieces and pinch the three pieces together at the bottom. Using a toothpick, create a whole at the top of the carrot and insert the green carrot top into the top of the carrot. Repeat until you've used up all the marzipan.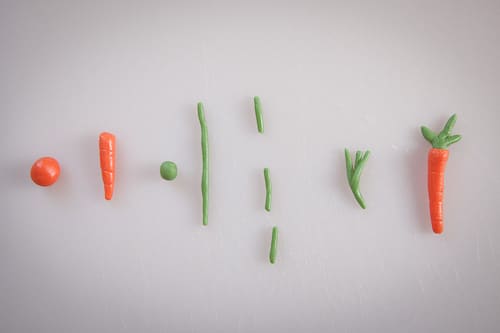 14. Toss the shredded coconut with green and yellow liquid food coloring (I used liquid food coloring as it distributes more in the shredded coconut compared to the intense gels) until you get a "grassy" green color.
15. Assemble the cake by first leveling off the brownie layer but cutting off any "dome" part of the brownie, reserving the brownie crumbs for decoration. If the brownie layer is level, cut off a 1/4 inch layer anyway, as you will need the crumbs for decoration.
16. Place one carrot layer on your cake platter (top side down so the flat bottom is facing up) and cover the top of it with the frosting. Place the brownie layer on top of the frosting and cover the top if it with frosting. Place the final carrot layer on top of the frosted brownie layer and cover it with frosting. Cover the sides of the cake with the frosting as well and then run a ribbed cake comb around the side of the cake to give it the nice ridges.
17. Sprinkle 1/2 of the green coconut all the way around the edges of the top of the cake, making a ring around the cake edge. Rub the reserve leveled off brownie cake between your fingers and hands to make crumbs. Sprinkle 1/2 of the brownie crumbs inside the ring of green coconut covering the middle of the cake, making the "dirt" for the garden. Gently press the rest of the brownie crumbs around the bottom of the sides of the cake, making a "dirt" ring around the bottom edge of the cake. Then press the remaining coconut grass onto the sides of the cake, above the "dirt" brownie. Finally lay carrots on top of the cake in the brownie dirt, as well as pressing them round the side of the cake, inside the dirt and grass sticking up.
Makes one 3 layer cake, serves 12 to 16.