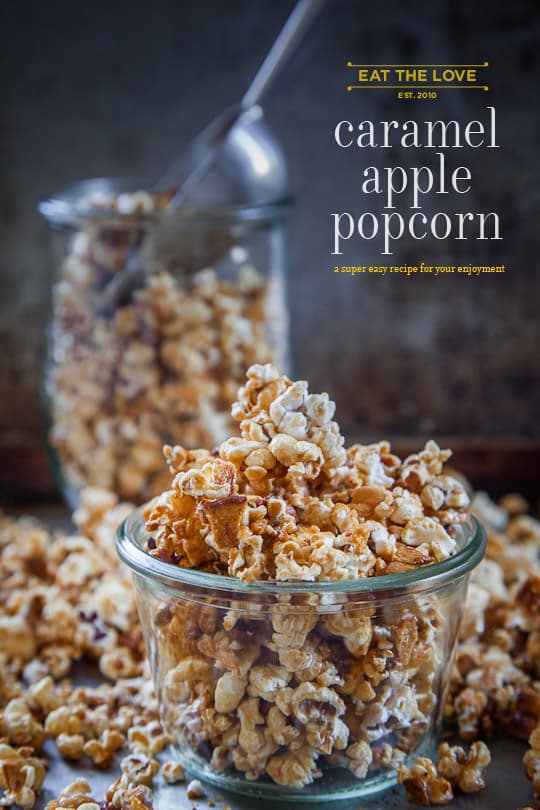 Let's make a pact, you and I. Let's not go into the kitchen, with what we are SURE is a brilliant, genius idea. Let's not take that idea, develop it into a homemade recipe and think of ourselves as unique, one-of-a-kind individuals. Then let's not spend the time to photograph said brilliant recipe with the notion that not only will the entire blogosphere bow down to our sheer intelligence but we'll be forced to actually tweet out the phrase "You're welcome everyone!" when posting about the recipe (a phrase you and I both know is totally obnoxious but still have always wanted to use). And most important of all, let's not Google the terms caramel apple popcorn after all that effort, sure that you and I are the only one in the entire known universe to have come up with this recipe…only to find out that 1,670,000 search results are returned. Let's. Just. Not. (Feel free to jump directly to the recipe if you want to.)
Now I realize I'm not brazenly foolhearted enough to think that I'm the only one to come up with the idea of caramel apple popcorn. I mean, caramel + popcorn comes in a box emblazoned with a child wearing a sailor suit and a nifty (but strangely always disappointing) toy enclosed (why is it always a cheap sticker?). Caramel + apple is pretty much responsible for every childhood emergency trip to the dentist that I had to undergo for a pulled filling (though the toys I got at the dentist were usually a little more fun). So the combination of all three together is going to be inevitable. I know that there are probably no new ideas in the culinary world (though really, I have yet to find another person out there who has created the reverse white chocolate crackle cookie, but that's just quibbling). However it's always a bit of a blow to realize an idea that you think is somewhat unique and brilliant has been done before…1 1/2 million+ times before.
That's when I decided the root of the problem doesn't lie with my utterly brilliant, absolutely individual ideas. No, my problem is with Google. It's ruining everything. Before Google, before the internet, before we had mobile phones that allows us to look up any answer, any time of the day, people could argue. Friends would get in lively discussions where they could absolutely demand that they were correct. People would say that they were smarter than everyone else and their ideas were heads and tails above the general population and with sheer conviction alone, convince you that no else had thought of their idea first.
And you know what? No one could disprove it. Or at least, if they wanted to disprove it, it would take a lot of work to do it; trips to the library, flipping through card catalogs, pulling books from the shelf or worse peering through microfiche. The effort involved was tremendous, and most people didn't bother, which meant if I were to claim to have invented caramel apple popcorn, it would take a WHOLE lot of effort to disprove it back then. Enough effort that most people would just say "meh" and move on. Oh the good old days before the internet and Google.
So let's pretend. Let's pretend that no one is going to Google the terms caramel apple popcorn and find another recipe. Let's pretend that there are no other recipes out there that are better this one. Let's pretend that caramel apple popcorn will take the world by storm and start to trend all over Twitter, Facebook, Pinterest, Google+, Instagram and whatever other social media network is the new hot commodity. As long as I've got a big bucket of this stuff to eat, I'm pretty content to play let's pretend. How about you?
Caramel Apple Popcorn
By Irvin Lin
Most homemade caramel popcorn uses corn syrup, which I'm not completely adverse to. But let's face it, if you can use something better than that, why not? I use honey along with apple juice, apple chips and a touch of brown sugar. A dash of cinnamon brings the apple forward, but if you really want to make the popcorn extra apple-y, just crush another 1/2 cup of apple chips into a powder by using a spice grinder, coffee grinder, mortar and pestle or plain old ziplock bag and rolling pin. Once you have the apple powder stir it into the caramel before you pour it over the popcorn.
Stovetop popcorn instructions adapted from Simply Recipes.
Ingredients
1 tablespoon oil
1 teaspoon sea salt
1/2 cup (115 g) popcorn kernels
1/2 cup (155 g) honey
2 tablespoons (28 g) dark brown sugar
1 teaspoon vanilla extract
1/2 cup apple juice or cider
2 tablespoons unsalted butter
1/4 teaspoon ground cinnamon
1/2 cup to 1 cup (30 to 60 g) apple chips, crushed (1/2 into powder if desired, see headnote above)
Special Equipment
rimmed baking sheet
silpat or parchment paper
candy thermometer
Directions
1. Preheat the oven to 350˚F and line a rimmed baking sheet with parchment paper or silpat.
2. Place the oil and salt in a large pot or dutch oven. Add 3 or 4 kernels of popcorn in a large pot and turn the heat on to high. Cover with a lid, leaving it slightly ajar to let the steam release, or cover with a mesh splatter guard (the type you use to cover the pan when you cook bacon). Shake the pan a few times. Once the kernels have popped, turn off the heat and add the remaining popcorn. Shake the pan to coat the kernels with oil and salt and set a time for 30 seconds. Once the time is up, turn the heat back to medium high and continue to cook the popcorn on the stove. Shake the pan occasionally, to make sure the heat is evenly distributed. Turn the heat off when the popping slows down to about 2 or 3 seconds between pops. Remove from heat and pour into a large heat proof bowl. If you don't want to make the popcorn over the stove you can also make it in the microwave, using regular prepackaged microwave popcorn or using my method in my Haunted Honey Caramel Popcorn recipe.
3. Place the honey, dark brown sugar, vanilla extract, apple juice and butter in a medium saucepan. Turn the heat to medium high and cook the liquid, stirring occasionally until the caramel sauce reaches 240˚F, or the firm ball stage. Add the cinnamon and powder apple if using (see headnote above). Stir and then pour over the popcorn. Add the crushed apple chips and toss with a heatproof spatula until all the popcorn is coated evenly. Spread evenly onto the lined baking sheet and then bake for 15 minutes, or until the popcorn starts to become golden brown.
4. Let cool in the pan if you want the popcorn to clump together into chunks or use a spatula to loosen and lift the popcorn from the pan to let the kernels cool separate and more individual. The caramel popcorn will harden and crisp as it cools. Once cool, store in an airtight container for about 3-5 days.
Makes about 16 cups or 4 quarts of caramel apple popcorn.
Other popcorn recipes here on Eat the Love
Haunted Honey Caramel Popcorn (a wordless recipe)
Peppermint Candied Popcorn
Spicy Mexican Chocolate Popcorn Brownies
Other fun ideas for popcorn around the web
Chocolate Peanut Butter Popcorn Bars
Sweet and Salty Curry Molasses Popcorn
Hot Cocoa Popcorn
Sriracha Sesame Ginger Popcorn
Cookie Butter Popcorn Bars