The gluten free ratio happens on the first Wednesday of the month and (when I don't bail out) I am forced to make things gluten free for it. This month is pie. Though I was INSANELY busy (hello, I'm going to three friggin' conferences in the next two weeks), I couldn't skip it. I mean it's PIE. I love pie. I'm Mr. Pie Street Cred around here. So I scrounged about the kitchen, and realized I had a lot of leftover apples that need to be used up and what I came up with is Gluten Free Double Butterscotch Apple Pie.
Before you non-gluten free people bounce away (hold up, I know how you feel, I'm not gluten free either) just hear me out. Sometimes baking gluten free is a good thing. Why you may ask? Well you get a chance to experiment and play with flours you might not get a chance to play with. Here's the thing, most times you bake, all purpose white flour is used, and it's there for structure alone, it's practically a filler. What it tends to lack is flavor. But once you start baking gluten free, you start to realize that flour can actually have flavor. You can start adding flours that compliment and work with the final product. The flour actually pulls it's own weight and starts to contribute to the overall end product. Isn't that a good thing? And trust me, this pie crust may actually be BETTER than regular gluten full pie. That's saying something from me.
So here's what I did. I started digging in my flour boxes to see what I had in stock. If you've ever visited my apartment, you'll find eight giant plastic boxes underneath our kitchen table. AJ made me put them in boxes, as I used to have the flours in grocery bags but they kept on falling over. So now they are much more neatly organized. I've never actually counted how many flours I have but I'm guessing somewhere around 25 different ones. In my third box down, I found the one I was looking for, teff flour.
Have you ever used teff before? It's mostly know as a flour used in Ethiopian cooking for the injera bread, the spongy sour bread that most Ethiopian food is served with. But here's the thing, it goes GREAT with brown butter. The malty flavor adds this kind of rich depth that makes the nutty brown butter practically sing. One bite and you'll understand.
Now full disclosure, I'm absolutely obsessed with butterscotch at the moment. No, not those fake flavored tan chips you buy at the grocery store. I'm talking old school nostalgic butterscotch flavor, the kind you make at home with two simple ingredients. Most people don't even know that it's simple to make, they just associate it with the fake chips or those ugly yellow candies, the ones that fall to the bottom of the Halloween bag after you've eaten all the good stuff. Nope, real butterscotch is the combination of just brown butter and brown sugar. That's it. Two simple ingredients and you have butterscotch. So you can understand why I was so thrilled to find that bag of teff flour buried at the bottom of the flour box.
So back to my Gluten Free Double Butterscotch Apple Pie here. Pie dough is inherently something people are scared of. But keep this in mind, there's not gluten here, so the pie crust can't become tough. In fact, before I roll it out, I squeeze and massage the dough in my hand to make it pliable before rolling. I'd never do that with actual wheat flour pie crust dough. But working gluten free is a different creature. This pie crust is incredibly forgiving. Don't be afraid of making pie, after all there's a reason why the phrase "Easy as Pie" exists. Which is a good thing, as I'll be making this pie again. Soon. Because it's fantastic.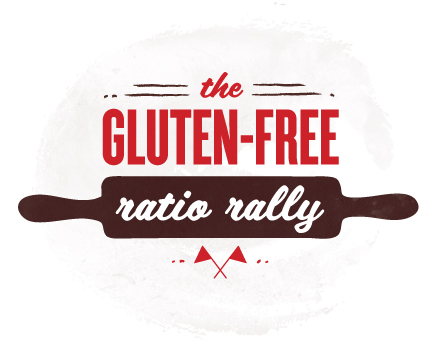 The Gluten Free Ratio Rally is a group of bakers that decided to start baking via ratios instead of by volume measurements. This month's gluten free ratio rally is hosted by Lisa over at Gluten Free Canteen. Pop on over to check out the other people's pies.
[For those who didn't know my previous post, the Halloween edition of my Wordless Recipes happens to be naturally gluten free. And two posts before that happened to be my gluten free blueberry lemon bars. Apparently I am on a gluten free roll right now. Go me!]
Gluten Free Double Butterscotch Apple Pie
The reason this pie is called "Double Butterscotch" is because of the butterscotch pie crust AND butterscotch filling for the apples. There is some prep time for making the pie crust, as you need to first make the brown butter and then let it chill for an hour to solidify. Then, after you make the crust, you have to let the crust dough chill another hour for the flours to hydrate. Plan accordingly. Keep in mind that this pie uses a lot of butter and is really rich – in a good way. Trust me on the crust though, it's crispy, flaky, flavorful and fantastic. I want to say that you're friends will never know it's gluten free, but that does it a disservice. I think it might be BETTER than some of my other gluten-full pie crusts.

This being the Gluten Free Ratio Rally, the ratio for pie dough is as follows: Flour:3 Fat:2 Water:1 or Flour 100% Fat 66% Water 33% in baking percentages. Easy as 3, 2, 1. If you can eat gluten, you can, of course, skip all the gluten free flours (including the almond meal, teff and flax meal) and just use 450 g all purpose flour (about 3 cups and 2 tablespoons). But keep in mind, your pie crust isn't going to be as tasty as if you were to use the alternative flours, specifically the almond flour and the teff flour. You may note that the recipe looks like it deviates a little bit from the 3-2-1 ratio. that's because when I made the brown butter, a little bit of the water evaporated and was absorbed by both the brown sugar and the flax meal I added. So I added extra cold butter at the final blending of the pie crust dough to accomodate for this.
Butterscotch Pie Crust
300 g (1 cup + 5 tablespoons) unsalted butter at room temperature
60 g (1/4 cup) dark brown sugar
1/2 teaspoon salt
20 g (2 tablespoons) flax meal
140 g (1 cup) glutinous (sometimes called sweet) rice flour
105 g (3/4 cup + 1 tablespoon) superfine white rice flour
100 g (1/2 cup + 1 tablespoon) teff flour
70 g (1/4 cup + 3 tablespoons) superfine brown rice flour
35 g (1/4 cup) almond meal (or almond flour)
60 g (4 tablespoons) unsalted butter, cold
150 ml (2/3 cup) cold water
Butterscotch Apple Filling
7 medium apples (try to get a mix of tart firm ones like Granny Smiths and softer sweet ones like Macintosh or Rome)
1 tablespoon lemon juice (1/2 a medium lemon)
85 g (6 tablespoons or 3/4 stick) butter
180 g (3/4 cup) dark brown sugar
1 teaspoon pure vanilla extract
1/2 teaspoon almond extract
1/4 cup tapioca flour (sometimes called tapioca starch)
1 teaspoon cinnamon
1 egg yolk for egg wash
2 tablespoon turbinado sugar (sugar in the raw) or white granulated sugar for topping
1. Make the Butterscotch pie crust by placing the room temperature butter in a saucepan. Cook the butter on medium high until the butter fat starts to brown and become nutty and fragrant. Add the brown sugar, salt and flax meal to the butter and let it cool in the pan. Scrape the butter and all the brown sugar mixture into a bowl and refrigerate for an hour, or until the butter has solidified again and is cold.
2. Place the glutinous rice flour, white rice flour, teff flour, brown rice flour, and almond meal in a large mixing bowl. Using a balloon whisk, vigorously stir the flours together until they are evenly distributed. Take the brown butter mixture out of the fridge and scrape the butter and brown butter/sugar mixture into the flours. Cut the mixture into 1 inch chunks. Cut the cold plain butter into 1/2 inch pieces and sprinkle them over the dry ingredients as well. Wsing your hands, squeeze and massage the butter and brown sugar into the flour, until they have turned into small bits and the dry mixture looks like cornmeal.
3. Sprinkle a little bit of the water at a time into the flour, tossing the flour with a large spatula, until it has absorbed most of the water. Then go in with your hands and massage the dough until it all sticks together. Separate the dough into two balls and flatten them into disks. Wrap tightly with plastic wrap and place them in the refrigerator for an hour (or overnight)
4. Once the dough has chilled, preheat the oven to 450˚F. While the oven is preheating, generously flour a surface with rice flour or tapioca starch. Take one disk of the dough out of the fridge and break off a small bit of it. Massage the dough in your hand until it becomes pliable. Roll the dough in the flour to coat, and then roll out a small flat patch of dough. Press it into place in a 9 inch deep dish pie pan. Continue doing this with the rest of the dough, patchworking the dough into place, until you have covered the entire bottom and sides of the pie pan.
5. Make the filling by peeling, coring and slicing the apples into 1/2 inch pieces and placing them in a large mixing bowl. Sprinkle the lemon juice over the apples and toss to coat.
6. Cook the butter on medium high in a saucepan until the butter fat starts to brown and become nutty and fragrant. Add the brown sugar, vanilla extract and almond extract. Stir to incorporate, and then scrape the entire content of the saucepan into the mixing bowl with apples. Sprinkle the tapioca flour and cinnamon into the bowl as well and toss to coat. Pour the apples and any accumulated juices into the bottom pie crust.
7. Take the other disk of the dough out of the fridge and break off a small bit of it. Massage the dough in your hand until it becomes pliable. Roll the dough in the flour to coat, and then roll out a long flat patch of dough. Cut out a 10 inch strip and lay it across the top of the pie. Continue to do this, weaving the dough in and out on top, to form a lattice crust. If the pie crust falls apart as you move it to the pie, just patch it together with a little water on the ends. You can also tuck broken pieces underneath other whole pieces, as you weave the crust.
8. Place the pie on a baking sheet with a rim to catch and drips and to facilitate moving the pie in and out of the oven. Bake at 450˚F for 15 minutes and then lower the temperature of the oven to 350˚F and bake for another 50 to 60 minutes or until the filling is bubbling at the edges. If the pie crust starts to brown too much, place a piece of aluminum foil around the edges. Let the pie cool to room temperature before serving.
Makes 8 to 10 generous pieces.