[Warning: If you are easily offended or work in a sensitive environment, you may want to click away, as this post has pictures that aren't what you usually find on a food blog. Nothing too risque, but I felt obligated to warn you ahead of time.]
It's been awhile since AJ and I have had people over to our place for pizza and pie. AJ and I had our last party down in Los Angeles a while back. So, taking out our calendar, we decided that the end of September would be the an ideal time, as several of our friends (including the ones from Los Angeles) would be visiting, making it the perfect excuse for our "Pie and Pie" party. Of course, we realized after we scheduled our party, that the weekend happened to also be the time of the infamous Folsom Street Fair, a unique San Francisco event celebrating the leather, fetish & BDSM fair that apparently is the third largest spectator event in California behind the Tournament of Roses Parade and the San Francisco Pride Parade. Since I enjoy being thematic in my desserts, I decided to make a Blackberry and Blueberry pie for our gather evening, or as I liked to call it, the Black and Blue (berry) Pie.
The party was quite the success. AJ and I made four pizza (or was it six pizzas? I can't remember) of which maybe three were eaten (it must have been six because we froze the rest for later and we're still eating it). The best thing about making pizzas is that people who have food restrictions can be accommodated. Luckily we didn't have anyone so sensitive that we needed to worry about cross contamination. We had a few vegetarians, and one person allergic to onions, which meant pesto pizza for him!
Afterwards I had made three types of pie. But the one most fitting, that people seemed to really like, was the Black and Blue (berry) Pie. Totally appropriate for Folsom Street Fair! For those who have never experienced the Folsom Street Fair, it is a singular event that has to be witnessed to be understood. Some 400,000 people attend this event where there is often public spanking, whipping and random tying up of people in the streets. As shocking as some of the public spectacles are when you walk around, it's often the unique costumes and outlandish gear that always turns my head.
There is often a lot of nudity and skin that gets shown at the fair. Most people are either excited or offended, but truly my first thought when I see people walking around with all their leather gear on is always "I really hope they wear a lot of sunscreen, because that's going to give them really funny tan lines."
And, of course, you can't really help but find some of the outfits and booths hilarious. Sure you guys (and gals) go there to flash their private parts, but the more creative people get dressed up in various ridiculous outfits, the sort of thing that always makes ask "Does that REALLY turn someone on?" But hey, to each their own.
Folsom is often an excuse for people to get dressed, or undressed as much as they want. The costumes can be elaborate or they can just be ridiculous and often times they are both. Of course, it doesn't take any real reason for people to dress up here in San Francisco, where a usual weekend night out, has a multitude of drag queens working their ensembles that would put Lady Gaga to shame.
The tattoo work that you see at the fair is always interesting and elaborate. Of course, living here in San Francisco you also get immune to the fact that most everyone has some sort of tattoo. But it always makes me pause and wonder how the tattoo is going to look in 30 years from now. Perhaps this is the reason why I don't have any tattoos myself. That or I'm just too skittish to commit to something permanent.
It's fascinating to go with my friend Steven who had never been to Folsom before. It's as if I have a fresh set of eyes as well. Though he (and I) both agreed that it can be sensory overload. Too many people, too little space, the fair filled up fast. With my jaded eyes (having lived in San Francisco for 13 years, nothing ever really shocks me anymore) I still found plenty of stuff to look and take pictures of.
Of course it's not just the people that amuse. It's often the booths and signs as well. It IS the Folsom Street Fair after all.
As is often the case, I got crowd fatigue fairly fast. And despite what it may seem on this blog, I am not a super social person. So after all the excitement of the fair, I went back home, cut myself a slice of the black and blue (berry) pie, and decided that was it was as close as I was going to get to indulging in some sin for the day. The perfect slice for Folsom Street Fair.
Black and Blue (Berry) Pie
I use potato starch as the filler for this pie, as it doesn't cloud up the filling as much as cornstarch, but if you don't have any potato starch, feel free to substitute cornstarch at a 1:1 ratio. There are minimum spices in this pie, to allow for the berry flavor to come through. What's extra awesome about this pie is that it's pretty darn easy to make. The berry filling doesn't require much prep work, and the crust has only four ingredients, meaning you have time to make it and then time to go and spank someone.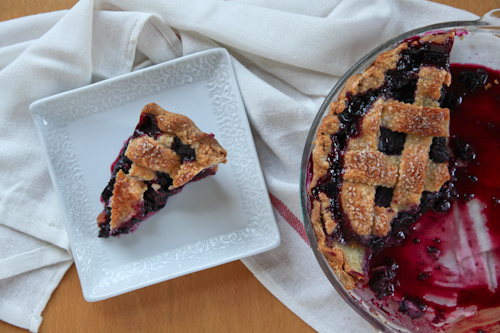 Pie Crust
455 g (3 cups + 3 tablespoons) all purpose flour
300 g (1 cup + 5 tablespoons) salted butter, refrigerator cold
1/3 cup vodka
1/3 cup ice cold water
Berry Filling
340 g (12 oz or 2 1/2 cups) blackberries
510 g (18 oz or 3 1/2 cups) blueberries
200 g (1 cup) granulated white sugar
45 g (3 tablespoons) potato starch (not potato flour)
zest of 1 medium orange (~1 tablespoon)
1/4 teaspoon all spice
1/8 teaspoon (a generous pinch) nutmeg
1 large egg, separated into yolk and white for wash
1 to 2 tablespoons of extra sugar for sprinkling on top
1. Place the flour in a large mixing bowl. Cut the butter into 1/4 inch cubes and sprinkle over the flour. Using your hands, toss the cubes with flour, coating them completely. Flatten the cubes of butter with your fingers, until all the butter has been smashed. Then start rubbing and squeezing the flour and butter together, until the ingredients start to clump together.
2. Sprinkle the water and vodka over the flour butter mixture and toss with a fork until it forms a dough. If the dough seems too wet, sprinkle a little more flour onto it and fold it in, but the dough is meant to be tacky wet. Gather 1/2 of the dough and flatten into a 1/2" thick disk. Wrap tightly with plastic wrap and repeat with the other half of the dough. Place both disks in the refrigerator for an hour or overnight.
3. Once the dough has chilled, preheat an oven to 425˚F and place a pie tin on a baking sheet (to catch any drips). Combine all the ingredients for the berry filling in a large mixing bowl, tossing together with a large spatula until combined.
4. Take one disk of the dough out and roll it out on a generously floured surface to form a 10" disk. If the dough is too sticky, add more flour to the rolling surface and the dough surface as well (this dough is really forgiving because of the vodka and can take as much flour as you want to add to it). Fit the disk into a 9" pie pan. Take the second disk and repeat the process by rolling it out to a 10" disk. Cut the disk into 10 to 12 strips.
5. Place the egg white in a small bowl and add one tablespoon of water. Beat until frothy and combined. Brush the bottom and sides of the inside of the pie crust with the egg white wash. This will help seal in the crust and prevent it from becoming soggy. Pour the berry filling into the pie crust.
6. Place the longest strip of pie crust over the filling in the center and turn the pie 90˚ and place the second longest strip perpendicular to that in the center of the pie. You should have an "X" on the pie. Turn another 90˚ and place the third and fourth strips of dough on the right and left of the center strip. Now turn another 90˚ and place two more strips of dough, lifting up the strips to "weave" the strips above and below the placed strips. Continue until you have topped the entire pie, saving the short pastry strips for the ends of the pie top. Decoratively crimp the sides of the pie, folding the ends of the top crust into the edges.
7. Place the egg yolk in a small bowl and add 1 tablespoon of water to it. Using a fork whisk the egg yolk until it foams. Then brush the top of the pie crust completely with the egg wash. Sprinkle white sugar over the top of the pie crust (I never measure, I just sort of sprinkle until there is an even coating of the sugar on top).
8. Bake the pie at 425˚F for 25 minutes, and then reduce the heat to 350˚F and bake for an additional 40 to 50 minutes. You want the filling to be thick and bubbling in the middle. If the pie crust edges are getting too brown, put a piece of aluminum foil over the edges to prevent it from burning. Cool to room temperature before serving.