Most people think of plums as these golf-ball sized midnight purple stone fruit with bright red sweet flesh and tart skin. But, at least until I was 5, Green Gage plums were what I knew. Growing up in St. Louis, in a suburban house, our backyard had a green gage plum tree and I loved reaching up on my tip toes and grabbing one that seemed so giant in my tiny little fists, sweet as sticky liquid sugar and eating them with juice running down my little plump arm. Sadly, by the time I was heading into second grade, we moved away from that house and I never really thought much of green gage plums again. Until I was back in St. Louis this summer with AJ, and I came across a table of them at the farmers market we stumbled upon. I quickly snatch up a basket of them, and brought them all the way back to San Francisco to make myself a Backyard Mixed Black and Green Gage Plum Tart with White Wine Custard to enjoy with the plums that I hadn't eaten out of hand.
AJ and I had been back to the Midwest early this month, hanging out with our respective families. We arrived in St. Louis just in time to go down to the Gateway Arch to see both the airshow and the fireworks. It's been years since I've been back to St. Louis in the summertime, and I don't think I've ever been able to take AJ down to the Arch to see the fireworks. There is an accompanying fair that goes along with Independence Day (Fair St. Louis) but it is a sad pale imitation of what it use to be. Growing up, the booths would just span for blocks, of food and community vendors. Now there seemed to be only a few booths, of the typical fried fair food, nothing like my memory. But the fireworks were even more magical than I remember. Watching them framed through the Gateway Arch made it worth the Midwest heat and humidity.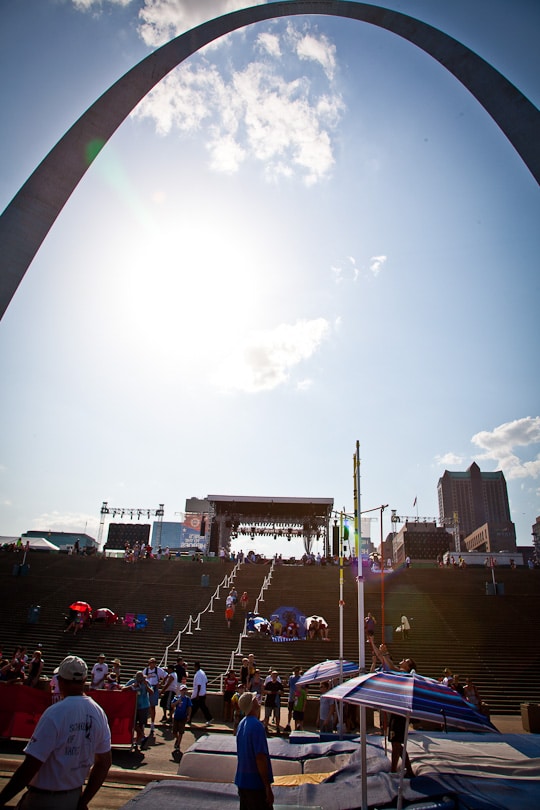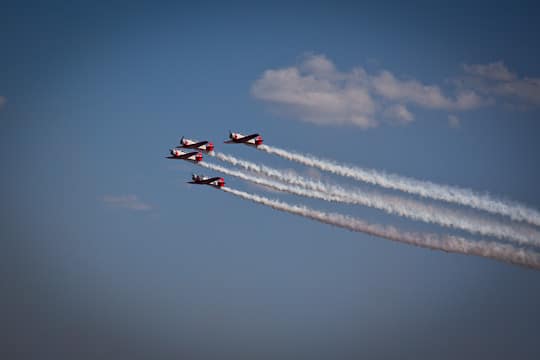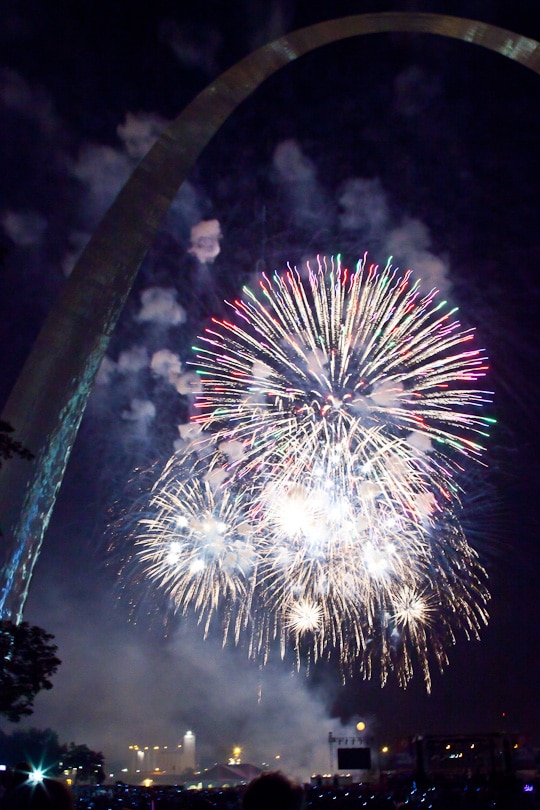 The next day, we packed up our bags, headed over to Indiana (you can read about our exploits in previous posts, along with a recipe for a cobbler and a pie). Once our visit in Indiana was over, we heading back to St. Louis, and I made AJ slow down and stop a few times on the road so I could take pictures of the landscape. I think it's the Midwest boy in me, but I do miss the bucolic rolling fields of grass and corn, along with the weathered and worn farmhouses, barns and small towns. Even  more, I miss the billowing dramatic clouds of the midwest, something we rarely get in San Francisco. Of course, we made sure to listen to Indiana singer-songwriter John Cougar Mellancamp as we road trip to enhance the heartland experience. While listening to a little ditty, AJ and I came to the conclusion, since he was actually a high school football player, that he would have to be "Jack", meaning I would have to be "Diane". #sigh
Back in St. Louis, I made AJ run around with me to see all the sights that I rarely get to see or do in the summertime. Our annual visits to the Midwest usually occur in the wintertime, where most of our time is spent visiting with family during the holidays. Rarer is the chance for me to go to parks like Laumeier Sculpture Park, where we can walk around and admire the sculptures and artwork in the sunny meadows. Sure it was hot, but the hike in the woods was just shady enough to be bearable, and the sculptures that we would come across made it worth the sweating mild glow we soon felt on our skin.
Speaking of sculptures, AJ had never actually made it to the City Museum, a pretty unique museum that had opened up just as I was leaving St. Louis for San Francisco some 15 years ago. Filled with the most random salvaged items and art sculptures made from recycled parts, I had only been once or twice and so we made the trek downtown to visit it. I could probably write a whole post just about the museum itself, though we only had an hour or so to run around as I had not realized it closed as early as it did.  Just as well, as despite how awesome the museum is (think giant human sized hamster tubes that adults and kids can clamber up and around and into) I think some of the extremely high contraptions that we were climbing on were making AJ dizzy with his acrophobia.
Yep, turns out AJ has an extreme fear of heights! I was impressed with how much he pushed himself, but there was definitely a point where AJ put his foot down and stated to me "This is as far as I go." Then he turned around and climbed down. Fair enough. I climbed on further and met him on the ground. I loved the City Museum, but as I always say about it when people proclaim their love of it, "That place is just a giant lawsuit waiting to happen." However, if you find yourself ever in St. Louis, ignore what I said and go, because everyone should experience it once. Really.


No trip back to St. Louis in the summer is complete with a visit to Ted Drewes frozen custard, which is a St. Louis tradition. There are a number of indigenous St. Louis food items, including toasted ravioli (breaded deep fried ravioli with marina dipping sauce), St. Louis style pizza (cracker thin pizza with a slightly sweet tomato sauce and processed melty cheese that sticks to your teeth called Provel), gooey butter cake (a coffee cake that is both sweet and salty) and a dubious sandwich called the St. Paul's Sandwich which I have never had, and only discovered while wikipeding food from my hometown. But the one food item that is most universally praised and liked from anyone who has had it is the Ted Drewes concrete. So thick that you can hold the cup upside down and it won't fall out (this is all in theory, as I once did turn it over in the parking lot and the entire concrete fell out – but the guy behind the counter immediately made me another one, while another guy came running out and hosing it down, erasing any evidence that said accident occurred.). The custard is thick and rich, a different sort of richness than just the plain milk fat richness that regular ice cream has. I crave it only in the super hot humid heat (like the Midwest summer has) so I dragged AJ (along with my friend Stephanie) to Ted Drewes twice.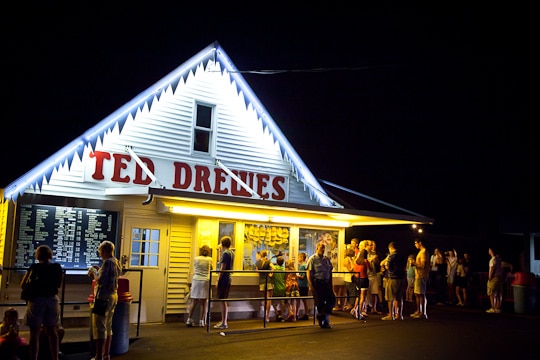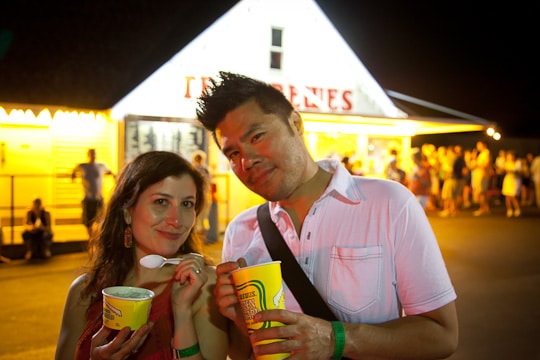 Speaking of Stephanie, who I've known since kindergarten, she had suggested that we meet up for dinner and check out the Missouri Botanical Garden's Chinese Lantern Festival afterwards. AJ and I hadn't been to the Botanical Garden for years so we were game, but we weren't expecting the insane crowd that the festival would draw. I am not a huge crowds person (nor is AJ or Stephanie it turns out) but the Chinese lanterns did look pretty cool out with the setting sun and evening light, set against the beauty of the Garden.
It was after our trip to Laumeier Sculpture Park when AJ and I decided to go and get a bite to eat at Schlafly Bottleworks, a local brewery, where we ran into the farmers market that occurs on their parking lot. As we left the brewery, AJ and I walked around the farmers market and came across the green gage plums. I hemmed and hawed about getting them for roughly three seconds, as I knew we were in St. Louis for just a few more days, but I broke down and bought them anyway. I thought I would have time to bake something for my parents when I was in town, but it just didn't work out. So I carefully packed them in my carry on and brought them all the way back to San Francisco. They luckily arrived completely intact, and sat on my counter for a day or two until I figured out what to do with them. AJ and I were grilling dinner and I looked out over into our backyard and spotted some ripe plums on our tree that the birds hadn't gotten to yet. How is it that my childhood home had a plum tree and my current apartment building also has a plum tree? Fate was clearly telling me that I had to make something with the backyard plums, and so I picked what I could hold in my hand and brought them up to my kitchen. A backyard plum tart seemed the natural choice, something that married both plums from my childhood with the plums of today. I took a slice and savored the memories of St. Louis and San Francisco, all in one bite.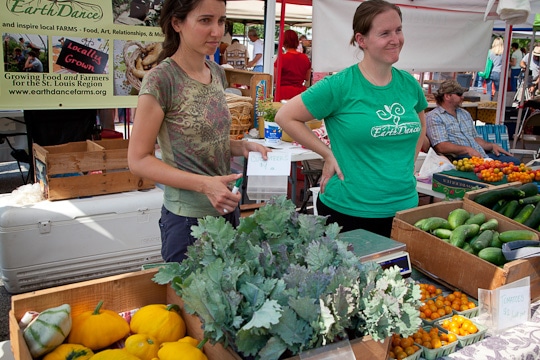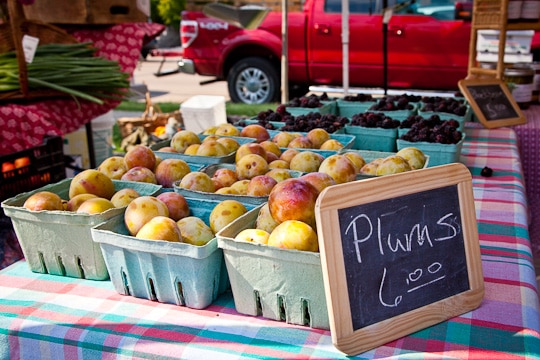 Backyard Mixed Black and Green Gage Plum Tart with White Wine Custard
By Irvin Lin
Green Gage plums can be hard to source in the US as they are an old-fashioned sort of plum (at least that is what google tells me) that are more common in Europe. Keep an eye out for them at the local farmers market, but if you can't find them, this tart will work with the more common black and red plums found in US grocery stores. I used a nice fruity white wine in the custard, semi-dry. You don't want anything too sweet, but I would avoid anything too oakey as well. Basically you want a white wine that you would use to make a white sangria with, cheap but drinkable. That said, don't fret too much if you don't have the "right" white wine for this tart as the plum and vanilla really comes forward way more than any subtle wine flavors might, so use what you have on hand. I used a rectangular tart pan with a removable bottom, but if you don't have that, you can use a round 9 or 10 inch tart pan or a pie pan with straight sides instead.
Ingredients
Tart Crust
75 g (1/2 cup) whole wheat flour
150 g (1 cup) all purpose flour
15 g (2 tablespoons) cornstarch
10 g (1 tablespoon) granulated white sugar
125 g (9 tablespoons or 1 1/8 stick) cold salted butter
1 large egg
1/4 teaspoon sea salt
2 tablespoon white wine
1 large egg white
Filling
1 lb (about 7 medium) green gage plums
1 lb (about 7 mediume) black or red plums
3 large egg yolks
100 g (1/2 cup) granulated white sugar
1/4 teaspoon sea salt
1/4 teaspoon all spice
1 vanilla bean (or 2 teaspoons vanilla extract)
2/3 cup white wine
30 g (1/4 cup) cornstarch
Special Equipment
8 x 12 tart pan with removable bottom
rolling pin
parchment paper
pie weights, dry beans or uncooked rice
Directions
1. Make the crust by placing the flours, cornstarch and sugar in a medium sized mixing bowl. Cut the salted butter into 1/4 inch cubes and sprinkle over the dry ingredients. Toss the butter cubes with your hands to coat, then squeeze the cubes of butter until they flatten out. Continue doing this until the rest of the butter has been reduced to smaller bits and flakes, squeezing and tossing the dry ingredients until the dough starts to resemble crumbly cornmeal with bits of butter still in flattened chunks.
2. Beat the egg in a small bowl with the sea salt until frothy. Add the egg and the white wine to the dough. Toss and fold the wet ingredients in, until a dough forms. Gather the dough into a flatten disk and wrap tightly with plastic wrap. Chill in the refrigerator for at least an hour or overnight.
3. Once the dough has chilled, preheat the oven to 400˚F. Roll the dough to fit into whatever tart pan you happen to be using (I used an 8 x 12 inch tart pan but see the headnotes above for other pan options). Line the pan with a piece of parchment paper or aluminum foil over the dough and fill with pie weights, dry beans or uncooked rice. Place on a baking sheet (to help facilitate moving the pan in and out of the oven and to catch any drips if they form) and bake in the oven for 10 minutes. Remove from oven, and lift the parchment paper/aluminum foil straight up from the pan, along with the pie weights. Return to the oven and bake for an additional 5 minutes. While the crust is baking, beat the egg white with 1 tablespoon of water until frothy. Remove crust from oven and brush with the egg white wash all over the bottom and sides of the crust, helping to seal the crust. Return to oven and bake for an additional 2 minutes. Remove from oven and let cool on wire rack, maintaining heat as you make the filling.
4. Make the filling by first slicing the plums into 1/2 inch slices and placing in a medium size bowl, catching any juices. In a separate bowl, add the egg yolks, sugar, all spice, and all spice. Split the vanilla bean (if using) in half lengthwise and scrape the seeds into the bowl. Whisk together, until the vanilla seeds are evenly distributed. Measure the white wine in a glass measuring cup and add the cornstarch to the wine. Stir until the cornstarch has dissolved. Add to the egg yolk mixture and whisk until incorporated.
5. Pour the filling into the pre-baked crust and then carefully place the plum slices, alternating each plum, onto top of the custard filling. Place back on the baking sheet and then bake in the oven for 45 minutes or until the edge of the crust looks golden brown and the filling has set in the middle. Remove and let cool before serving.
Makes one 8 x 12 tart, serves 6 to 8 people.