BBQ Shrimp and Grits are an easy meal to make. Using stone-ground grits and cooking them slow and low brings out their savory flavor! (Jump directly to the BBQ Shrimp and Grits recipe.)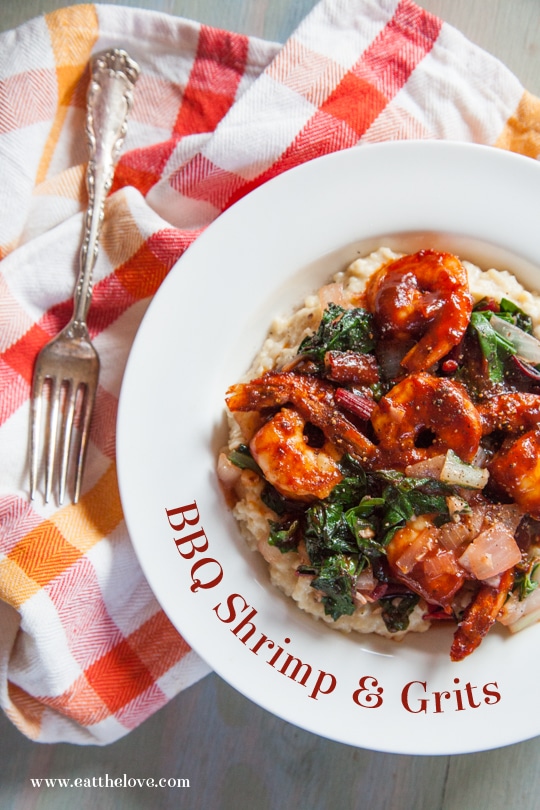 When AJ is away I eat awful. Box mac and cheese, instant ramen, and a lot of carry out, specifically of the cheap Chinese food type. I'm not sure why I devolve into such a horrible eater when he's gone but it happens about once a year when he goes on the AIDS Lifecycle and all I can do it just resign myself to eating that way and then trying to clean myself up the following week when he comes back.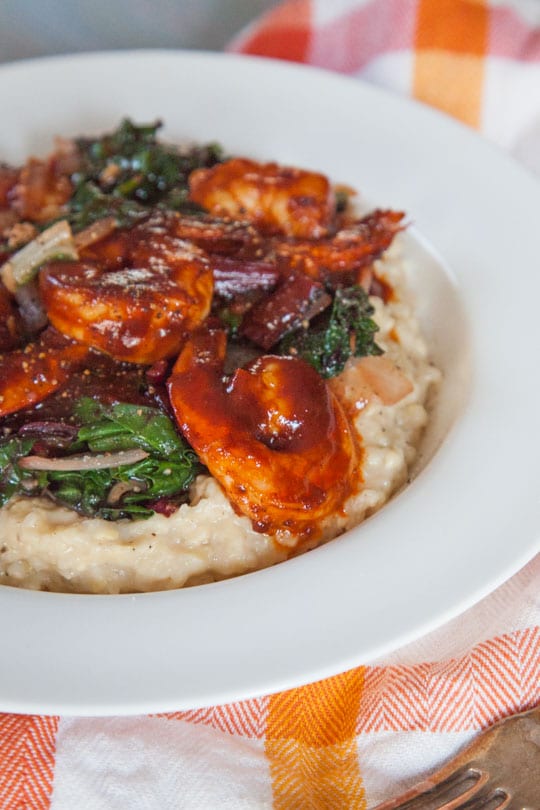 Lucky for me, AJ is usually gone only one week of the year. Sadly this year, a few months ago, he left me to my own devices for two whole back-to-back weeks. This meant I was left to fend for myself for every meal. After a week of eating garbage, I had enough. It was fun for a little bit but my hands were actually itching to get back into the kitchen and make some real food. And certainly my stomach was as well.
One of my all time easy-to-make dishes for myself for lunch is cheesy grits with something on top. Sometimes it was an egg, sometime bacon. Sometimes I grilled up a sausage or on those rare occasions, I would just eat it plain, with a lot of salt and pepper and a drizzle of extra green peppery extra virgin olive oil. I discovered my love of grits years ago, when I visited Atlanta and the south (savory please, NEVER sweet). But, for whatever reason, I hadn't made grits in ages. And rummage through my freezer I found some frozen shrimp that probably should have been used awhile ago. Throw in a little sautéed Swiss chard that I found buried behind the fried rice in the rectangular white box and I had BBQ shrimp and grits for lunch! I wish AJ was around for me to share it with him, but I took comfort in my food, knowing he would be back soon enough…
BBQ Shrimp and Grits
By Irvin Lin
I implore you to NOT use instant grits. Ever. They have the texture and flavor of glue. Though it takes more time, stone ground grits really are worth the effort. I use a mix of chicken stock for flavor, milk for creaminess and water to cook the grits, giving the grits loads of flavor. If you've ever hated grits and deemed them flavorless, give this method a try. It may change your mind.
Ingredients
2 cups chicken stock
1 1/2 cup milk
1/2 cup water
1 cup stone ground grits, not instant
4 ounces sharp cheddar, shredded
2 tablespoon unsalted butter
2 teaspoon kosher salt
1 teaspoon fresh ground pepper
4 tablespoon olive oil, divided
1 pound shrimp, deshelled
1/2 cup BBQ sauce, bottled or homemade
4 cloves garlic, minced
1/2 onion, chopped
1 bunch chard, stem removed and chopped, leaves cut into 1-inch strips
Directions
1. Make the grits first by placing the stock, milk and water in a medium saucepan and bring to a boil. Gradually stir in the grits with a whisk. Once all the grits are added, lower the heat to a simmer and cover. After 5 minutes whisk, then cover again for 5 minutes. Repeat one more time, then remove the cover and continue to whisk frequently, with the lid off, making sure the grits don't stick, burn or clump up. Cook for 20-25 minutes or until the grits are creamy. Sprinkle the cheddar over the hot grits then add the butter, salt and pepper to the saucepan. Stir to incorporate.
2. While the grits are cooking, heat 2 tablespoon of the olive oil in a medium sauté pan until hot. Add the shrimp and cook over medium heat, 2 minutes each side, until the shrimp are opaque and pink. Add the BBQ sauce over the shrimp and toss to coat, cooking until the sauce is warm. Set aside and cover to keep warm until the grits are done.
3. In a different sauté pan, heat the remaining 2 tablespoons of olive oil until hot. Add the garlic and cook, stirring constantly for 30 seconds. Add the onions and chard stems and cook for 3 minutes or until the onions are translucent and the chard stems start to soften. Add the chard leaves and wilt for 1-2 minutes. Set aside and cover to keep warm until the grits are done.
4. Once the grits are done, divide them into 4 bowls. Divide the chard and onions over the grits. Divide the shrimp and place over the chard, drizzling the warm BBQ sauce over the grits. Season with more salt and pepper to taste and serve immediately.
Makes 4 servings.