It's hard for me to talk about cookies or baking after the events of last Friday at Sandy Hook's Elementary School. In fact, last Friday left me utterly wordless, which, if you know me, is a rarity. Outrage, anger, complete sadness, I'm still trying to comprehend how something like that could have happened. Where do we go from there, and how do we all recover? I was shell-shocked (still shell-shocked really, broken somehow with no way to figure out how to fix it) and the only think I could think to do was go into the kitchen and bake something.
It was a purely a selfish move on my part. I wasn't baking for a bake sale, I wasn't baking for charity, I wasn't baking to raise awareness for gun control or mental health (though if someone knows something out there that I can bake for, let me know). No, I was baking to make myself feel better. It's what I do. The methodical measuring and weighing of ingredients, the ritual of preheating the oven or taking my eggs out and placing them in warm water to bring them to room temperature because I never remember to bring them out earlier because I never plan things. All of the little movements, the muscle memory of whisking the dry ingredients together or creaming the sugar and butter, these are the things that comfort me. As my friend food stylist friend Krista told me, it's becomes a bit of a zen state. Baking give me purpose and makes me feel like things will be better. Because nothing makes me feel better than watching someone I love take a bite of my baked goods and light up with pleasure.
This is why I bake and this is why I call my blog Eat the Love. In the nearly three years of writing and photographing and designing and generally talking about food, I still believe that when you eat something that someone bakes for you, you're eating the love. And that truth is important to me. Sharing the love, especially in times like this is important.
In truth, I needed to bake as well, because AJ and I had scheduled our annual holiday party on Sunday. Our holiday party is an excuse for me to go all out and bake for three days straight, with very little sleep and come up with ridiculous recipes. But though the party was in the back of my head, that I really needed to bake more, I really went into the kitchen to try to make sense of a senseless act.
It didn't work. Or maybe it did. I'm not sure. Nothing will ever make sense of what happened in Connecticut. But while I baked, while I made food for my friends and loved ones, I found myself falling into a rhythm again, making food for those that I love, some of whom I only see once a year. And when the party came around, as I was surrounded by my friends who I all love and adore, who I care about more than anything, I took a look at what I had made, what I had baked, how I had crowded the table with 19 desserts, including six different types of cakes (seven if you count that cheesecake, but who calls cheesecake cake?) I was able to breathe a little. Not completely but more than I had been since Friday. And that's when I knew that things will be OK. As a person and as a community we'll all heal. Things will get back to normal. It's already starting I think.
But until then, I'll continue to bake.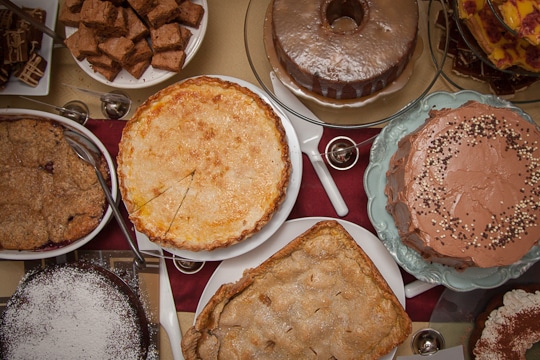 I don't have a recipe for you today – which I know sounds ridiculous since I baked 19 desserts in the past few days. But if you want holiday cookie recipe, bounce on over the Cooking Channel where I developed a recipe for lemon and gingerbread checkerboard cookies. I'll be back with a recipe here soon. Promise.
In the meanwhile, please check out these wonderful posts about how different food bloggers have dealt with the tragedy in Newtown, CT.
And, of course, a number of bloggers (including myself) chose to hold a day of silence. If you know of any other blog posts in the community that wrote about how the tragedy affected them, I'd love to know about it. Please leave a comment for me so I can read them and add them to the list above.