This fresh and easy composed asparagus salad had steamed crisp tender asparagus with thinly sliced radishes, peas and fresh mint. (Jump directly to the recipe.)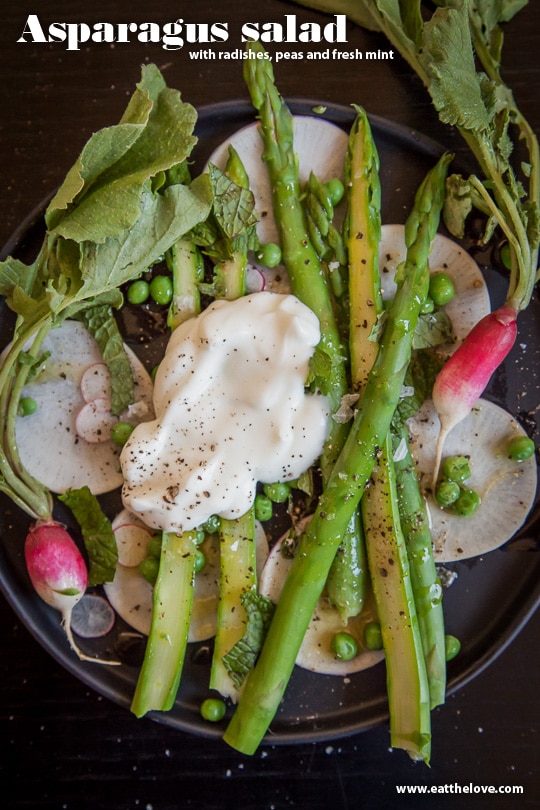 "So they're not REALLY vegetarian. Just sort of vegetarian." said AJ when I asked about what I should make for dinner. Our friends Alic and Kevin were coming over and it was just this sort of middling description that made me wary of what I should serve. I don't have an issue if someone tells me they are pescatarian, vegetarian, or even vegan. Gluten free? No problems. Paleo? Easy breezy. But the vague "sort of vegetarian" just kind of baffles me. It turns out that they are cutting back on their meat, but still eat it every now and then? I guess I can work within those parameters. I opted to go with a vegetarian friendly salad to begin with, just in case they decided they didn't want to eat the main course meat dish. I probably should have just made a completely vegetarian meal but AJ assured me that meat really was fine. Turns out the asparagus salad with radishes, peas and fresh mint was a winner for everyone. Even my partner devoured it completely.
Impromptu dinner parties are kind of my favorite thing, even though our apartment isn't really designed for them. We set up a folding card table in the middle of our living room, cover it up with a tablecloth. Maybe one of these days maybe we'll be grownups and get an apartment with a dining room, or at the very least a room that is big enough for a dining table. But thankfully our guests rarely complain. My strategy is to dazzle them with food and hope they don't notice my pile of cookbooks towering over my computer on my work desk and the stack of boxes we have in the corner that I need to break down and recycle.

Of course as I made dinner our guests entertained themselves by browsing my stack of cookbooks. The vegetarian focused ones intrigued them both, as they were both new to the lifestyle. They agreed the ones with the vivid photography were what drew them in, and they didn't care for some of the cookbooks mostly because the photography didn't really appeal to them. I completely agreed and was secretly pleased that my vegetarian course salad was attractive with the vibrant colors. You eat with your eyes first right?

Asparagus salad with radishes, peas and fresh mint
By Irvin Lin
This is pretty basic composed salad, one that barely needs a recipe. Since only the asparagus is steamed, this salad comes together super fast. Pick any large radish and any small radish (a watermelon radish and a French breakfast radish would both do well here). I used sheep milk yogurt because I liked the tang but feel free to use regular yogurt (not Greek-style) in its place or crème fraiche if you want something a little less tangy. Just make sure to use a really highly quality olive oil, as there are so few ingredients you really want it to sparkle and shine.
Ingredients
12 thick stalk asparagus
1/2 cup frozen peas
2 large radishes
12 small radishes
extra virgin olive oil, good quality
6 tablespoon sheep milk yogurt, plain
4 springs of fresh mint
freshly cracked black pepper
finishing salt (like Maldon or Fleur de Sel)
Directions
1. Pour an inch of water into a large pot and place a steamer basket inside it. Cover to bring to a boil. Meanwhile, rinse the asparagus and snap the woody ends off the bottom of each stalk. Once the water is boiling, place the asparagus in the basket and steam for 3 to 4 minutes, or until the asparagus is crisp-tender.
2. While the asparagus is steaming rinse the frozen peas in a colander under warm water from the tap for 30 seconds to defrost. Set aside. Once the asparagus is done steaming, remove from the basket and rinse under cold water to stop the cooking. Slice each stalk lengthwise.
3. Slice the large radish into paper thin disks (use a mandoline if you have one). Divide the radish disks onto 4 plates. Slice 4 small radishes paper thin and divided the radish disks onto the plates. Place the remaining whole radishes on the plates. Divide the asparagus evenly onto each plate (3 whole stalks or 6 half stalks per plate). Sprinkle 2 tablespoons peas onto the plate.
4. Generously drizzle olive oil over the vegetables then add a dollop of 1 1/2 tablespoons yogurt in the middle of the plate. Coarsely chop the mint and sprinkle over the vegetables and then generously sprinkle with black pepper and finishing salt. Serve immediately.
Makes 4 salads.
If you like this asparagus salad, check out some of these other asparagus recipes from around the web:
Foodie Crush's Spicy Smashed Avocado & Asparagus with Dill Havarti Grilled Cheese
Closet Cooking's Roasted Asparagus with Mushroom Carbonara
Our Best Bites' Garlic Balsamic Asparagus
Averie Cooks' Asparagus, Peas, and Smoked Gouda Frittata
Skinny Taste's Lemon Asparagus Couscous Salad with Tomatoes