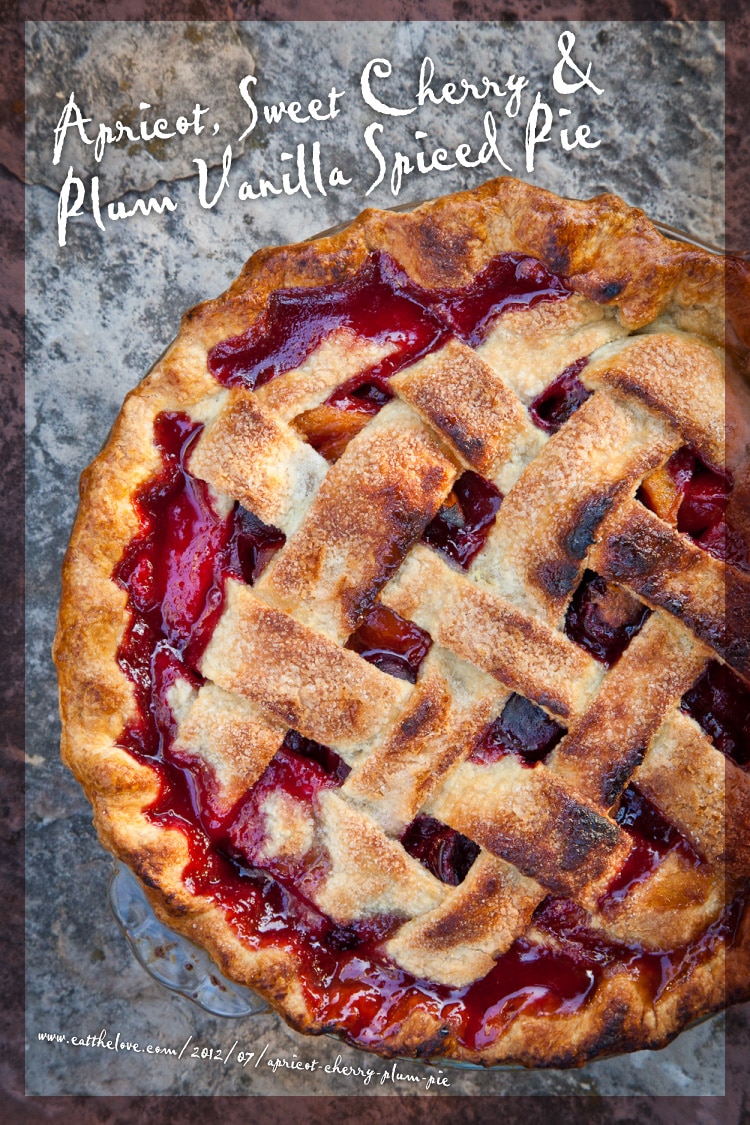 I have a love/hate relationship with apricots. Well, let me rephrase that. I have a love/indifference relationship to apricots. I'm going on record and saying most fresh apricots are tasteless and bland (at least to my palate, you may disagree). I could eat them, but I rarely seek them out. I have always found this a sad dilemma, as I love most every other stone pit fruit (from cherries to plums to peaches) but apricots were the one outlying fruit in my otherwise unadulterated love of the summer fruit bounty. That is, until I discovered them cooked, when they somehow transform themselves into beautiful luscious slices of delight in my mouth. Of course, baked up as an Apricot, Sweet Cherry and Plum Vanilla Spiced Pie with a touch of balsamic vinegar and I think I was in summer heaven.
AJ and I have been back in the Midwest, trying to stay cool from the insane heat wave that we found ourselves caught in, when we went to visit our friend Jen and John and their three adorable children. Jen and John live in a gorgeous house with a stellar kitchen, so we, of course, offered to cook them our specialty dinner – pie and pie. AJ, as usual, made the pizzas and I made the dessert pie. Pretty much any chance I have to make food in a kitchen with top notch equipment makes me happy. From their pro-range stove to their convection oven (oh man, I so want a convection oven) to their dishwasher (I really REALLY want a dishwasher) AJ and I were loving it. I was especially pleased when I turned to Jen and asked if she had a kitchen scale and she said "Of course! We had to get one for your chocolate chip cookie recipe…which is the best chocolate chip cookie ever." Now THAT is a sign of a true friend.
The only thing was, I wasn't sure what pie to make for them. Then we went to Whole Foods and saw the apricots, piled high, just waiting for us. Of course, Whole Foods also had bags of cherries, piles of plums, stacks of peaches, nectarines and pluots just waiting to be turned into a summer desserts. I grab a selection of fruit, know that the pie would pretty much make itself. The combination of apricots, cherries and plums really does sing all together. After eating AJ's awesome pizza, the warm apricot, sweet cherry and plum pie with a scoop of cold vanilla ice cream was like a good friend, waiting for us to come home.
AJ had known Jen and John for quite sometime, and we've watched their kids grow up from small babies, to toddlers to grade school. AJ made half the pie plain cheese for them, with minimal sauce, while our pizza was more robust with spices and hot pepper flakes. The kids liked the pizza (what kid doesn't?) but they also seemed intent on getting some pie, asking throughout the dinner "When can we have pie?" Soon enough, they had pie with a scoop of ice cream, making them all pretty darn happy (and a bit buzzy – there was certainly a lot of running around the house afterwards).
Once the kids were put to bed, Jen, John, AJ and I sat around, sipping wine, catching up on life and what we all have been up to since we last saw each other. Jen and AJ have known each other for ages and they are the sort of low maintenance friends that I love. No stress and no pressure, each time we see each other, it is as if no time has passed. The kids get bigger, and the settings change, but they are still the same warm and caring folks that everyone needs in their life. I was both surprised, but not shocked to hear AJ turn to me and say "we better get going, it's getting late…" and then to find out that it was past midnight. Sometimes the best times are those that involve good people, good food and a well air-conditioned living room on a hot Summer day.
The pie was a hit with both the family and AJ and I. Both the boys enjoyed it, though one definitely preferred the ice cream (as he really doesn't like warm food). The youngest though, loved it. When Jen showed her the picture I took of her eating the pie, she turned to her mom and stated matter of factly "I like pie." You really can't get better praise than that.
Apricot, Sweet Cherry and Plum Vanilla Spiced Pie
By Irvin Lin
Most summer stone fruits really work well together and this pie is a great example of that. I didn't have access to it, but a touch of almond extract (maybe 1/2 teaspoon) would be a welcome addition to the filling. But regardless, don't skimp on the vanilla, as it really adds a nice layer of richness to the pie. If you have an actual vanilla bean floating around waiting to be used, scrape out the seeds and throw it into the filling as well. To punch up the vanilla, I used vanilla infused vodka, but feel free to use regular vodka. White whole wheat, which I use in the crust, is a variety of albino wheat that has the same nutrition as regular whole wheat, but is less bitter. It's becoming more and more available at regular grocery stores, but you might have to go to a specialty grocery story like Whole Foods or Trader Joe's to find it. The small amount of balsamic vinegar might seem odd, but the acidity helps bring out the flavor of the cherries and apricots. Don't skip it, but don't worry about the pie tasting vinegary. You won't be able to taste the vinegar.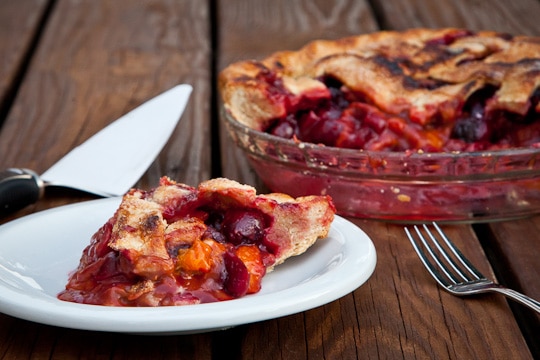 Ingredients
Crust
250 g (1 3/4 cup) all purpose flour
250 g (1 3/4 cup) white whole wheat flour
2 tablespoons white granulated sugar
2 teaspoon kosher salt
300 g (1 1/4 cup or 2 1/2 sticks) unsalted butter
1/3 cup ice cold water
1/3 cup cold vodka (vanilla infused if you happen to have some)
Fruit filling
615 g  (1 lb 6 oz) sweet cherries (about to cups)
375 g apricots (13 oz or about 6 to 7 medium sized ones)
425 g plums (15 oz or about 5 to 6 medium sized ones)
1/4 cup honey
2 tablespoon white sugar
1 tablespoon vanilla extract
1 1/2 teaspoon balsamic vinegar
1 teaspoon ground cinnamon
1/2 teaspoon ground ginger
55 g (6 tablespoons) all purpose flour
1/2 teaspoon almond extract (optional)
1 vanilla bean (optional)
Top crust
1 large egg yolk
1 or 2 tablespoon white sugar for the top
Special Equipment
Rolling pin
9 inch deep dish pie pan
Rimmed baking sheet
Directions
1. Make the crust dough by placing the flours, sugar and salt in a large mixing bowl. Cut up the butter into 1/2 inch chunks, sprinkle over flour and toss to coat. Flatten the cubes of butter with your fingers until all the butter has been smashed. Start rubbing and squeezing the butter together with your fingers, until the ingredients start to clump together. Sprinkle the water and vodka over the mixture and toss with a fork until it forms a dough. If the dough seems too wet, add a little more flour and fold it in, but the dough is meant to be moist. Split the dough in half and gather one portion together and flatten into a large 1/2 inch thick disk. Wrap tightly with plastic wrap and repeat with the rest of the dough. Place in the refrigerator for an hour or overnight.
2. Once the dough has chilled, preheat the oven to 375˚F (190˚C, Gas Mark 5). Roll out one disk of the chilled dough on a generously floured surface. The nice thing about this dough is that you can use as much flour as you need. It's very forgiving. Roll it out to 10 inch round circle and then fit it into a 9-inch deep dish pie pan. Take the second disk and repeat the process by rolling it into a 10 inch round circle. Cut the disk into 10 to 12 evenly thick strips.
3. Make the filling by halving and pitting the cherries into a large mixing bowl. Slice the apricots and plums into the pitted cherries. Add the honey, sugar, vanilla extract, balsamic vinegar, cinnamon, ginger, and flour to the bowl. Add the almond extract and split the vanilla bean pod down the center and scrape the seeds into the bowl if using. Using a large spatula, mix the entire fruit filling together until everything is incorporated.
4. Pour the fruit into the pie shell. Place the longest strip of the second pie dough over the filling in the center and turn the pie 90˚ and place the second longest strip perpendicular to that in the center of the pie. You should have an "X" on the pie. Turn another 90˚ and place the third and fourth strips of dough on the right and left of the center strip. Now turn another 90˚ and place two more strips of dough, lifting up the strips to "weave" the strips above and below the placed strips. Continue until you have topped the entire pie, saving the short pastry strips for the ends of the pie top. Decoratively crimp the sides of the pie, folding the ends of the top crust into the edges.
5. Place the egg yolk in a small bowl and add 1 tablespoon of water to it. Using a fork whisk the egg yolk until it foams. Then brush the top of the pie crust completely with the egg wash. Sprinkle white sugar over the top of the pie crust (I never measure, I just sort of sprinkle until there is an even coating of the sugar on top but it's usually 1 or 2 tablespoons).
6. Bake the pie at 375˚F for about 1 hour to 1 hour 15 minutes. You want the filling to be thick and bubbling in the middle and the crust deep golden brown. If the pie crust edges are getting too brown (check at the 45 minute mark), put a piece of aluminum foil over the edges to prevent it from burning. Serve warm or at room temperature, but definitely let it cool for a bit for the filling to set up. Otherwise you'll have a hot sticky (but tasty) mess.
Makes one 9 inch pie, serves 10-12 people.