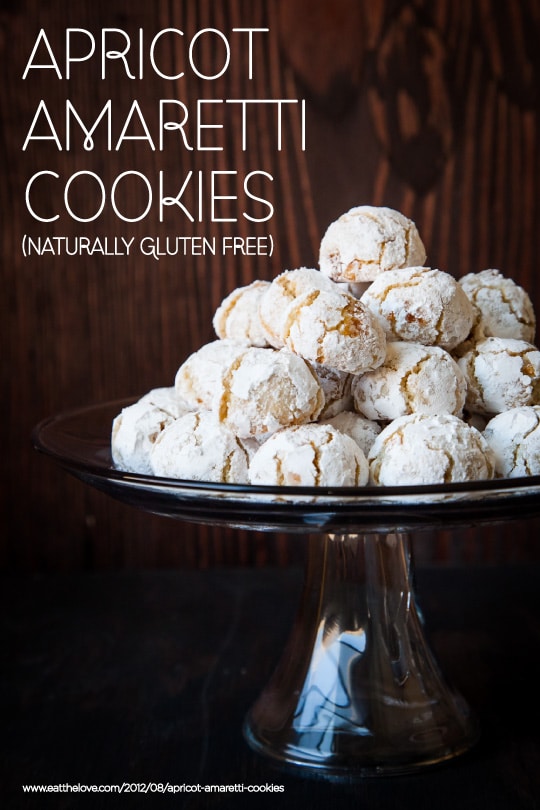 I wish I had some sort of heartwarming Saveur-esque story to tell about discovering amaretti cookies in an out of the way, tiny Northern Italian village and how it changed my life. In an alternate universe I backpacked without a care or plan through Europe in my post-collegiate youth, taking the Eurorail and eating frugally. I stopped at a tiny cafe in an alleyway after getting lost, for some espresso and a little caffeine bravery before forging on to figure out where I was going to sleep for the night. The shop owner was an elderly Italian man with a whimsical face, graying beard and a smile that could light up all the catwalks of Milan. I, of course, couldn't speak Italian and he spoke not a single word of English, but as I held out my hand full of foreign coins and bills, he waved them away, full aware that I looked like I needed the espresso more than he needed the cash. Before I left, he placed in my hand a plain cellophane bag full of sugared treats that looked vaguely like Mexican Wedding cookies, but chewy and bursting with almond flavor. Through a turn of events, these amaretti cookies led me to crashing at the shop keeper's tiny apartment, where I met his extremely attractive son. It was there where I began a  love affair with both him (the son, not the shopkeeper) and Italian desserts that burned fast and bright. But I don't have that story to tell. I never went backpacking around Europe after I graduated college and the only time I went to Italy, I was with my parents in high school and we mostly ate at Chinese restaurants because my parents didn't know how to eat at any other place. Instead I discovered the amaretti cookie, as part of a gluten free apricot dessert a few months ago at a sit down dinner set in the middle of a field in central California.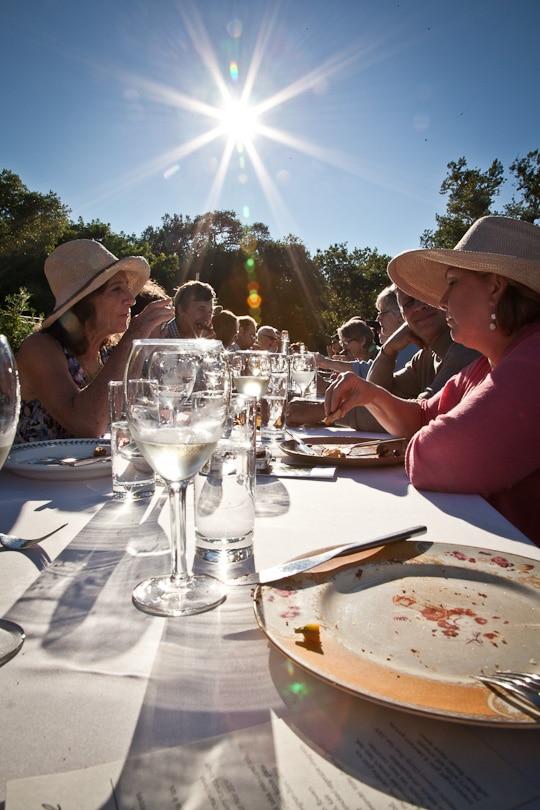 I was recently chatting with a new acquaintance when I mentioned that I wrote about food. "Have you been to Outstanding in the Field yet?" the wandering food event which involved both a farm tour and al fresco dining in the field, family style, with the meal ingredients sourced from said farm. My new friend was clearly testing me, as she asked in a near accusatory way, as if I couldn't be seriously into food if I hadn't attended the event. I admitted that I had not yet, and she looked at me with a mix of pity, shame and surprise. "You must go. Must." She insisted, making me promise that I would at my earliest convenience. Thankfully, by serendipity, Full Circle, an organic produce delivery service that recently started up here in San Francisco, sent me an email asking me if I was interested in attending Outstanding in the Field for them and I immediately jumped at the opportunity.

My partner AJ and I arrived at the location after a few wrong twists and turns or the road. The water temple off in the distance at Baia Nicchia farms, beckoned us majestically and the sun was beating down on us, warming us in a way that we rarely felt in San Francisco during the summer months. The water temple was built as an ode to water in 1910, as the surrounding area used to provide water and power to San Francisco. In fact, it is still owned by San Francisco Public Utilities Commission, and is leased to Fred Hempel and Jill Shepard of Baia Nicchia as well as other farmers, with the land managed by the Berkeley organization, SAGE. As we were guided into the parking lot, we walked toward the temple, only to stumble upon our friends Sean and Paul who were also there courtesy of Full Circle. I love how small the San Francisco food community is!
Appetizers and wine were freely flowing as we arrived and we made sure to grab a generous glass of Mobius Russian River Pinot Noir. The salmon head cheese with bone ash-opal basil pesto sounded good in theory, but AJ was immediately gravitated toward the lamb tartare with cured egg yolk. That said, I was grabbing seconds (and thirds and fourths) of the hay smoked potatoes with kale and fermented frying peppers. Had they just served me a heaping portion of that for dinner, I would have been thrilled.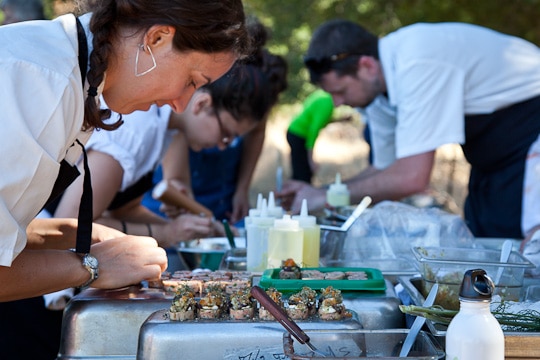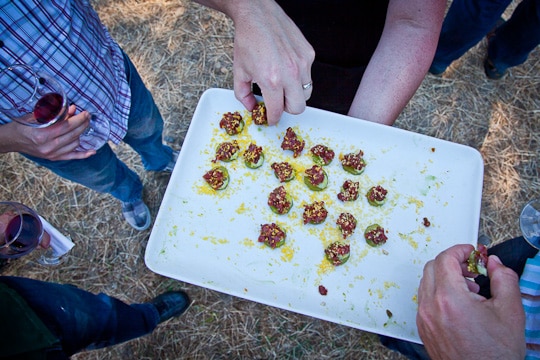 Our fellow dinners split into three groups where we walked out on our short farm tour. AJ and I opted to go learn a bit about growing Ethiopian produce, including teff and barley from Farmer Menkir Tamrat who was trying to grow the food that he grew up with. He apparently had a difficult time finding the produce to properly make Ethiopian food, so he opted to try growing it. Teff, the main grain that is used in Ethiopian injera bread, comes in a number of varieties. I personally love baking with it, especially when making gluten free or chocolate enriched baked goods, but I had no idea it came is so many types.
As we all meandered over to their signature outdoor table (Outstanding in the Field always sets up an impressively long table for everyone to dine on) we grabbed a plate from the communal plate stack. Apparently they suggest that you bring your own plate to the event, but AJ and I had neglected to properly read the email. Lucky for us, there were no shame plates, as the hodge podge of plates available for those without dishware were as eclectic and wonderful as our menu was to be.
Chef Sean Baker of Gather in Berkeley sat us down to a table of grilled breads and a heaping plate full of vegetable puree to spread on the grilled bread. Our dining companions scraped the plate clean, asking for more grilled bread to make sure to not let any thing go to waste. The first course, a plate of shaved summer squashes, miso cured tofu, Mexican marigold, shiso, ficiode glacial all swimming in a cherry tomato-carrot salsa was a bright in flavor as it was green. Sadly the portions seem exceedingly small for our table of eight as I nearly took more than my fair share of the plate, but common decency to my fellow diners kept me in check.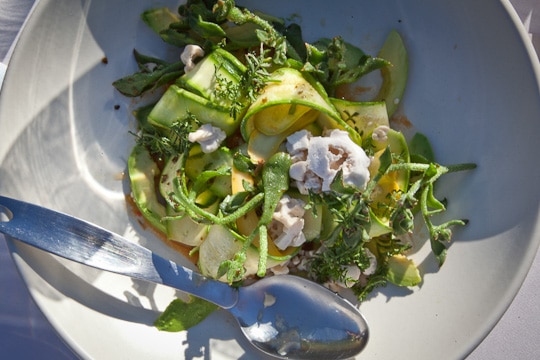 The second dish was definitely our favorite, though it had an unfair advantage as it included lamb two ways (AJ adores lamb) and squash blossoms (I adore squash blossoms). Stuffed pumpkin blossoms with lamb meatballs, kale, lamb bacon, smoked vegetable vinaigrette all over a bed of injera puree, I have admit I was extremely excited when the server asked if we wanted seconds. Yes please! I might have exclaimed rather loudly, startling my new friends who were sitting next to me. Did I mention the small portions? I can only hope that is something they correct in the future.
Our final entrée was a seafood dish of black cod, squid, mussels, Carolina gold rice cooked in lobster broth, sea beans, sea lettuce and phytoplankton. Eating a spoonful had me back at the ocean, smelling the sea breeze as I inhaled the seafood covered in bright green phytoplankton. I did feel a tinge sad for my new friend next to me, who was allergic to lobster and couldn't have any of the rice. It was my favorite part of the dish.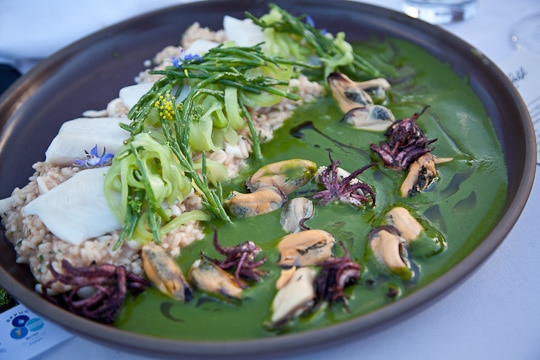 Of course, no dinner is complete with dessert, and that was where I discovered those amaretti cookies. Braised Puget gold and Blenheim apricots over Menkir's white teff and amaretti cookies with Meyer lemons, the entire dessert served was completely gluten free. I'm such a baking geek that I get excited to see desserts executed well that don't have to rely on gluten or any other standard baking ingredients. Though I rarely like fresh apricots, the tree-ripened apricots on the dish just sang summertime.
As the sun set, AJ and I said goodbye to our friends, new and old, and walked back to the car taking one last look around the field and the water temple. There's something rather majestic about eating out in the field, mere feet away from the produce that was plated for you. It wasn't a little village in Italy but it might as well been a world away from where I live in San Francisco. Though the food community often talks about farm to table dinners, it's rare that you actually get to eat at the farm, with a table set out in the field. Thankfully Jim Denevan and Leah Scafe of Outstanding in the Field fills that need. And if I ever get asked again if I have been to an Outstanding in the Field dinner at a cocktail party again, I will nod knowingly and say "Well of course I have. I love food. How could I not have gone to one?"
Special thanks to Full Circle for providing tickets to Outstanding in the Field. Though they provided the tickets I was not compensated for anything I wrote above and all opinions are my own. If you want to read Sean's take on the Outstanding in the Field dinner, bounce over to his excellent blog post on Hedonia.
Apricot Amaretti Cookies (naturally gluten free)
By Irvin Lin
While going through my cookbooks, of which I have way too many, I read (specifically, in the book Dolci, Italian Sweets by Francine Segan) that there are actually two main types of Amaretti cookies, the classici which is a hard version, and the morbidi which is the soft version. I personally like the soft chewy version, but if you like your Amaretti cookies harder, just bake the cookies a few minutes longer to let them crisp up. The hard cookies are actually pretty versatile, as they can be used as a base for other desserts (like custards and cake decorations).
Inspired by a dessert from Outstanding in the Field
Ingredients
450 g (3 cups) blanched almonds
200 g (1 cup) granulated white sugar
65 g (1/2 cup) confectioners' sugar (powdered sugar)
1 teaspoon vanilla extract
1 teaspoon almond extract
3 egg whites
110 g (1/2 cup) chopped dried apricots
for coating the cookies
100 to 150 g (1/2 to 3/4 cup) granulated white sugar
100 g to 130 g (3/4 to 1 cup) confectioners' sugar (powdered sugar)
Directions
1. Preheat the oven to 300˚F. Line a baking sheet with parchment paper or silpat.
2. Place the almonds in a food processor fitted with the stainless steel blade, and pulse process the almonds until they are reduced to a chunky meal. Add both sugars and continue to process until reduced to as fine a powder as you can get it, without it turning pasty. If you overprocess, the almonds will start to turn into almond butter, so don't over do it.
3. Add the vanilla and almond extract and process to blend in. Add the eggs whites, one at time, and process until a dough forms. Turn the dough out into a bowl and add the chopped apricots. Fold and stir the apricots into the cookie dough with a wooden spoon until evenly distributed.
4. Scoop the dough out into 1 inch balls (heaping tablespoons) and roll in the granulated sugar, then the confectioners' sugar to coat. The initial granulated sugar coating keeps the powdered sugar from absorbing into the cookie. Bake in the oven for 24- 26 minutes if you want your cookies morbidi (more soft and chewy) or 28 to 30 minutes if you want your cookies to be classici (more crisp).
Makes 48 cookies