It's been a bit of a stressful time for me lately. I won't go into the details as that's a post for another time, but thankfully I had plenty of excuses to bake, which is what calms me down the most. A quick look at the calendar and I realized that it was time for the Gluten Free Ratio Rally, and that meant I could whip up some of these: Apple Brown Butter Bay Leaf Spice Cookies.
I'm not sure how the Gluten Free Ratio Rally sneaks up on me every month, but it does. Thankfully I took a look at the calendar BEFORE today and realized it was NOW and that the topic was cookies! A virtual cookie swap for the holidays in fact. Of course, with December here, that means an overload of cookies. In fact, I've already been to two holiday cookie swaps and we aren't even halfway through the month. But a quick look at my calendar and I realize that the holiday season will fly by pretty darn fast. It's what always happens during this time of year, as I end up trying to do too many things in too short a time. Thankfully making cookies is a way of slowing things down for me, where I can take it easy and just meditatively spoon out the dough, and fill the entire kitchen (and apartment) with the scent of fresh baked goodness.
Truth be told, even with those two holiday cookie swaps, it hasn't felt like the holidays for me yet. This will all change, I'm hoping, when we get our tree and decorate it. In the meanwhile, I look at other people's blogs, facebook posts, tweets and google+ photos of gorgeous snow filled fields and I realize I do miss the magic of the first snowfall, back when I lived in the Midwest. It's a silence that only comes with snow and peaceful wintertime. Perhaps that's what I need to truly put me in the holiday spirit.
But I'm unlikely to get any of that here in San Francisco. Then I made these cookies, these spiced filled aromatic cookies, and then I felt it. Christmas was here. Tonight AJ and I will decorate our tree together, and I'll start listening to Christmas music nonstop. I'll put the cheesy fireplace DVD on the TV and all of sudden, magically, it will feel like Christmas. It's what always happens each year. Thankfully, these cookies gave me a jumpstart to the season.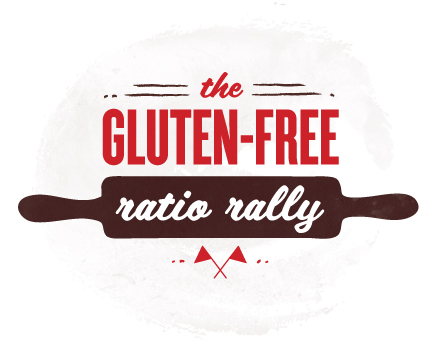 This month's Gluten Free Ratio Rally is hosted by Caroline over at the G-Spot Revolution. Bounce on over there to check out all the other awesome Gluten Free cookie recipes.
Apple Brown Butter Bay Leaf Spice Cookies
By
Irvin Lin
These cookies smell of wintertime and the holidays with their aromatic spices. Baked apple chips can be found at health food stores and upscale grocery stores like Whole Foods. Don't be put off by the list of ingredients. It's a fairly straightforward recipe, and if you don't have some of the spices, just substitute other spices like cloves, allspice, cardamom or whatever you have on hand. As with all "gluten free ratio rally" recipes, feel free to substitute whatever flour you want. I just used the ones that I thought would compliment the apple spice flavor.
The baking ratio for the cookies is pretty basic. 1 part flour; 1 part sugar; 3/5 part butter or fat; 1/4 part egg. Easier to understand is the baking percentages: 100% flour; 100% sugar; 60% butter or fat; and 25% egg.


1 1/2 cups apple juice
60 g (1 cup) baked apple chips, crushed to 1/4 inch pieces
1 tablespoon ground flax meal
140 g (1/2 cup + 2 tablespoons) unsalted butter
3 fresh bay leaves
100 g (1/2 cup + 3 tablespoons) sweet rice flour
50 g (1/4 cup + 2 tablespoons) tapioca flour (sometimes called tapioca starch)
50 g (1/4 cup + 1 tablespoon) teff flour
20 g (2 tablespoons) buckwheat flour
20 g (2 tablespoons) millet flour
1/2 teaspoon sea salt
1/2 teaspoon baking soda
1/2 teaspoon baking powder
1 teaspoon cinnamon
3/4 teaspoon ground ginger
1/4 teaspoon nutmeg
1/4 teaspoon fresh ground black pepper
140 g (1/2 cup + 2 tablespoons) dark brown sugar
150 g (3/4 cup) granulated white sugar, divided
1 large egg
2 teaspoon vanilla extract
1. Place the apple juice and crushed apple chips into a medium saucepan and turn to high heat. Stirring constantly, boil the apple juice and apple chips until the apple chips have absorbed all the liquid, about 7 to 10 minutes. Once all the liquid has absorbed, turn off the heat and stir in the flax meal. Set aside to cool.
2. Place the butter and bay leaves in a large saucepan (preferably with a silver bottom) and cook on medium high heat until the fat particles of the butter start to brown and smell fragrant and nutty. Turn the heat off and continue to stir to cool the brown butter for a minute or two. Pour into a large heat proof bowl, discarding the bay leaves.
3. Place the flours, salt, baking soda, baking powder, and spices in medium bowl and stir vigorously with a balloon whisk until uniform in color.
4. Place the brown sugar and 100 grams of the white sugar (reserving 50 g of the sugar for later) in the bowl of a standing mixer, fitted with that paddle attachment. Pour the brown butter into the bowl with the sugar and beat on medium speed for 30 seconds. Add the egg, and vanilla extract and beat on medium speed for another 30 seconds, or until the batter starts to lighten. Add the dry ingredients and slowly turn the mixer on low, until the dry ingredients are incorporated, and a dough starts to form. Add the apples to the mixture and beat on medium speed until incorporated.
5. Place the dough in a refrigerator an hour to chill. Once the dough has chilled, preheat the oven to 350˚F and line a baking sheet with a silpat or parchment paper. Spoon out a rounded tablespoon of dough and form it into a ball. Roll the dough in the reserve sugar and place on the lined baking sheet. Continue with the remaining dough, spacing the cookies apart by 2 inches. Bake for 13-15 minutes or until the edges are golden brown and crisp. Cool on the sheet for 10 minutes before moving the cookies to a wire sheet to cool completely.
Makes about 32 cookies.