These Kahlúa pumpkin spice almond biscotti are the perfect treat for the Fall season. (Jump directly to the recipe.)
October is here and that means I can finally allow pumpkin spice to take over my world. I've been fighting it for the past month or two, with the explosion of pumpkin spice EVERYTHING starting to appear in August. But I took a vow that I wouldn't start pinning or making anything with pumpkin spice until October. Luckily October is also the beginning of my new partnership with Kahlúa for the next few months and I jumped at the chance to work with some of their limited edition flavors, including their Kahlúa Pumpkin Spice. A blend of pumpkin spice and their signature coffee and rum flavorings, I decided to kick off our work together with these chocolate dipped Kahlúa pumpkin spice almond biscotti.
Now I'm not a total Grinch when it comes to pumpkin spice. I get it, it's one of those blends of spices (usually cinnamon, ginger, nutmeg, cloves and all spice though sometimes you can throw in some mace or black pepper to give it a little kick) that just tastes like AUTUMN, as well as the spice blend that really screams Halloween is around the corner – a holiday that is near and dear to my heart! I'm not made of stone, I just want to enjoy and appreciate where I am, especially in late summer when tomatoes and late summer stone fruit like peaches and plums are having their last hurrah. But once October is here, all bets are off and pumpkin spice is in full force and I have no issue with that. I say bring it on folks! Bring it on.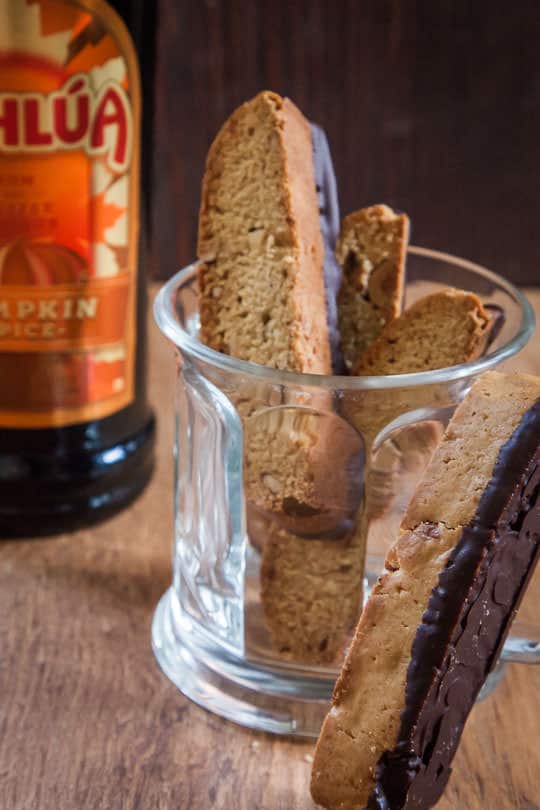 So when I found out that Kahlúa had a pumpkin spice version I full embraced it, especially since October is here. All good things come to those who wait and holding off meant I could really enjoy the limited edition bottle in all it's full glory. These biscotti cookies has a warm hint of the Kahlua and spice flavor, and it's best served with a hot mug of coffee with a dash of the pumpkin spice Kahlúa added to it. Because, if you're going to go pumpkin spice, you might as well go big with it! But, between you and me, let's hold off on the Christmas stuff for at least until the end of October, OK? I want to enjoy October and the Halloween season while I can.
This post was sponsored by Kahlúa. For the months of October, November and December I'm teaming up with Kahlua to bring you recipes and cocktails using their various Kahlua liqueur flavors. I was compensated for the post and for developing the recipe. However all opinions above (and below) are completely my own and not endorsed by Kahlúa. Visit Kahlúa's various social media pages (Facebook, Twitter, Instagram, Pinterest) for more cocktail and holiday entertainment ideas and join in on the fun by sharing your own Kahlúa creation using the hashtag #KahluaHoliday

Chocolate Dipped Kahlúa Pumpkin Spice Almond Biscotti
By Irvin Lin
These twice baked biscotti cookies are made with brown sugar, brown butter for that extra bit of nuttiness and limited edition Kahlúa Pumpkin Spice liqueur. Dipping them in pumpkin spice filled dark chocolate gives them an extra punch of Fall flavor. They go great with a steaming hot mug of coffee and a splash of Kahlúa Pumpkin Spice.
Ingredients
1/2 cup (115 g) unsalted butter
1 cup (220 g) brown sugar
1/4 cup Kahlúa Pumpkin Spice
1 teaspoon almond extract
2 teaspoon vanilla extract
3 large eggs
3 cups (420 g) all-purpose flour
1 teaspoon baking powder
1/2 teaspoon kosher salt
1 cup (150 g) whole almonds, coarsely chopped
6 oz semi-sweet chocolate, chopped
1 1/2 teaspoon pumpkin spice blend
Directions
1. Place the butter in a medium skillet and bring the heat to medium. Cook until the butter melts and the solids start to brown and smell nutty and fragrant. Remove from heat and pour into the bowl of a stand mixer fitted with a paddle attachment, making sure scrape out all the brown bits into the bowl.
2. Add the sugar, Kahlúa, almond and vanilla extracts and beat for a minute or two until the butter has cooled down. Add the eggs, one a time, beating between additions to incorporate before adding the next egg. Add the flour, baking powder and salt and beat until just incorporated. Add the almonds and stir on low speed until incorporated.
3. Line a baking pan with a silpat or piece of parchment paper. Wet your hands and scoop out roughly half the dough and form a loaf on the parchment paper, about 10-inches long and 3 1/2-inches wide on one side of the baking pan. It should be about an inch tall in the center and slope down on the sides. The dough will be sticky so continue to wet your hands to help pat and form the loaf. Repeat with the second half of the dough and place it on the other side of the pan or use a second pan if there isn't room. Place in the refrigerator and chill for 30 minutes.
4. While the dough is chilling, preheat the oven to 350˚F. Once the dough has chilled, bake the biscotti dough for 25 minutes, or until the edges of the loaf start to brown slightly. Remove from the oven and let cool on the pan for 15 minutes. Then move the loaves to a cutting board and slice the biscotti loaf with a sharp serrated knife into 1-inch pieces. Move the slices back onto the baking sheet, spacing them apart by 1 inch. You may need to use another baking sheet to fit all the biscotti cookies.
5. Place back in the oven and bake for another 20-25 minutes or until the cookies are golden brown and feel firm to the touch. Let cool on the baking pan 15 minutes then move to a wire rack to cool completely. Once the biscotti is cool, melt the chocolate by placing the chopped chocolate on a plate with a rim. Microwave the plate for 30 seconds and stir, then microwave for an additional 30 seconds. Stir after the second time and if the chocolate is still not melted, microwave for an additional 30 seconds. Once the chocolate is melted, add the pumpkin spice and stir to incorporate. Line a baking pan with a clean silpat or parchment paper and take each biscotti and dip one side in the chocolate, scraping the excess chocolate off with a fork before placing it, chocolate side down on the line baking pan. Repeat with all the biscotti cookies and then refrigerate for 20 minutes or until the chocolate is firm. Serve with a hot mug of coffee with a splash of Kahlúa Pumpkin Spice in it.
Makes about 24 cookies.
If you like my Kahlúa Pumpkin Spice Almond Biscotti Dipped in Chocolate check out a few of the other awesome recipes from my fellow bloggers that are also partnering with Kahlúa this holiday season:

Bakers Royale's Pumpkin Spice Latte Macarons
House of Earnest Pumpkin Spice Kahlua Ice Cream