"NO MORE GIFT GUIDES", shouted my friend Shauna on Facebook, who apparently was channeling the spirit of the Grinch. I cringed, because I had yet to publish my annual gift guide here on Eat the Love. But in the end, I decided she's not the boss of me. Plus my gift guide is awesome. Because I only share awesome things! (Also, I was recently told that I use the word AWESOME too much but I've decided to embrace that). Here's a few personal recommendations of AWESOME gifts for you guys this holiday season in case you need some suggestions for the holiday season. In addition, I'm also doing an AWESOME giveaway. Details are at the bottom of this post! Sorry this giveaway is closed!
AJ and I make a lot of homemade pizza at home on our baking steel and we love using a pizza peel when we do. We sprinkle the peel with cornmeal or semolina and then place the pizza dough directly on the peel. Then we top it and with a quick jerk of the wrist, peel the pizza onto the steel. When it's done we peel the pizza off the steel and often serve the pizza directly on peel! So we're always looking for a handsome peel that functions and looks good. Rachel Ray's pizza peel is made of Acacia wood and looks gorgeous hanging on the wall as well as on the table. And even if you use to serve frozen pizza, everyone will still think it is homemade if it's served on this.
I'm in love with this adorable Pie Calendar that Simply Recipes put out for 2017. Each month has an illustrated seasonal pie, along with a recipe for that pie. If you love to bake or love someone who bakes, this makes for an adorable stocking stuffer.
I love home scents in theory but problem with the delivery system are they tend to either be too overly fragrant or barely smells at all. But the Aera fixes that with the various scent blends that are lovely. It's a sophisticated product that allows you pick how much fragrance you want released, from mild to strong. Designed by master perfumers, the scents are unique and sophisticated.
If you are a home scent purist however, might I recommend Tang Tong Tavy's candles. Hand poured in San Francisco, these soy candles come in array of beautiful scents and are individually wrapped in a wax sealed venetian-style marbled paper. Just make sure to place your order by this Thursday, as the owner won't be taking anymore holiday orders until the new year.
I shared a few Microplane graters last year in my holiday gift guide but this year I found out about their special Master series and I fell in love with them again. Gone are the plastic handles and frames and instead are gorgeous Walnut wood handles and stainless steel. I'd be thrilled to find the Extra Coarse grater or the zester (or really any of them) under my Christmas tree or in my stocking.
AJ has a vague obsession with cheese. Cheese of ALL sort. So Anolon's marble and teak serving board is the perfect gift for folks like him. It's an elegant way to serve cheese or any other appetizer and would be a welcome addition to any party buffet.
The holidays are always a stressful time but things seem even MORE stressful right now in our country. Thankfully there are few products out in the market that I've unabashedly embracing to help me out. Right now my favorite item is the Muse, which helps with meditation. It feels like a device from a 70s science fiction movie, but basically you place it on your forehead and it measure your brain activity when you meditate. And if you actually are able to calm your brain for a certain amount of time, you hear birds via the app that is monitoring your activity. It's basically the gamification of meditation and I know that sounds crazy insane but anything that gets me to calm down for a little bit gets a huge endorsement from me.
Along with the Muse is the Spire, which is the first mindfulness wearable. You wear the rock on your belt throughout the day and as you tense up it vibrates to remind you to relax and to take deep breathes. I have a habit of staring at the computer screen all day, hunched over as I type and work on my photos and the Spire has helped me relax, sit up in a better position and to remind me that I need to take a deep breath and relax.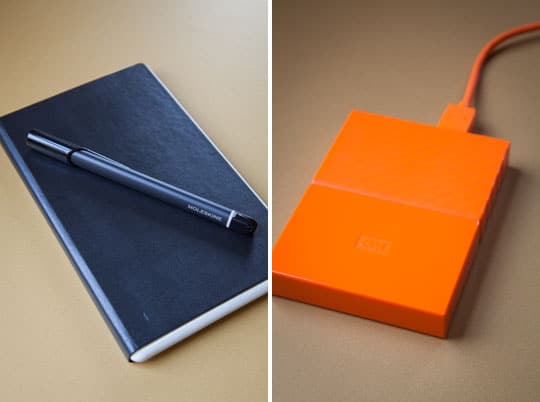 I carry around a moleskin journal where ever I go in case I want to sketch something out or to take notes. There's something really great about hand drawing on paper, as opposed to the iPad or iPhone. Though I love having my iPhone and use it for a quick snapshot or to jot a note down on the rare occasion I don't have my moleskin with me, I kind of wish there was a way to bridge the two. Now there is. The Moleskin Smart Writing Set is like magic. Words that you write down on the moleskin are immediately (in real time) translated to the Moleskin app on your device. It keeps track of the pages you are on, and you can even email it to yourself. It also has a built in OCR program so it can translate what you write (if you have decent enough handwriting) into text that you can use in a Word document. Did I say it was magic? Because that's what it feels like when I use.
I do a lot of traveling and travel photography and when I do I always want a reliable external hard drive to help me out. The new WD My Passport 1TB hard drive is small and cute, coming in numerous shiny lego-like colors and is powered by the USB cord itself. It's also small and weighs less than half a pound which means it doesn't hog space in my laptop bag which is key when I'm camping or road tripping and room is at a premium.
I love working with cast iron, especially because of the even heat retention it has. New cast iron skillets are rough because of how they are made, but the 10-inch Anolon Vesta cast iron skillet has a smooth matt black enamel interior that makes it easier to clean, while keeping the gorgeous cast iron look. I'm especially enamored with the cobalt blue enamel exterior as well, though it comes in paprika red as well.
I adore my WUSTHÖF knives and their new Nakiri knives are a perfect example of why. Razor sharp, the knife function similar to a Santoku knife but with a rounded end allowing for a more Western style rocking back and forth of the knife for chopping. It comes in two different sizes, the Nakiri 7-inch and the Nakiri 5-inch, and would be a welcome addition to anyone's knife collection.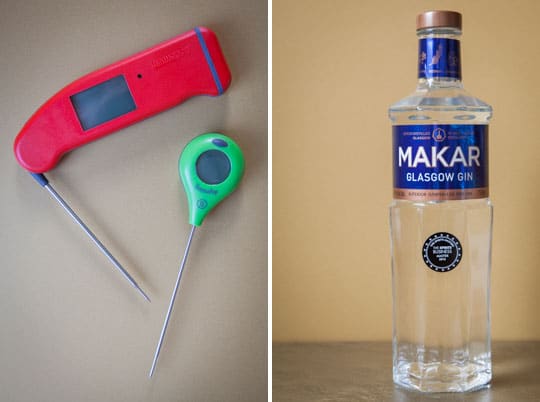 If you want precision in your kitchen you need to get a precise thermometer. I'm partial to Thermowork's thermometers which are the standard in all high end professional kitchens. From testing meat and poultry to checking if a cake or loaf of bread is done, a kitchen thermometer can be your new best friend when making food. The Thermopop thermometer is an affordable option that gives precise and accurate temperatures in 3 to 4 seconds. For those who want even faster readings (2-3 seconds with an accuracy of .7ºF) with all the bells and whistles, the Thermapen MK4 is the one for you!
Never ask me to make a cocktail for you because I rarely drink. This means I also make my drinks REALLY strong because I'd rather be known as the generous bartender than the guy that makes weak drinks. But when I pour heavy from a Makar Glasgow Gin bottle, my friends don't complain. A juniper-forward gin, this piney alcohol is a refreshing splash of the woodsy outdoor in liquid form. This would be a lovely host gift that is slightly different than the average bottle of wine.
I'm always trying to improve my photography game and Photographs from the Edge functions not only as a beautiful coffee table book but as a tutorial on how to take those beautiful photographs. Not only can you be inspired by the photography from around the world but author Art Wolfe gives you camera and specs for the photograph, including the make of the camera, the lens, f-stop, ISO and film (if it's not shot digitally). He discusses the background of each photograph as well as gives a few handy real world tips and a little background of where each shot was taken. I love the peak behind the curtain of each photograph!
The Illustrated Book of Sayings is a whimsical book of fun sayings from around the world. With adorable illustrations and phrases like "Some days are honey and some days are onions." or "Far from the eye, far from the heart" these sayings often explain feelings that I never knew needed explanation, or that I always wanted a way express but never knew how.
SORRY, THIS GIVEAWAY IS CLOSED!
I'm giving away a pair of the WUSTÖF knives to ONE lucky reader and a Thermopen MK4 thermometer to ANOTHER lucky reader! All you need to do to enter is leave a comment below and tell me what your favorite holiday cookie or recipe is! Leave a comment below and I'll draw a winner in two weeks from now for both winners. (Only one entry per person please.)
The Fine Print
By leaving a comment below to enter, you are agreeing to the Official Rules.
▪ NO PURCHASE NECESSARY
▪ VOID WHERE PROHIBITED
▪ You must be over the age of 18.
▪ This contest is only open to U.S. Citizens. Sorry non-US people!
▪ The contest starts as of today, and will run until Monday, December 26th, 2016, 9am PST.
▪ The combined retail value of the WUSTHÖF Knives is $300.
▪ The retail value of the Thermapen MK4 is $99
▪ Only one entry per person please. Any additional comments by the same person will be discarded in the final selection process.
▪ The winner will be chosen by a randomly selected comment. All comments will be numbered and I will use Random.org to pick a random number.
▪ The number of eligible comments below determines the odds of winning.
▪ If there's a problem with contacting the winner, I reserve the right to award everything to someone else randomly chosen. So in other words, make sure you type in your correct email address if you want the knives or thermapen and respond within 72 hours to me when I contact you or I'll give everything to someone else.
▪ The knives prize is being delivered directly from WUSTHÖF or their parent company. If they have not delivered the prize to you within three weeks of me notifying you of winning, please reach out to me again and I will do follow up to make sure everything is OK. Please keep in mind we are all human and things happen. I will do everything within my power to make sure the prize is delivered in a timely manner.
▪ The Thermapen MK4 prize is being delivered directly from Thermoworks or their parent company. If they have not delivered the prize to you within three weeks of me notifying you of winning, please reach out to me again and I will do follow up to make sure everything is OK. Please keep in mind we are all human and things happen. I will do everything within my power to make sure the prize is delivered in a timely manner.
A special thanks for WUSTHÖF and Thermoworks for the awesome giveaways. I was not compensated for this post but all the products listed above were sent to me as free samples to try. I only post about products that I love and all opinions above are my own.