These vegetarian breakfast tacos are a great way to start the morning. The mushrooms and eggs satisfy even the meat eaters in the house!
Jump to directly to recipe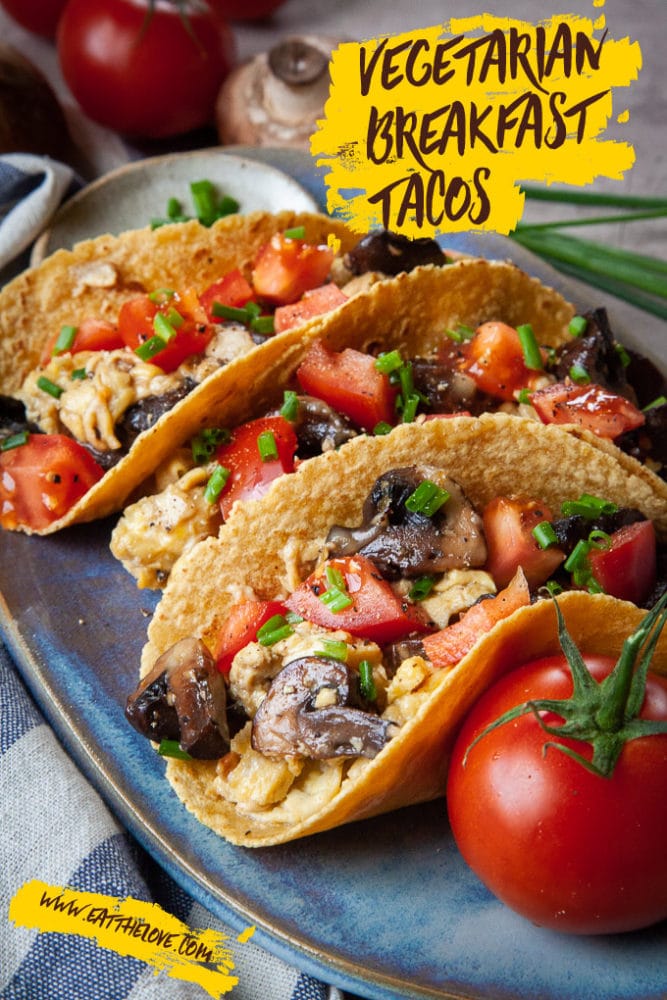 Recently there was one of those HILARIOUS lists on one of those viral websites (BuzzWorthyUpNowFeed or something like that) that talks about random things that Americans do in movies/tv shows that the rest of the world do not. This includes that fact that every American family not only has a baseball in their house (not in their garage, but in their house) and will immediately grab it when they hear a sound and go investigate (why don't they just call the police instead?), how Americans always have a bag of frozen peas in the freezer ready to put on a bruised or injured body part (but apparently it is actually never used for food) and how all American family moms and dads eat full plated breakfasts in the morning before work, and they are often interrupted by their scantily clad daughters walking out to work, which results in an indignant fatherly talk about appropriate school attire as they drop their toast into their scrambled eggs.
Let the record show, I rarely eat a full breakfast in the morning.
BUT in those rare occasions that I do make a hot breakfast for myself, I find I'm super happy. And I swear to myself that I'm going to do it more often. And one of those breakfasts that I want to make more often is a mushroom and egg breakfast taco.
I had never had breakfast tacos until I moved out to California. Though I'm sure you can find them now in St. Louis, my old hometown, the food scene when I was growing up, especially in terms of breakfast, was more bacon and eggs and some sort of griddle-made carb (French toast, pancakes, or waffles if you were being super fancypants). But these breakfast tacos are a revelation to me. And since I'm often looking to eat less meat, the mushrooms pack a nice umami punch that satisfy the carnivore in me. And the fact that I can whip up these breakfast tacos super-fast, means I don't really have an excuse not to eat a decent hot breakfast in the morning. Even if I do not have a sassy teenage daughter living in our house.
Why use mushrooms in the breakfast taco
The classic white or brown mushroom is probably the easiest mushroom for these breakfast tacos. When quartered, they are thick and chunky enough that they give a "meaty" kick of umami (the savory flavor that meat has) is often missing in plant-based meals. I actually add a dash or two of soy sauce to the mushrooms to not only season them, but also kick up the umami in them, making them more meaty and satisfying. Don't worry that the tacos will taste "Asian" though. The soy sauce is blends in and isn't assertive in flavor at all.
Make ahead
You can make most of these components ahead of time if you want to save time in the morning! Chop the tomatoes and chives ahead of time and store them in an air tight container in the fridge overnight. Saute the garlic and mushrooms and save them in a bowl in the fridge, covered with plastic wrap. Then, in the morning, warm up the tortillas and scramble the eggs. Toss the mushrooms with the eggs in the last 30 seconds to warm them up and you're good to go!
What sort of toppings can you use in your breakfast tacos?
I like to use tomatoes and chives on my breakfast, especially since they work well with the garlic mushrooms. But if you want to add a little richness, you can add a dollop of sour cream or chopped avocados. If you like hot and spicy, try adding a dash of tabasco or hot sauce to the breakfast tacos or a sprinkle of cayenne in the sautéed mushrooms. A little bit of homemade or store-bought salsa is also always great on breakfast tacos! Breakfast tacos are super customizable to whatever you have in the fridge or pantry.
Corn vs Flour Tortillas
I love the flavor of corn tortillas but I find them tend to break when I try to bend them. Flour tortillas are more flexible but lack the flavor. Some companies actually have a flour and corn hybrid tortilla to fix this issue but they can be difficult to find. If you pick corn tortillas, you might want to double the tortilla to keep them from splitting. But whatever tortilla you use, warm them up either in a microwave under a damp paper towel, or on a dry skillet on the stovetop for 10 seconds. The warmth will improve their bendability.
Other Vegetarian Breakfast Recipes on Eat the Love
If you like these vegetarian breakfast tacos, check out these other vegetarian breakfast recipes:
Vegetarian Breakfast Tacos with Mushrooms and Eggs
A quick and easy hot breakfast is ready for you whenever you want! You can make and prep components ahead of time if you want the tacos even faster in the morning. But even if you make them in the morning from scratch, they're ready in about 20 minutes.
Ingredients
3

tablespoon

butter

divided

2

cloves

garlic

chopped

1/2

pound

mushrooms

quartered

2

teaspoon

soy sauce

4

large eggs

2

tablespoons

milk

whatever you have in the fridge

4 to

rtillas

corn or flour

1

medium tomato

chopped

1/2

cup

shredded Pepper Jack or Monterey Jack cheese

2

teaspoon

chopped chives

Salt and pepper to taste
Instructions
Melt 2 tablespoons butter in a large skillet over high heat. Add the garlic and lower the heat to medium. Cook for 20 to 30 seconds or until the garlic starts to smell fragrant, then add the mushrooms. Once the mushrooms start to soften and look a bit translucent (about 2 minutes), sprinkle the soy sauce over them and continue to cook until mushrooms are done, about 3 to 4 minutes more.

Pour hot mushrooms into a heatproof bowl and add the remaining 1 tablespoon of butter to the skillet. Don't bother cleaning the skillet. Reduce the heat to medium low and add the four eggs and milk. Slowly cook the eggs, stirring constantly until the eggs have come to a soft scramble with limp wet curdles. Add the mushrooms, garlic, any residual liquid in the bowl, and the cheese to the skillet and continue to cook, heating the mushrooms back up and fully scrambling the eggs with the cheese.

While the eggs are scrambling, warm up the tortillas by either wrapping them in a damp paper towel and microwaving them on high for 30 seconds or individually warming them up on a dry skillet for about 10 seconds per side on high heat. If warming them on a skillet, move them to a plate and cover with a damp towel to keep warm.

Once the eggs are done, divide them on to the tortillas and sprinkle the tomatoes and chives over them. Salt and pepper to taste and serve immediately.
Nutrition