[THIS GIVEAWAY IS NOW CLOSED]
It's the end of year and that means ONE THING. It's my annual year-end Massive Bag of Swag giveaway!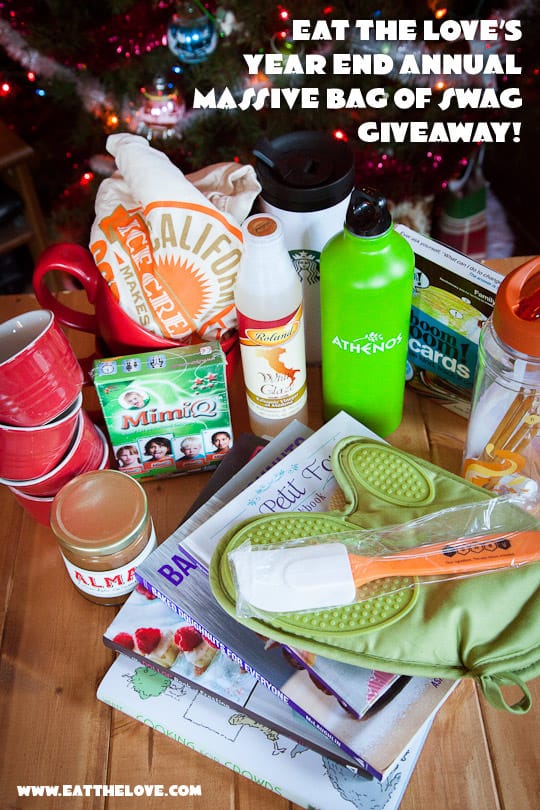 Woo hoo! This year I went to a number of conferences as well as had a number of companies send me samples and I've decided instead of hoarding it all myself, one lucky reader out there will get it all! That's right, one of you guys will get a Massive Bag of Swag sent to you!
Included in my giveaway, as always, are a number of great cookbooks. Merry White's Cooking for Crowds is one of the books, which is a wonderful book for those who are trying to cook for large groups. The original book was printed back in 1974 and this reprint brings back recipes designed for servings of 6, 12, 20, and 50. The Dollop Book of Frosting by Heather "Cupcakes" Saffer is also included, an awesome book of various icings, spreads and other innovative toppings for cakes and more. Heather takes the idea of frosting and stretches it to the limit with some fun and funky flavor combinations like strawberry balsamic goat cheese frosting and cookie dough frosting. I've also thrown in Baked Doughnuts for Everyone by Ashley McLaughlin , a great cookbook on gluten free baked doughnuts as well The Petit Four cookbook by Brooks Coulson Nguyen, the perfect little book for making the perfect little bite size treats.
I also have a few fun card games thrown in there, suitable for the family, including MimiQ and BoomBoomCards (family edition) as well an awesome jar of Alma Lavender Caramel (why am I giving this away?!?) and a large bottle of Roland's White Balsamic Glaze. A bunch of Honey Board items (honey sample straws, some honey lip balm, a water bottle and spatula) as well a green oven mitt, courtesy of Driscoll's Berry is also in the box.
I've also have a set of four red ramekins by Sandra Lee, a couple of oversized jumbo red mugs, a California Milk Advisory Board Ice Cream T-shirt and a water bottle and a Starbucks travel mug included. There might also be a few other random surprises thrown into the box as well, depending on what else I can fit into the mailing box (an apron? more cookbooks? random spice packet samples?). Whatever else I put in there, it'll be good! Trust me!
All you need to do to enter to win this box of swag is leave a comment below and tell me the best thing that happened to you in 2013! Did you get a job? Have a baby? Get married? Got divorced? Win a contest? Eat a great piece of pizza? Learned how to ski? Discovered your love to snorkeling? Learn how to make bake cookies from scratch? Tell me! I wanna live vicariously through you all. I'll pick one reader randomly to win all this awesome stuff. Good luck!
Special thanks to Adams Media, Fair Winds Press, Princeton University Press, Ulysses Press for providing review copies for me to giveaway. Special thanks to the California Milk Advisory Board, The National Honey Board, Driscolls's and all the conferences out there that gave out great swag bags. Though they provided review copies to me without charge, I was not paid for this post, all postage of this box will be paid out of my own pocket and all opinions are my own.
The fine print – PLEASE READ
By leaving a comment below to enter, you are agreeing to the Official Rules.
▪ NO PURCHASE NECESSARY
▪ VOID WHERE PROHIBITED
▪ You must be over the age of 18.
▪ This contest is only open to U.S. Citizens. Sorry non-US people!
▪ The contest starts as of today, and will run until Sunday January 4th, 2014, 9am PST.
▪ The retail value of everything is about $200.
▪ The winner will be chosen by a randomly selected comment. All comments will be numbered and I will use Random.org to pick a random number.
▪ The number of eligible comments below determines the odds of winning.
▪ If there's a problem with contacting the winner, I reserve the right to award everything to someone else randomly chosen. So in other words, make sure you type in your correct email address if you want the membership and respond within a week to me when I contact you or I'll give everything to someone else.
▪ This box of swag will be coming directly from me, which means I can't guarantee that I'll get it to you in a timely fashion. I'm EXTREMELY lazy so taking a box to the post office may take some time. That said, I WILL get it to you. If you haven't received it after a couple of weeks, please email me again to see where I am with it. If you bug me enough times, I'll eventually get it to you!
▪ Because this is coming from me and not from a publisher, PR company or a brand and I'll be packing it myself, I can't guarantee that everything will arrive in one piece. I will try to pack it as securely as possible (I've never had a problem in the past) but things happen in shipping. If something breaks I apologize in advance but I can't replace it. Sorry!