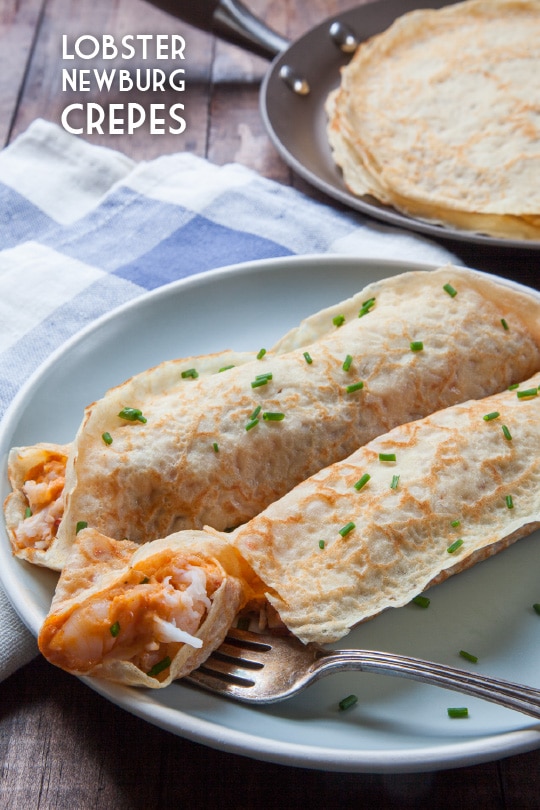 The New York Wine & Food Festival is happening mid-October and though I'm sad I won't be able to attend it, I was thrilled when Anolon asked me to create a crepe recipe inspired by the grand city of New York. Though New York has a multitude of different signature dishes (blackout cake! pastrami sandwiches! black and white cookie!) I opted to go for an upscale classic dish for inspiration. The Lobster Newburg crepe is easier than it sounds, but perfect for a sophisticated brunch dish or just when you want to splurge a little for yourself. Check out my recipe over at the Anolon's site for details.
THIS GIVEAWAY IS CLOSED! THANK YOU ALL WHO ENTERED!
GIVEAWAY!
As a special thanks to all you readers, I'm also working with Anolon to do a giveaway! I'm giving away the awesome Anolon Advanced Umber 9 1/2-inch crepe pan that I used to develop the Lobster Newburg crepe recipe. If you like crepes, you need this pan!
All you need to enter is to leave a comment below and tell me your favorite crepe filling. Savory or sweet, I love hearing what you all love the most. You have until Thursday, October 22, 2015 to enter! (Only one entry per person please.)
The Fine Print
By leaving a comment below to enter, you are agreeing to the Official Rules.
▪ NO PURCHASE NECESSARY
▪ VOID WHERE PROHIBITED
▪ You must be over the age of 18.
▪ This contest is only open to U.S. Citizens. Sorry non-US people!
▪ The contest starts as of today, and will run until Thursday, October 22, 2015, 9am PST.
▪ The retail value of this pan is about $29.99.
▪ Only one entry per person please. Any additional comments by the same person will be discarded in the final selection process.
▪ The winner will be chosen by a randomly selected comment. All comments will be numbered and I will use Random.org to pick a random number.
▪ The number of eligible comments below determines the odds of winning.
▪ If there's a problem with contacting the winner, I reserve the right to award everything to someone else randomly chosen. So in other words, make sure you type in your correct email address if you want the cookware and respond within 72 hours to me when I contact you or I'll give everything to someone else.
▪ The prize is being delivered directly from Anolon or their parent company. If they have not delivered the prize to you within three weeks of me notifying you of winning, please reach out to me again and I will do follow up to make sure everything is OK. Please keep in mind we are all human and things happen. I will do everything within my power to make sure the prize is delivered in a timely manner.
A special thanks for Anolon for sponsoring this post and this awesome giveaway. I'm teaming up with them for the months of October, November and December to create recipes for their site for the fall and winter! Follow their hashtag #HolidayHosting for more recipes and fun! I was compensated for developing the recipe on their site as well as this post and all Anolon products were provided by them. However all opinions above are totally my own and are not endorsed by Anolon.