If you're looking for the best cookbooks of 2017, here's the first part of a list of cookbooks I loved from a cookbook obsessed man!
You all know I'm OBSESSED with cookbooks right? I think it's a running joke with my partner AJ, where whenever the doorbell rings, he's automatically turns to me and says "It's for you. I predict more cookbooks…" and he's usually right. Our tiny apartment is pretty much packed to the gills with books and I recently bought to new LIFE CHANGING bookcases to get some of the cookbooks off my desk. I immediately filled them and started getting more. And each year, I think to myself, there is no way that this year's cookbooks are going to be as good as last year's batch. And, of course, 2017 proved me wrong. Here's part one of my cookbook 2017 roundup. (FYI, all book links below are an Amazon affiliate link. I get a small percentage of any sales below with no charge to you. But if you feel uncomfortable with that, just go to Amazon directly and type in the name of the book directly if you want.)
Kitchen Creativity is by the geniuses who gave us The Flavor Bible and the Vegetarian Flavor Bible, both books that I reference constantly. Technically Kitchen Creativity isn't a cookbook as there isn't a single recipe in the book. But the wealth of information from Karen Page and Andrew Dornenburg who interviewed more than 100 chefs to find out how they make food. From plating to flavor combinations to inspiration (Rick Bayless sometimes has his kitchen team come up with new dishes based on paintings!) to a history of ice cream, this book is the perfect gift for someone who is comfortable in the kitchen following recipes and wants to learn how to make their own dishes from scratch. I can't wait to read it cover to cover.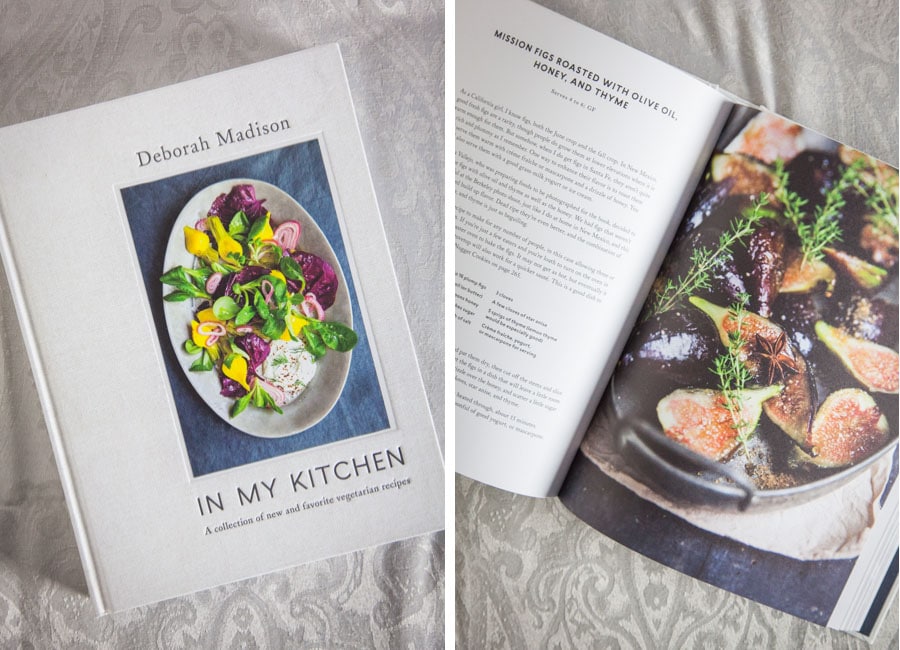 Deborah Madison is one of my go-to author when I'm trying to cook vegetables or come up with a plant based dish. So I was excited about her new cookbook In My Kitchen and it didn't disappoint. Each dish not only shines with personality (like her Chard and Saffron Flan or her Mushroom and Tomato Ragout over Seared Polenta) but they easy to riff off, making them customizable to your own tastes. That's the sort of recipes and cookbooks that I adore.
Full disclosure, I personally adore Suzanne Lenzer, the author of Graze. She food styled my cookbook Marbled, Swirled, and Layered that came out last year, and I fell in love with what she did with my recipes. So it's no surprise that her cookbook, a compilation of small plates that are shareable, is beautiful to look at. But honestly, my favorite way to eat is to share small little bites with friends. It's one of the reasons I called this blog Eat the Love, I love to share my food. With recipes like Deep Fried Artichokes and Crispy Lemons or Potato and Thyme with Taleggio Pizzettes, I am SOLD. I can't wait to host a small plates party where I get to make ALL. THE. RECIPES.
I usually try to avoid cookbooks that have any claims of "health" in them. Which is totally my own bias, I get that. But I was pretty taken with The Wholefood Pantry which gives you beautiful food without any gimmicks or tricks. I love making condiments and ingrediets from scratch in the kitchen, from infused olives oils, to fermented pickles and Thai green curry paste. Amber Rose not only makes all these recipes seem fairly easy (as opposed to "weekend DIY projects) she does it in a knowledgeable way that is sure to improve your pantry, cooking and meals. After all, the best way to get someone to eat healthy is to just serve them awesome tasting food.
I wasn't sure the world needed another chocolate cookbook, until I got ahold of Making Chocolate, by the Dandelion Chocolate folks of Todd Masonis, Greg D'Alesandre, Lisa Vega and Molly Gore. The world DEFINITELY needs this book. Not only does it give the step by step process of how to make your own chocolate (as the book title suggests) but it dives DEEP into the world of chocolate making. If you are chocolate geek, this book is a MUST. From the complex process, to the history of chocolate, to sourcing the beans, to crazy equipment that professionals use to make that bar of chocolate that we all take for granted, this book is for the hardcore. But even if you only have a passing love of chocolate, this book is the sort of book you can pick and open and immediately be transported to Dominican Republic as you learn about the farmers and the folks who pick the cacao beans. Oh and yes, there are recipes in the back of the book too, for malted chocolate sandwich cookies and marshmallows and hot chocolate and so much more. But the bulk of the book is really about the journey of bean to bar. And it's quite the journey.
True story, I once had dinner with Stella Parks, author of BraveTart along with Neil Gaiman, author of a couple dozen bestselling fantasy books and graphic novels. Sure Neil (we're on a first name basis now) was sitting two tables away from us. And didn't know who we were. And was there completely coincidentally. But we were all in the same restaurant, so I'm just going to say we were all having dinner together because that sounds better. And, it turns out, Stella Parks was a soon-to-be bestselling author. And well deserved too because BraveTart, a book that was years in the making, was worth the wait. It's not just a cookbook but a history lesson American pastries and desserts. From homemade Oreos, to yellow cake to brownies with that shiny paper thin crackly top, this book is my new go-to baking cookbook for rock solid recipes that not just imitate but improve upon the sweets I had growing up. This book is for every home baker in the America who loves American desserts.
Rumor has it that when Chef Yotam Ottolenghi and Helen Goh were developing recipes for Ottolenghi's dessert cookbook Sweet, he took a look at the recipe list he had come up with and said "all these recipes are brown! We have too many brown recipes! We need more color!" Well he didn't disappoint as the recipe and photos just pop with vibrant colors and flavors. From Blackberry and Star Anise Friands, Walnut and black treacle tarts with crystalized sage, and Persian love cakes, these innovative desserts straddle the line between fine dining pastry work, and home baking love. None of the recipe are overly complicated or require difficult to find ingredients, but they are all a step up above the usual layer cake or pie you find in an average baking cookbook. I also love the little side bars included with all the recipes that are handy tips and storage hints of the desserts.
The first (and only) time I met Samin Nosrat, she gave me a huge hug. That's basically what her cookbook Salt, Fat, Acid, Heat is like. A giant reassuring hug that makes you feel like you can conquer the world, or at least the kitchen. Explaining the basic balance act of salt, fat, acid and heat, Samin's book not only breaks down the mystique of cooking food, but also shows you that you can make fantastic food from some of the most basic ingredients. Take for instance her Silky Sweet Corn Soup which has four ingredients, corn, butter, onions and salt. Or her Buttermilk Marinated Roast Chicken, which only has chicken, salt and buttermilk listed. Not that all her recipes are that pared down but the depth of information and recipes, as well as adorable illustrations in the book, mean this is one book that will live on my go-to reference section of my bookshelf (I already have earmarked the Aromatic Flavor Bases of the World from France's Mirepoix to West Africa's Ata Lilo illustration spread).
I'm going to be honest and say I still haven't been to the acclaimed State Bird Provisions restaurant here in San Francisco (though I have had nibbly bites from the State Bird chefs at various events). But that didn't stop me from snatching up their cookbook State Bird Provisions by Stuart Brioza, Nicole Krasinski, and JJ Goode. A restaurant designed to serve food "dim sum" style with a distinct California style cuisine, the small bites recipes look incredible. From Sweet Corn and Mt. Tam Cheese pancakes to Spiced Guinea Hen Dumplings with Garlic Chives and Aromatic Broth, these are definitely special occasion recipes that have me trying to figure out what our next significant date will be on the calendar so I can have an excuse to make them. Folks who are looking to stretch themselves in the kitchen a bit will definitely fall in love with this cookbook.
On the opposite side of the spectrum is Michelle Tam and Henry Fong's Ready or Not cookbook. The brilliant and adorable couple behind Nom Nom Paleo, this cookbook is 150+ recipes are that easy to make, or make ahead and fall within the paleo diet. I don't follow any specific diet nor do I have any dietary restrictions, but her super easy recipes are so tasty that it doesn't matter. When I am looking for that weeknight meal after a long day of work, this is my new go-to cookbook. Every recipe, from her Paper Wrapped Chicken, to Salt and Pepper Fried Pork Chops to Stuffed Sunday Peppers have the time to make as well as the hands-on time, and is easily explained in a comic book like style. This book is for everyone, not just those folks who are on the paleo diet.
Zingerman's Bakehouse is an American Institution and their cookbook by Amy Emberling and Frank Carollo is the perfect showcase for those folks who can't make the pilgrimage to Ann Arbor or don't want to order online. The recipes are friendly and approachable, from their French Baguette to their Coconut Cream Pie to their signature Sour Cream Coffee Cake. But for me, it's recipes like their New Deli Crumb Cake (their tip on using fresh spices and grinding them right beforehand is brilliant) or the Farm Bread with Pepper and Bacon (hello bacon!) that will have me reaching for the book again and again. On top of that, I just adore a book that not only talks about the history of each recipe but also talks a little bit about the heritage of the store, along with the trends, hits and failures. The chapter Unexpected Success, surprising controversies and stunning flops is one of my favorite chapters in the book. Anyone that bakes and cooks constantly will appreciate reading about how even the professionals make mistakes.
Baco by Josef Centeno and Betty Hallock feels very Los Angeles to me, and I mean that in a really good way. I visit L.A. about three to four times a year and it's mostly to eat. Baco is the sort of California restaurant cuisine that I adore. Fresh, vibrant, easy to understand but also unique enough to make you think "huh, why didn't I think of that flavor combination?" Take the Sauteed Peaches and Shishito peppers with Goat Cheese, Cashews and Saffron Honey. I would never think to combine those things together but once I read the title, I can taste it in my mouth. More importantly none of those ingredients are hard to find for me. I've already bookmarked a number of recipes, from Eggplant Puree with Sumac and Garlic to Creamy Grits with Blistered Tomatoes, Pickled Serrano Chiles and Sunflower-Miso Tahini. This is a restaurant cookbook that I will return to over and over again.
Living in San Francisco and California has made me much more aware of cooking seasonally. Six Seasons by Joshua McFadden and Martha Holmberg just makes me realize how much I love cooking with what I can get ahold of at that particular time of year even more so. I love how the recipes are built around the six various season, with summer and it's harvest bounty specifically broken into early summer, midsummer and last summer. Ideas like Cauliflower Steak with Provolone and Pickled Peppers or Celery Root, Cracked Wheat and Everything Fall Vegetable You Can Find Chowder, this is one of those books that I'm going to be reaching for when I don't know what to make in the middle of January (probably the Parsnip and Citrus with Olives recipe).
Look for the second part of my cookbook round up next week!
Special thanks to Andrew McMeels Publishing, Artisan Books, Chronicle Books, Clarkson Potter, Kyle Books, Little Brown and Company, Rodale Books, Simon & Schuster, Ten Speed Press, and W.W. Norton & Company for sending me review copies of their books. I was provided books free of charge to review but I was not compensated for this post and was not even required to write about them. All opinions above are my own.