This past Monday was Chinese New Year, and I had every intention of posting something "Chinese-y" in celebration. However, I did not expect my ridiculous cough that I got from around the time of the Western New Year to have persisted until the other new year – the Chinese New Year. Obviously I didn't have a chance to perfect what I was trying to make, so I ended up posting about my caramel apple snickerdoodles, but that's okay, as those cookies are awesome, and I got to post some fun pictures along the way. So consider this post, for the Chinese New Year, a late new year celebration for you all. And what better way to celebrate the year of the dragon than the egg custard tart. Take a look at my version: the Caramel Egg Custard Tart, a twist on the classic Chinese dim sum treat.
The traditional Chinese egg custard tart is something that you see in dim sum restaurants, one of the few "desserts" that you can get after a meal of steamed dumplings and fried turnip cakes. Personally, I was never a fan of the egg tart, as most of the time they are soggy and flavorless. Then again, I grew up in St. Louis, which isn't really known for their dim sum restaurants (at least not back then, I think things have gotten a little bit better since).
In truth, I rarely make traditional Chinese food at home. I grew up in the Midwest, more fascinated with my friends cookies and fluffy box cakes than my mom's red bean paste buns and pineapple cakes. But this has changed a bit lately. My parent's visited San Francisco for a month and I asked my mom to show me how to make some of the more traditional foods that we ate at home. No one I know makes steamed pork buns like my mom does, and I am hard pressed to find anyone out there that makes sticky rice wrapped in lotus leafs like my mom's. I guess that old adage of "nothing beats mom" is true. Sadly, we never did have a chance for her to show me how to make any of her specialties, but it did get me thinking about the food I grew up with and my Chinese heritage, and there'll always be time for it when they move out here to San Francisco (which they keep on saying they are going to do soon).
Of course, Chinese egg tarts aren't something that my mom ever made at home. Egg tarts are more of a Cantonese dim sum thing and (honestly) I always found them more on the bland side (remember – from St. Louis). However, when I moved to San Francisco I found the Chinese egg tarts here can be sublime, with a flaky crust and a soft egg custard, reminiscent of a flan. In fact, it was a variation of a flan, the crème caramel, that inspired me to make my version of the egg tart with the addition of caramel. I'm a fan of caramel and though the burnt sugar probably is too sweet for a traditional Chinese dessert, I think it's perfect for Chinese New Year here in San Francisco. Think of it as one foot in the past, and one foot in the future. No matter what happens in 2012, whether it ends up the luckiest year of my life, or the end of the world as we all know it, I'm pretty darn happy to be here right here and now, enjoying my own version of the egg tart. Happy (late) Chinese New Year guys.
Caramel Egg Custard Tart
By
Irvin Lin
The traditional Chinese Egg Custard Tart is a rich egg custard in a shortbread crust or a flaky dough crust. My version takes inspiration from the European Crème Caramel, which is an egg custard flan made with caramel. For my version I make a variant of a pâte sucrée crust, with a little white whole wheat flour, which is a French tart crust. Perfect for this contemporary Euro-Asian inspired pastry. However, feel free to substitute regular whole wheat or all purpose flour for the white whole wheat if you don't have any. Keep in mind my egg custard tarts are little more rustic looking as I made them in a muffin tin. If you want a more traditional look, feel free to use mini tart tins and substitute 1 teaspoon of vanilla extract instead of the eggs, so you don't get the black specks on the top of the custard.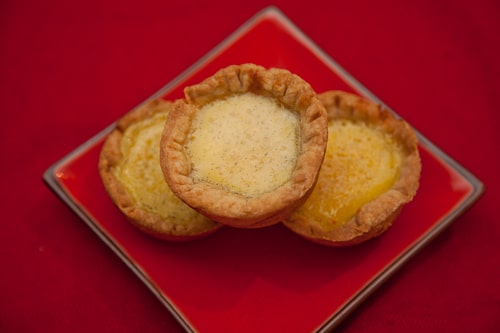 Crust
140 g (1 cup) all purpose flour
75 g (1/2 cup) white whole wheat flour
15 g (2 tablespoon) cornstarch
10 g (1 tablespoon) brown sugar
1/2 teaspoon kosher or sea salt
125 g (9 tablespoons) unsalted butter
1 large egg
2 tablespoon water
Caramel
100 g (1/2 cup) white granulated sugar
2 tablespoon mild flavored honey (like clover)
3 tablespoons whole milk
Custard
100 g (1/2 cup) white granulated sugar
15 g (2 tablespoon) powdered milk
18 g (2 tablespoon) cornstarch
4 large egg yolks
2/3 cup whole milk
1 vanilla bean
1. Place the flours, cornstarch, sugar and salt in a large mixing bowl. Cut the salted butter into 1/2 inch cubes. Sprinkle over the dry ingredients and toss with your hands to coat the cubes. Then, using your hands, squeeze cubes of butter until they flatten out. Continue with the rest of the butter and quickly work the butter into smaller bits, squeezing and tossing the dry ingredients until the dough starts to resemble crumbly cornmeal, with bits of butter in flattened chunks.
2. Beat the egg in a small bowl with two tablespoons of water and then add it to the dough. Toss and fold the wet ingredients until the dough starts to forms. At this point, you might need to start using your hands to massage the dough so it gathers together properly. Gather the dough into a flatten disk and wrap tightly with plastic wrap. Chill in the refrigerator for at least an hour or overnight.
3. Once the dough has chilled, generously flour a flat surface and roll the dough out to 1/16 inch thick. Cut the dough into 16 pieces and press the dough into the cups of a regular muffin tin. Don't worry if you have to handle the dough a lot, or use a little water to patch the dough together to get them to fit into the muffin tin properly.
4. Once you've fitted all dough into the muffin tins, make the caramel by placing the sugar and honey in a large skillet (preferably one with a silver bottom, not black nonstick). Turn the heat on medium high until the sugar starts to melt. Stir the sugar with the honey until it starts to turn golden brown (the color of a shiny new penny). Add the milk carefully (it will steam and bubble up) stirring all the while. Turn the heat back on to medium and cook the caramel until it is smooth (if there are tiny bits of hard caramel that's ok). Spoon a couple of teaspoons of caramel into the bottom of each tart in the muffin tin (you'll have leftover caramel, feel free to use it as a sauce for something else – say ice cream). Place the muffin tin with the tart crust and caramel in the refrigerator for 15 minutes to cool and preheat the oven to 350˚F.
5. While the oven is preheating and the tart crust is cooling, make the custard by placing the sugar, powdered milk and cornstarch in medium mixing bowl. Add the egg yolks and milk to the bowl. Split the vanilla bean lengthwise and scrape the seeds out into the bowl. Take a balloon whisk and stir the custard ingredients together until the dry ingredients have dissolved. Now pour the custard through a fine sieve into a smaller bowl or pyrex measuring cup.
6. Once the oven had preheated and the muffin tin has cooled, take it out of the fridge and carefully spoon or pour the custard on top of the caramel, leaving about a 1/4 inch room from the top of the tart. Be careful not to disturb the caramel too much or it will bubble up when it bakes. You should have just enough to fill all the muffin tins. Bake for 20 to 25 minutes, or until the custard sets and jiggles just a bit in the middle. Cool in the muffin tins and then remove by sliding a thin butter knife around the side and lifting it up from the tin.
Makes 12 tarts.