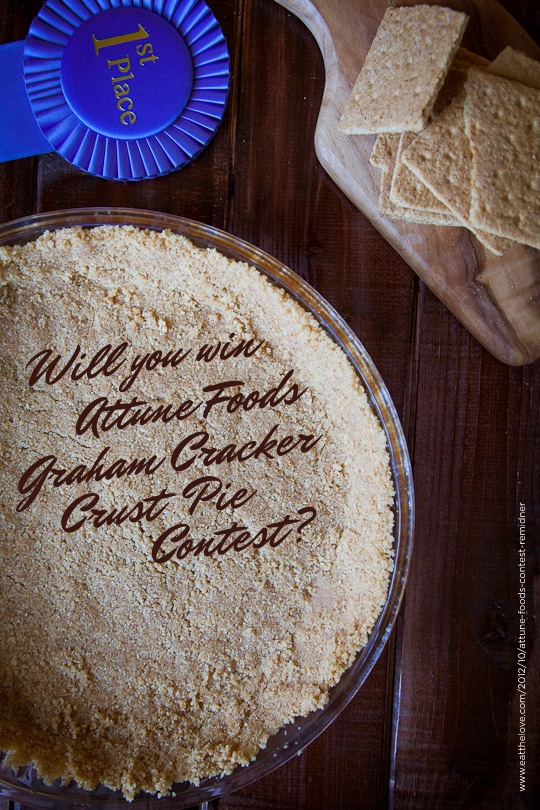 A couple of months ago, you might remember that I wrote how I was teaming up with Attune Foods to help judge in their Healthy Holiday Recipe Contest. I just wanted to remind you, my dear readers, that there is still time to enter! The deadline for the contest is December 31st and there aren't a lot of entries, which means there's more of a chance for you to win! And, as an added bonus, Attune food has agreed to giveaway some of those awesome graham crackers for you to use. Details on the giveaway at the end of the post.
The pie contest is a snap. Come up with an original graham cracker crust pie recipe, using Attune foods Erewhone organic graham crackers (either cinnamon or honey) and submit it on their website. You could win a Professional 600 series KitchenAid mixer! I don't even have one of those beauties.
Don't forget to submit your recipe for the contest. I can't wait to see what you come up with!
As for the graham cracker giveaway, Attune is generously giving four boxes of their graham crackers (you get to pick what flavor you prefer, all Honey, all Cinnamon or a mix of both) to one lucky reader. Just leave a comment below telling me what your favorite way to eat graham crackers. Is it as s'mores? Dunked in milk? In a pie crust? I wanna know!
To get a bonus entry, follow me on Facebook or tweet about this contest with the message "Win a 4 boxes of organic Erewhon Graham Crackers from @AttuneFoods! Visit @eatthelove's blog for details. http://www.bitly.com/EtL-Attune" then come back here and leave a comment telling me you followed me on Facebook or tweeted out about the contest. If you don't leave a comment below about Facebook or the tweet, I won't know so be sure to come back and leave separate comments about what you did.
The fine print – PLEASE READ
By leaving a comment below to enter, you are agreeing to the Official Rules.
▪ NO PURCHASE NECESSARY
▪ VOID WHERE PROHIBITED
▪ You must be over the age of 18.
▪ This contest is only open to U.S. Citizens. Sorry non-US people!
▪ The contest starts as of today, and will run until Wednesday, December 19st, 9am PST.
▪ The retail value of the four boxes of Erewhon graham crackers is $19.96.
▪ The winner will be chosen by a randomly selected comment. All comments will be numbered and I will use Random.org to pick a random number.
▪ The number of eligible comments below determines the odds of winning.
▪ If there's a problem with contacting the winner, I reserve the right to award the box to someone else randomly chosen. So in other words, make sure you type in your correct email address if you want the graham crackers and respond within a week to me when I contact you or I'll give the graham crackers to someone else.
▪ The graham crackers will come directly from Attune, so if you win, let me know when it arrives or if it doesn't, and I'll be sure to hassle the appropriate people.
This giveaway is closed! Thank you for entering! The winner is Dora. Congratulations Dora!
Special thanks to Attune Foods for providing the graham crackers as a giveaway to accompany this post. Full disclosure, though I was not compensated for this specific post, I will be compensated for being a contest judge. Regardless, all opinions written above are my own.