Holy cow, I can't believe 2012 went by so fast and despite the end of the Mayan calendar, we're still here! Happy New Year everyone! 2012 was an intense year, with some wonderful happenings and a few tragic events as well. Taking a look back at the year, all I can say is that even though there are times when I think I need to take a step back from this blog I can't imagine giving it up. In fact, I originally was thinking of taking the month of January off, but something keeps on compelling me to blog. That something is you, dear readers! You. I hope you've enjoyed visiting my site as much as I've enjoyed writing it. Looking back at what I wrote and all the things that I did, 2012 treated me pretty well, but I have grand plans for 2013! And, like last year, I've decided that it was time to clean out my closet for my random year-end giveaway with massive amounts of stuff, including six cookbooks, chocolate peanut butter, dessert sauces and more! All for one lucky reader. Details at the end of this post.
In January, I blogged about obscenely good cookies, visiting Indiana and their art museum and did a twist on the classic Chinese dim sum treat with my Caramel Egg Custard tarts. But by far my favorite thing I wrote about was a white chocolate funfetti birthday cake for my two-year old niece. I love being a gay uncle!
February had me blogging about my Columbus, Ohio trip by making white chocolate pistachio chocolate chunk cookies as well as doing my only Wordless Recipe for 2012 – the Valentine's Molten Chocolate Lava Cake. People seeme to really love the idea of a wordless recipe and I'll be doing more of them in 2013. But my favorite post (possibly of the year) had me making a fake movie script in honor of the Academy Awards for Sherry Yard's Gingerbread Toaster Pastries. So much fun, and it totally kickstarted me into designing "intro picture covers" for my blog posts. Gotta use my design chops, or they get rusty!
I celebrated my two-year anniversary with this blog by making a Decorative Sugar Bowl and wrote an insanely popular post about the Food Blogger's Guide to Google+. People still seem to be finding it and they are finally discovering the wonders of Google+ as well, which is great, as everyone know that Google is pretty much ready to take over the world and Facebook is kind of horrible with their Edgerank algorithm and ruining Instagram. I also made carrot cake marshmallows which were all kinds of awesome, and blogged about my final day in Columbus Ohio. Of course, my favorite recipe from March was my Carrot Pineapple Spice and Brownie Layer cake with Whipped Cream and Cream Cheese Frosting. It's a ridiculous recipe that I wasn't expecting anyone to actually tackle but several people did and a someone even wrote about making it vegan!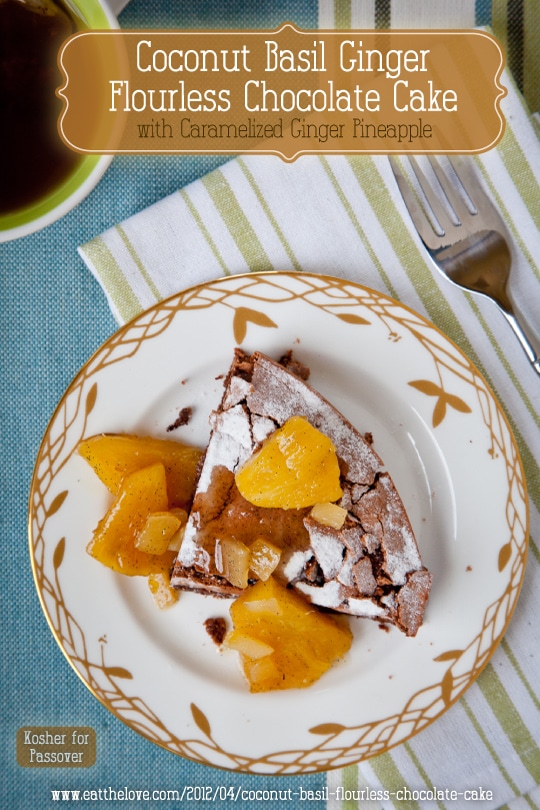 April had me going to Ohio Amish country which was spectacular, inspiring two recipes, a blood orange strawberry rosemary crust fry pie and an earl grey tart cherry cream scone. I found myself baking a classic Banana Coconut Cream Pie for my friends down in LA and I brought a blood orange chiffon cake with orange curd and rich vanilla buttercream to a dinner party of food bloggers. But my favorite recipe of the month is an old standby that I updated, which happened to be Kosher for Passover, a coconut basil ginger flourless chocolate cake with caramelized ginger pineapples.
I tackled a few more pies in May, as the year progressed from late Spring to early Summer, including a strawberry meyer lemon cream pie, and a Southern Comfort pear almond frangipane pie. I also made it down to the Pebble Beach Food and Wine Festival and met a number of celebrity chefs, (most of whom I didn't really know very well) and which lead me to make a strawberry rhubarb lime pie. May also had me posting about going to the inn at Cedar Falls in Ohio Amish country, as well as making a Bergamot Orange and Thyme Semolina olive oil cake which was fantastic. However, the one post that meant the most to me was something I didn't even think I was going to write about, same-sex marriage (and chocolate blood orange cookies). This is a food blog, not a political blog, yet I felt compelled to write about it and the comments I got were so wonderful and supportive that I still go back and read them.
June had me recapping the marvelous Meals on Wheels Fundraiser Gala that inspired the caramelized white chocolate pistachio brownies recipe on my blog, a recipe I still make. I also went to a photo workshop by New York Times photographer Andrew Scrivani which was insanely inspirational. My nectarine blackberry open faced pie was one of my most popular and pinned recipes (and continues to be). But it was my throwaway filler post on "You know you're a food blogger if…" post that got everyone riled up. It strangely went viral and I'm still getting comments on it. Apparently food bloggers REALLY do want to own chickens and are highly amused when I pointed that fact out to them.
I kind of took it easy here on the blog over the summertime moving into early autumn (July, August and September) traveling back to St. Louis and Indianapolis to visit my family (and AJ's family). I baked a lot of pies and cobblers and tarts and visited a goat farm which inspired me to make goat milk quinoa waffles. I also made ice cream and was thrilled to see one of my close friends from college get married. August had me going on a real vacation with AJ to Yosemite, something I keep on meaning to post about, but haven't had a chance to you. It'll be up in the new year…
October had me doing one of my most popular posts, a white mocha pumpkin "frappuccino" which is hilarious because I normally don't do recipes posts like that. But apparently people loved it (or they loved the photos I took of the shirtless guys in my local park, I'm not sure). Speaking of shirtless guys, I also attended the annual Folsom Street Fair which meant even more photos of shirtless guys – and a recipe for a salted vanilla bean white chocolate multigrain cookie. I also attended my friend Garrett and Brian's wedding up in Sacramento, who I adore and contributed chocolate chocolate chip pistachio cookies with toffee bits. I was rather nervous because there were going to be a number of awesome food bloggers there, but they were all complimentary toward my treats. October also had me start my Thursdays Photo Essays, which has been a fun little ongoing series for me. I've enjoyed breaking out of my "food blog" world a bit and moving more into the photography world and the photo essays have  been super fun to do!
November had me recapping the DIY Desserts Ice Cream social we had back in September, with my Tex Mex Sheet Cake as well as posting the ubiquitous pumpkin post (I went with a pumpkin white chocolate vanilla swirl cheesecake bar). I also finally got around to posting about AJ's 40th birthday cake, a chocolate rolled cake with brown sugar buttercream and crushed pistachios inside. I love that cake! But November was also the month that bloggers responded to the devastating Hurricane Sandy, and I participated with a number of other blogs in a Support for Sandy blog post by dedicating my Thursday Photo Essay to New York City. It was one of my favorite Photos Essays to date.
Finally in December, I did an unexpected thing and posts very few posts about food with recipes but the ones that I did do included the requisite classic holiday cookie: Speculaas, which I developed for Kroger's iPad app MyMagazine, as well as an updated twist on a classic holiday cookie, the Reverse White Chocolate Crackle Cookie. I also threw in a last minute Triple Layer Holiday Spice Cake and did a fun Dickens Fair photo essay. But the majority of my blogs posts for December were giveaway posts, something I rarely do here on Eat the Love. I'm not a big giveaway type of blog (there are a number of other blogs that do that sort of thing and are known for it) but I thought, this being December, it would be fun to host a few ones, giving away truffle boxes, fruit of the month memberships or a few triple cookbooks sets. Of course this December was also when the Sandy Hooks tragedy occurred, and I think we are all still trying to cope and deal with that horror as we move on into the new year.
In the end, 2012 was a pretty significant year for everyone. I look forward to where things go in 2013, and I hope you all continue to stop by in the future! I can't wait to see where things go in 2013 as this blog turns three years old. In the meanwhile, Happy New Year everyone. Here's to a fabulous 2013!
Oh, and you probably wanna know the details of the giveaway right? Well throughout the year I get products from companies and swag from going to conferences. Most of the stuff I don't need or want, but that doesn't mean the stuff isn't great. In fact, I usually donate the stuff I don't think is worth even keeping (boxed cake mix, canned soup) and save up the good stuff for this year-end giveaway. So don't think you're getting leftovers from me, think that you are getting curated items that I think most everyone would love!
This giveaway is book heavy, because I have an inordinate amount of cookbooks, almost all of them fabulous, but I just don't have room for them all in my tiny apartment. So, with a heavy heart, I am giving them away to a happy new home. These include Frugavore, So Sweet!, Desserts in Jars, Quinoa Cuisine, Lard, The Cookie Dough Lover's cookbook, and How to Eat a Small Country. Included in the giveaway is also a few other non edible items like a Driscoll's berry colander, a set of two espresso cups and saucers, a teal Tasty Kitchen Tshirt (size women's XL), and a woman's fitted Kitchen Grips silicon mitt.
But that's not all! There's other awesome stuff including Christmas Brittle from Peanut Butter & Co., along with a book about the history of Christmas Brittle (it's super cute!), a jar of Peanut Butter & Co. Dark Chocolate Dreams (it's like Nutella but with peanut butter!), a jar of Sonoma Syrup Co. Meyer Lemon Cheese Drizzler candied marmalade for cheese, Beautiful Briny Sea Lavender Salt (this stuff is gorgeous and I almost kept it for myself), two bottles of Sanders Dessert Topping (one classic caramel, the other extra dark chocolate hot fudge), and a four pack of LorAnn Flavor Fountain. Whew!
Because I want everyone to have as many chances as they can, here's what you need to do enter. Leave a comment below telling me what your favorite recipe that you've made this past year. It doesn't have to be from my blog (in fact, I'd love it if you pointed me to another blog that I don't know about!). If you want extra chances to win, just follow me on Twitter, Facebook, Pinterest or Google+ and then come back here and leave a comment telling me you followed me (or leave me a separate comment if you already follow me, that's totally legit too!). Leave a separate comment for each social media network that you followed me on! That's five chances for you to win!
The fine print – PLEASE READ
By leaving a comment below to enter, you are agreeing to the Official Rules.
▪ NO PURCHASE NECESSARY
▪ VOID WHERE PROHIBITED
▪ You must be over the age of 18.
▪ This contest is only open to U.S. Citizens. Sorry non-US people!
▪ The contest starts as of today, and will run until Jan 10th, 2013, 9am PST.
▪ The retail value of all this approximately $225.
▪ The winner will be chosen by a randomly selected comment. All comments will be numbered and I will use Random.org to pick a random number.
▪ The number of eligible comments below determines the odds of winning.
▪ If there's a problem with contacting the winner, I reserve the right to award everything to someone else randomly chosen. So in other words, make sure you type in your correct email address if you want the membership and respond within a week to me when I contact you or I'll give everything to someone else.
▪ Everything will come directly from, which means, I can't guarantee that I'll get it to you in a timely fashion. Let's face it, I'm totally lazy and have to package and send this stuff to you via UPS or USPS which means I have to actually go to the post office/UPS store. BUT if you haven't gotten all the stuff from me by mid-February, you can totally go online and publicly shame me on whatever social media network you prefer to give me a kick in the butt! Or, you can just email me and ask me what's up. I'll get back to you ASAP. 😉
Good luck! Special thanks goes to BlogHer, Peanut Butter & Co., Driscoll's, Sanders, Sonoma Syrup Co., Beautiful Briny Sea, Kitchen Grips, Quirk Books, Clarkson Potter, Harvard Common Press, Ulysses Press, Andrew McMeel, LorAnn, Tasty Kitchen and the Fancy Food Show for these items!
This giveaway is now closed. Thank you everyone who entered!