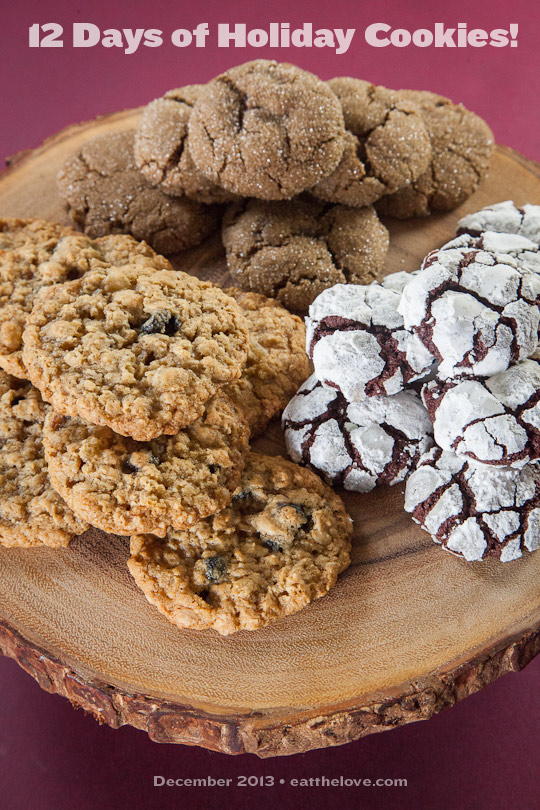 The minute that Thanksgiving weekend is over, I go into Christmas mode. No, AJ and I don't run out and get our Christmas tree right away and I still hold off on listening to Christmas music until the decorations are up (even though I just downloaded the new Mary J. Blige A Mary Christmas album…don't judge!) but I do start thinking about what I'm going to bake. The holiday season for me means lots of baking, especially cookies. Coming right off of NaBloPoMo, where I posted every single day of the month, I've decided this December to host the first ever 12 Days of Holiday Cookies here on Eat the Love! Every weekday starting tomorrow until December 23rd, I'm going to be posting a new cookie recipe, 12 recipes in all!
But wait, there's more! Every Saturday in December, I'll be posting a different awesome giveaway! So be sure to check back here on the Saturdays of this December for a chance to win some cool stuff. I'm thrilled to be making the most of December!
And finally (yeah, one more thing because apparently I've decided December isn't busy enough for me) I'm co-hosting the annual 18 Reasons' DIY Desserts Holiday Cookie Swap! Next Thursday, December 12 I'll be at 18 Reasons between 6-9pm sampling and swapping cookies with everyone who wants to swing by. It's free if you bring cookies to trade, or it's a $10 donation if you want to just come by and taste all the cookies you want. Hope to see you all there!
(Oh yeah, and on Sundays I'm sleeping in. Seriously. I'm crazy but not that crazy. Happy holiday season everyone!)