This easy and comforting Guinness beef stew recipe is perfect to warm you up in a cool brisk evening.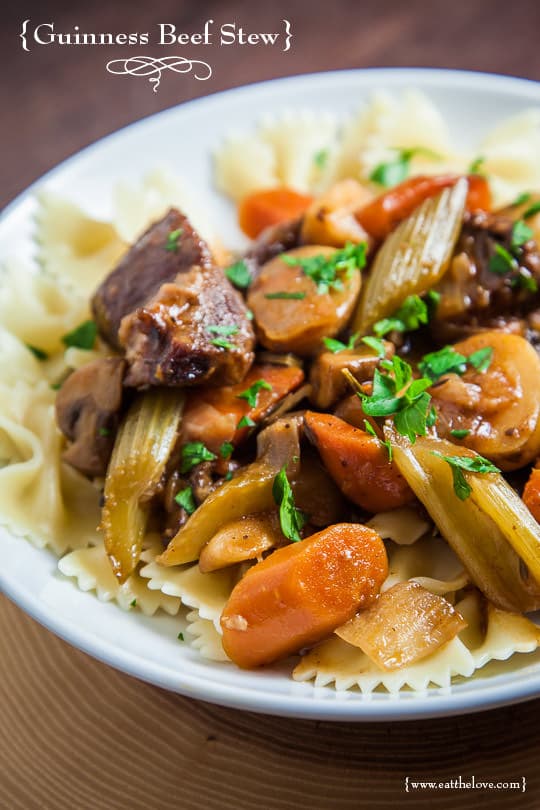 As much as I am in denial about it, summer is gone and autumn is here. Having gone up to Oregon for the Feast Portland event made me realize it. Fall fruit like pears and apples were everywhere (though, to be fair, the USA Pear organization were a big sponsor of the event). The weather was exceedingly warm up in Portland but when I got back to San Francisco, the cool fog was there to welcome me. A quick check into Pinterest showed that pumpkin was trending, and all of sudden everyone seemed to be drinking pumpkin spice whatever the heck it is that people like to drink at the chain coffee shops (I'm too cheap to go to those coffee shops, so I make it at home). As I settled back into my home routine, I suddenly had a craving for something a little more down home after all the fine dining nibble bites from the weekend. I had a craving for Guinness beef stew, something to get me back into the swing of being home and getting back to work. It was just what the doctor ordered. (Jump directly to the recipe.)
Though I play fancy pants here on my blog, the reality is I'm not fancy. I drink tap water, not artesian water imported from Iceland in pretty bottles. I'm not above buying a dozen donuts from the shop instead of making them at home. And I certainly love to make comfort food when I have a chance. The Guinness beef stew recipe is, of course, a classic fall comfort food, something I rarely remember to make, mostly because it seems like the sort of thing you make in a slow cooker, which I don't own. But a heavy Dutch oven is perfectly acceptable in making stew, and thankfully I have one of those around. If you don't have one of those, just make sure you have a large oven-proof pot and lid, and you'll be fine.
[click to continue…]
{ 6 comments }