This ribs in the oven recipe means you can have deep flavorful barbecue ribs year round with minimal work and effort!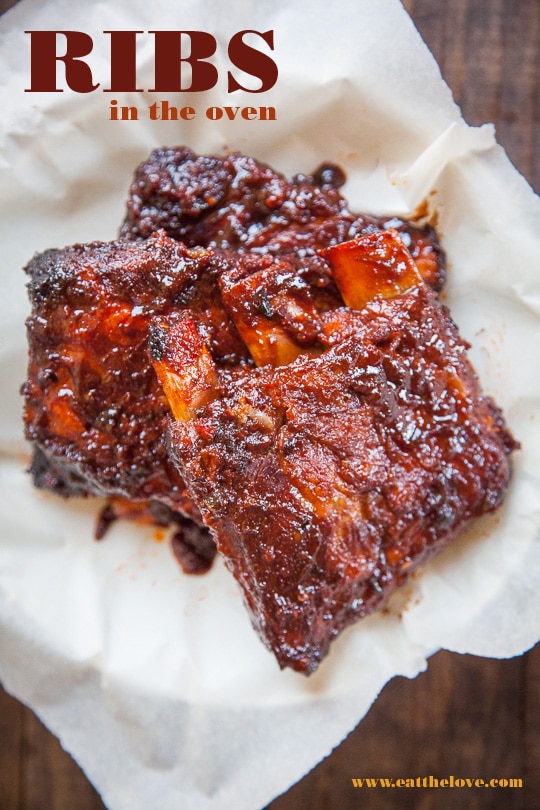 "I hope ribs are OK for dinner" I said to AJ as I had picked some up on sale at the grocery store. His eyes widen in excitement and that was all the answer I needed from him. I had been making a version of David Lebovitz' caramel ribs ever since I got his book My Paris Kitchen last year. But I have yet to blog about it mostly because each time I make it, I tweak the recipe more to my personal liking. Also because we usually end up eating the ribs immediately, which means I never get around to actually photographing them! But this time I was determined to take at least one or two photos of them before we ate them. This ribs in the oven recipe is pretty darn fabulous. (Jump directly to the recipe.)
I'll tell you that I'm a sucker for good ribs. I grew up in St. Louis where pork ribs are king. In fact, there's a cut of ribs called St. Louis ribs that I tend to buy. Sometimes called spare ribs, the St. Louis cut ribs are meatier with a higher fat ratio. The baby back ribs (sometimes called Loin Back ribs) are smaller, less meaty but more tender and often slightly more expensive. I love both styles, but being from St. Louis my loyalties (and wallet) are with the St. Louis style.
[click to continue…]
{ 3 comments }