This zippy spicy apple and berry cobbler is an updated twist on a classic comfort dessert.
"Whoa. Is this recipe on your blog?" asked my new friend Kellie of The Suburban Soapbox. We were in Chicago for a short whirlwind 24 hours for the #OrganicForAll event hosted by Safeway. The day was flying by fast, with an overnight oats breakfast that had all the bloggers climbing on chairs to photograph the food. A cooking demo by Annessa Chumley, RD, showed us easy and fast ways to use O Organics® ingredients and then we all found ourselves in the commercial kitchen at Kendall College for a chance to play with the Safeway O Organics ingredients. It was like cutthroat kitchen with folks grabbing ingredients and trying to work within the deadline! I saw people reaching for pasta like their life depended on it and don't get me started on the fight over the black pepper! I decided to bake something as most folks seemed to be doing savory dishes. The end result, a spicy apple and berry cobbler with fresh mint was definitely something I wanted to replicate at home. (Jump directly to the recipe.)
The previous night we had dinner prepared for us at a local restaurant using the O Organics ingredients. I filled my plate with creamy tomato sauce over pasta, burger sliders and kale salad. With the inspiration of our berry cobbler dessert in the back of my mind, I needed to work fast, as I only had 1 hour to accomplish a respectable cobbler.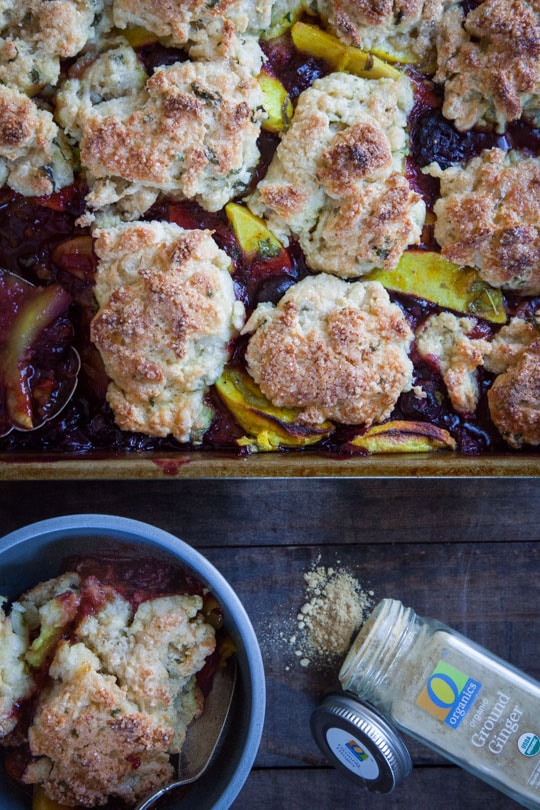 The issue with working under pressure like this was that I didn't have a chance to take notes for the recipe or even snap a photo of the food being made in the kitchen. Which is too bad because there were some really awesome cooking and baking happening. Throw 30 food bloggers in a commercial kitchen with a plethora of ingredients and magic happens! All the bloggers were having a blast using the ingredients and coming up with some great dishes. Just bounce over to Instagram or Twitter and follow the hashtag #OrganicforAll to see some of the creations like berry muffins, strawberry salsa, blackberry pizza or a giant skillet cookie. [click to continue…]
{ 3 comments }