This pumpkin eclairs recipe with step-by-step photos use carrot juice and pumpkin spice in the dough and beer in the chocolate filling & glaze!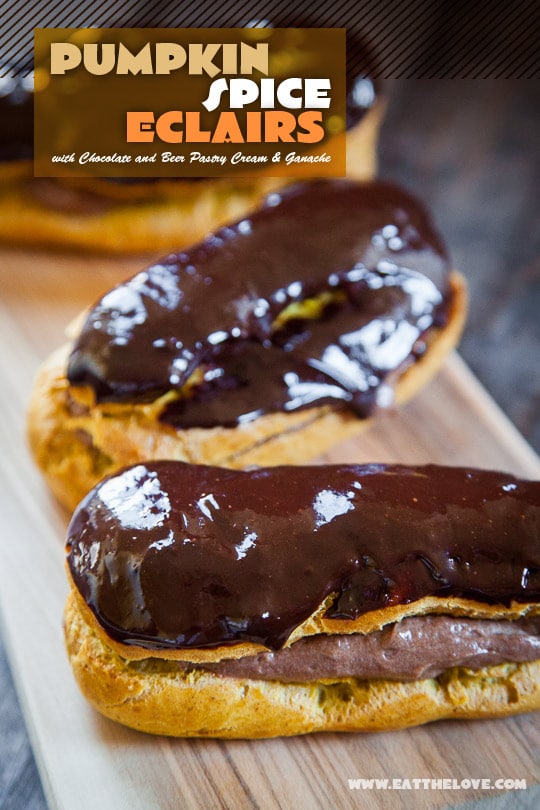 Not that I pay much attention to sports in general (football utterly baffles me) but when your original hometown (St. Louis) and your adopted hometown (San Francisco) battle it out in a major league baseball series, it's hard not to get stressed. Growing up in St. Louis I have been a longtime fan of the Cardinals but having lived in San Francisco for the past 15+ years, this is my home and with it comes all the good (excellent food) and bad (the annoying tech folks). This includes the SF Giants baseball team, and let's face it, as much as St. Louis holds a place in my heart, I want to be where the party is. So when the Giants won the pennant, I decided it was time to celebrate by making an orange and black dessert. The result, my Pumpkin Spice Eclairs with Chocolate Beer Pastry Cream and Ganache do double duty for Halloween as well. (Jump directly to the recipe.)
Of course, because baseball is involved, I felt like beer needed to be involved as well. What's a baseball game without a cold one? Not that I'm much of a beer drinker, as I prefer my beer in the form of beer bread, but the subtle bitterness of the beer really works well with the chocolate, so much so that I couldn't help spoon a little bit into my mouth everytime I spooned a little bit into the éclair. Totally worth the calories.
[click to continue…]
{ 5 comments }