This orange hazelnut cake is a winning combination of flavors in this insanely moist easy-to-make recipe with a lovely nutty texture.
I always say that being a food writer, photographer and recipe developer is both a blessing and a curse. The ability to eat tons of fabulous food, photograph gorgeous meals and learn so much about where our food comes from as well as who makes it is a special privilege that few get to experience. Of course, being forced to wear fat pants and the every expanding waistline is an occupational hazard on the flip side. So with utter joy (a little trepidation) I'm heading up to Portland again to gorge myself at their spectacular Feast Portland event. In celebration of this trip, I made this orange hazelnut cake, since Oregon produces 99% of the U.S. hazelnut crop. (Jump directly to the recipe.)
If you've been a longtime reader, you'll know that I attended Feast Portland last year and reported both in real time (via Instagram and Twitter) as well as on this blog (day 1, day 2, day 3) all the various things that I ate. In truth, I feel like I didn't even scratch the surface of all the fabulous food events that Feast Portland had. I mean, there is only so much a guy can eat! With some of the best chefs of the nation coming to Portland including some of California's finest (Matthew Accarrino of SPQR, Chris Cosentino of Cockscomb and Boccalone, Martin Cate of Smuggler's Cove, Dominique Crenn of Atelier Crenn, Charles Phan of Slanted Door, David Lynch of St. Vincent, Alvin Cailan of Eggslut, Jon Shook of Animal, and Ari Taymor of Alma) as well as chefs from as far as New York (Christina Tosi of Milk Bar, Brad Farmerie of Public, Anita Lo of Annisa), Atlanta (Hugh Acheson of Empire State South), Austin (Aaron Franklin of Franklin Barbecue, Paul Qui of Qui, Philip Speer of Uchi) and Hawaii (Lee Anne Wong of Koko Head Café) I know that I'm going to be fed well. And that's not even touching the amazing local Portland chefs that will be out in droves!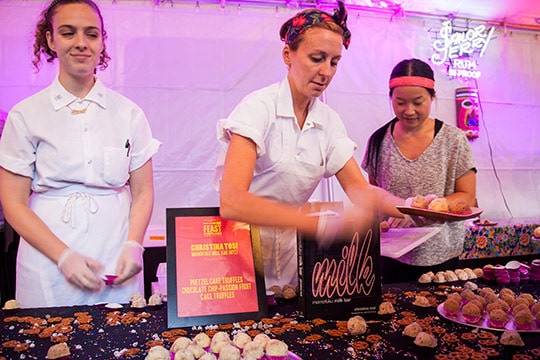 [click to continue…]
{ 5 comments }