These easy-to-make pumpkin sage drop biscuits are packed with Autumnal flavor and are perfect to accompany a hearty soup or stew in the wintertime.
This post is a part of a series of cookbook posts that I'll be running from now through December. I was not monetarily compensated for this post but I did receive this cookbook for free as a review copy. I receive numerous cookbooks throughout the year and only choose to highlight and write about the ones I truly love.
I get a ton of cookbooks in the mail and most of them fall into a few different categories. I get a lot of the quick and easy sort of cookbooks that promise to get a meal on the table in 45 minutes or less, or with 5 ingredients or less. The single subject cookbook (like a book dedicated to cooking with tea or a book all about vanilla) is another popular type of book. But then there are the chef and restaurant aspirational cookbooks. These books are packed full of impossibly beautiful food photographs and recipes with a laundry list of ingredients that require their own specific recipe to create (use 2 teaspoons of carrot oil, recipe found on page 246) that make them beautiful to look at but rarely used. So when I received The Gourmet Kitchen by Jennifer Farley, I was thrilled to find beautiful, sophisticated recipes that were approachable in their direction and ingredients.(Jump directly to the recipe.)
As much as I love a giant coffee table cookbook like those chef and restaurant cookbooks, my coffee table is pretty small. So small in fact, that I can only put two or three cookbooks on it; those books tend to be large Star Wars books. But Jennifer Farley, founder of the blog Savory Simple, found a way to make a beautiful cookbook that I would actually take into the kitchen. Recipes are sophisticated like her Spinach, Artichoke and Caramelized Leek Tart or Pistachio-Crusted Pork Tenderloin with Cherry-Rhubarb Compote but they don't require a ton of time to make or a million esoteric ingredients to track down (or worse to make yourself).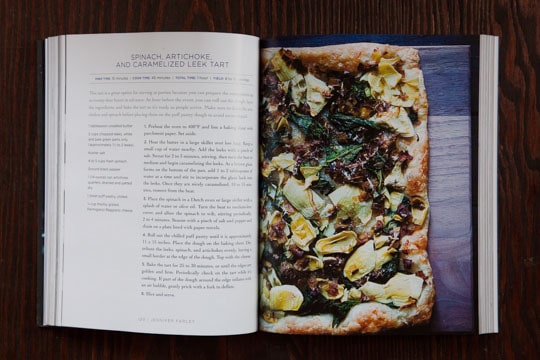 [click to continue…]
{ 3 comments }